A couple of weeks ago, I told you how I was quenching my thirst for a DIY project with a mini-master bedroom makeover. Well, it's finally done! I'm so happy with the way it turned out, even if it was more difficult & involved than I thought it was going to be. Let's see what all we did in our Mini Master Bedroom Makeover!
Master Bedroom Makeover Reveal
This room really hadn't had any changes since we moved in to this house 5 years ago. We replaced the nightstands and some bedding, and that was about it. There were things I wanted to do in here, but we just kept putting them off.
Ceiling Paint
The first thing we did was paint the ceiling. The ceilings in this house haven't been painted since the house was built in 1995, so they've all been getting a fresh coat of white paint as we work on rooms. It was way past time to paint this one.
With the ceiling painted, it suddenly felt so much cleaner and brighter! This was a huge part of the master bedroom makeover.
Ceiling Fan & New Lighting
The next item on the master bedroom makeover list was to address the ceiling fan & lighting. We have very high ceilings in this room, around 13 feet, and the central light kit on the fan wasn't working. We needed the light spread out and brighter.
We swapped out the outdated ceiling fan for the same $49 iron version we used in the Living Room & Playroom. I know ceiling fans aren't the most chic option, but here in Texas, they are an absolute necessity. We use ours every single night, even in the winter.
I love having can lights. These LED dimmable lights are my very favorite! They are the light & trim in one piece, and they look so clean on the ceiling. I have these all over my house.
With the way the walls are in our room, it was very difficult to get an even layout for the lights. The angled wall presents a problem, because you can't make the lights a perfect square. The other issue is the location of the ceiling joists. We ended up putting the three along the squared walls even with each other, and then the one on the angled wall is on the same line as the light over the dresser. We really felt like this was our only option.
We also added a light over the door, since that ceiling is lower. It was always so dark over there, but not anymore! This one may be my favorite light!
Smart Switches
Because this is a bedroom, we put the lights on a dimmer switch. We used GE Z-Wave Bluetooth Dimmer Switch and a Fan Controller so that we could control the lights from our phones or with Alexa. You do need some sort of Smart Hub (we have this one) to use these switches.
I like having the full light if I'm cleaning or painting, but not all the time. We actually use lamps only most of the time, but we do need the ceiling lights occasionally. Overall, I'm really happy with the lights & fan! Doug is counting down until he's done installing can lights in this house (only 3 more places).
Large Recessed Outlets
Last week, I showed you how I added an additional outlet on each side of the bed, included USB ports, AND recessed all of that into the wall. These outlets are amazing! I'm so happy with how that part of the project turned out! It's a game changer!
Shiplap Accent Wall
I told you in the last post that I chose Shiplap over a Grid Pattern due to the fact that I thought Shiplap was easier on the brain. That may or may not have been true. I'll save the install and the issues I ran into for another post. Let's just talk about the Master Bedroom Makeover After Photos!
I decided to use 1/4″ plywood that I had trimmed down into 7″ planks. My son and I installed it Friday night and most of Saturday. I then painted it Saturday & Sunday. It needs another coat that I'm going do in a few weeks when I need paint for the new patio doors.
The shiplap was a beast, but I'm happy with the way it turned out!
Mirrors
The last thing we did in here is hang mirrors behind the lamps. This is something I've been wanting to do for a really long time. We have amazing windows along one side of our room, and I wanted mirrors to bounce that light around. Someday, we'll be getting rid of that dresser & mirror combo, so having these mirrors behind the nightstands will help keep the room looking open and big. I found these mirrors at HomeGoods.
Overall, I spent about $600. About 30% of that was the mirrors. It did take the better part of two weekends to do everything from painting the ceiling to installing & painting the shiplap. But, I think I made a HUGE difference for just $600!
I think the night view is the best!
It seriously feels like a different room! One that I love spending time in!
What's your favorite part of this project? Have you tackled any Mini Master Bedroom projects that have had a huge impact? I'd love to hear all about them in the comments!
In the meantime, I'm going to have to buy new pajamas. Like maybe these new ones from Target. I can't sleep in my old mis-matched ones anymore. This sexy room calls for matching PJs!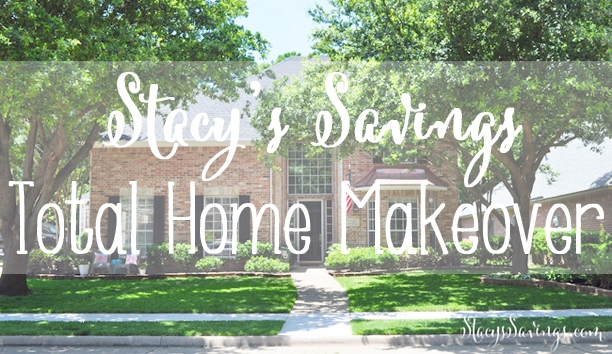 Check out all of the Stacy's Savings Total Home Makeover posts!