I actually can't believe I'm typing these words, but the kid's bathroom remodel is DONE!  WOW!  To be honest, its been complete for about 3 weeks, but I was so exhausted, then school started, then we had a ton of Doctor's appointments, and then I got sick.  So sorry for the delay in the reveal, but hopefully, we're going to get back on a regular schedule here this week!
If you're new to the kid's bathroom remodel saga, catch up here, here, here and here.
Caught up?  Good! Let's proceed.
Here's what the kid's bathroom looked like before:
Super sexy.
We had decided pre-leak that when we got around to actually remodeling this bathroom, we would tackle almost all of the labor ourselves, and just hire out the really technical plumbing work.  I have expensive taste, but not a large budget, so by doing the work ourselves, that would help us get what we wanted without paying for labor.
We had never done anything this extensive before, so I was excited to get some new tools and learn some new skills that I can use elsewhere in the house.  Doug was not so excited.  It took us about 2 months to complete this project.
Originally, I had set a budget of $5,000 for the kid's bathroom remodel.  I figured that was probably pretty accurate, as we were replacing everything, and we had two sinks/vanities/faucets.  In the end, we spent about $6,000, so not too far off.  We had our plumber move some water supply lines, replace all of the valves, replace the toilet flange, and set the bathtub.  Some of the work turned out to be a bit trickier than we thought it would be, and he ended up being about double what I thought he was going to be.  So I chalk that overage up to the plumber.  😉
So let's get to the afters, shall we?  I want to preface this by saying that I did my very best on the photography/editing of these after photos.  This bathroom is extremely hard to photograph accurately, because its very cramped quarters and there is no natural light at all.  Maybe if I get a new lens for Christmas, I'll be able to get some better shots.
I shopped around for everything before buying anything, and again, I found great deals on all of the fixtures, hardware, the tub & the toilet at Build.com.  They were cheaper than everyone, they had coupon codes, and I got free shipping.  Home Depot had the best price on the wall tile, Daltile Rittenhouse Square in Arctic White, and we got the floor tile from Floor & Decor.
The countertops are quartz remnants that I found at a local stoneyard.  They provided the rectangle undermount sinks, price matched to some similar sinks I found at Seconds & Surplus.  I couldn't get a good shot to save my life, but they are white with little clear-grey flakes.  Very subtle, not annoying.
The cabinets are IKEA Sektion Kitchen Cabinets that we cut down to a depth of 22 3/8″, and installed on a plywood platform.  The doors and drawer fronts are solid wood custom from Scherr's Cabinets.
The cabinets total came to about $700 a vanity without the countertops.  Considering that by using IKEA kitchen cabinets, we were able to get all of the fancy soft close hardware and perfect organizational components, $700 each for a 52″ vanity is a steal.  The bathroom vanities I was finding on Lowes.com for $1,200 EACH that weren't as functional as these.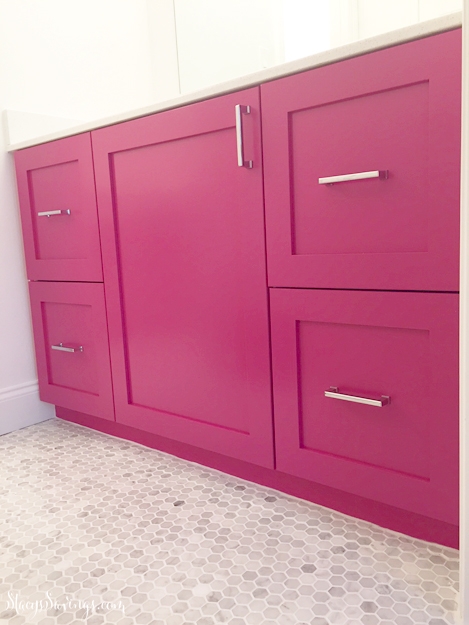 I painted the doors & drawer fronts myself using my Critter Paint Sprayer.  I needed slightly over a quart of paint for each vanity, and I used Benjamin Moore Advance in Hale Navy and Gypsy Pink.  To save a little money, I picked those up in June with a $10 off coupon for my birthday.
I also painted and added the poplar filler pieces, toe kicks, and an end panel that I got at Lowes for less than $30.  We've reused the old builder mirrors for now, but I'm actively on the lookout for some unique mirrors to finish out this space.
I made the floating shelves using some 1/4″ plywood & 1×2 whitewood boards from Lowes and leftover cabinet-grade 1/2″ plywood from the master bathroom.  They were easy to put together, and they provide so much more storage in this small bathroom.  Doug stained them with a Minwax Dark Walnut and finished them with Satin Polycrylic.
The So Fresh & So Clean Clean artwork was hand made using a $5 canvas from Michaels, some craft paint I had, and a piece of lattice that we stained.  I also made the hook rack with a piece the same 1.2″ plywood we used on the shelves, stain, and chrome hooks.  I like how it makes an easy way for the kids to hang up their hooded towels.
The accessories are all from Home Goods, Bed Bath & Beyond, IKEA & Target.  I'm still looking for the matching tissue box to this set from Home Goods, but for now, I'm just using an old West Elm one that we had in another bathroom.
The navy boxes on the lower were a Home Goods find while we were on vacation, and they matched my Hale Navy paint swatch perfectly, so I bought them to bring some color to that side of the bathroom.  Those boxes hide my "supplies", because sometimes I need to use the bathroom upstairs too.  This keeps them up and out of the way.  That's one of my very favorite bathroom decor tricks, hiding the "unmentionables".  I use the same idea in my bathroom, but with larger boxes.
I try to design all of my spaces for maximum storage and organization.  "Small room tricks" are perfect to maximize storage for any sized room.  Every item needs to have a function and a purpose.  If you have a box or a basket as decor, it needs to work for you by storing something useful.
One of my very favorite things about the kid's bathroom remodel is the toilet seat.  You read that right.  When we moved into this house, I replaced all of the toilet seats with ones that had built in toddler seats.  I lost the bolts during the remodel, so we decided to get another one.  When we went to Lowe's we discovered that our favorite toilet seat now has a soft close option.  Sold.  It is the greatest thing ever!  My son used to just let the seat drop to the toilet, but not anymore!  I highly recommend this seat to all of you with small children!  Once they are done needing the toddler seat, you just pop it off and put it away to make it a regular toilet seat!
I'm so glad that this room is done!  It was really tough without the bathroom upstairs.  All of the work basically zapped our summer both fun-wise and financially.  We're going to take the fall to recover.  But, I have a few small projects up my sleeve for then as well.
It even makes the view from my Daughter's room so much better!
I'm really happy that we decided to take on this project ourselves.  It turned out exactly as I had envisioned.  I knew that it would though, because I'm a bit OCD.  I can't imagine paying someone an extra $2,000 to do work I could do myself.  We would not have had this awesome bathroom if we had hired someone else to do it for us.
Next time we take on a big project, we need to remember to stretch.  This project was physically difficult for me, and I ended up needing 2 reflexology appointments to deal with pulled muscles.  I guess that means I'm getting old.  The next big project, I'll be sure to save room in the budget for some reflexology.
So what do you think about our kid's bathroom remodel?  Have you ever taken on a bathroom remodel yourself?  How did it turn out?  I'm pretty happy with the work we did in here.  We totally transformed this bathroom.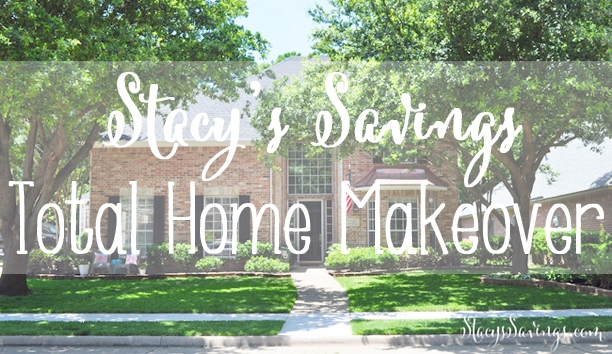 Check out all of the Stacy's Savings Total Home Makeover posts here!
Sharing with Thrifty Decor Chick's Before & Afters.