It's time again for my latest Grove Collaborative order unboxing!  My Grove box is one of my favorite things, and its great for many different reasons.  I didn't order anything in October.  If you missed September's box (it was a good one!) click here.
What is Grove Collaborative?
First, what is Grove Collaborative?  Well, its a website where you can get all kinds of good-for-you and good-for-the-Earth products for your home and family delivered right to your doorstep.  I use it mostly for cleaning supplies, but they have all kinds of things including skin care, baby care, and laundry products.  I find the prices comparable to Target, plus they will price match if you find a better deal.  They also have in-house Grove branded items that are fabulous!
Grove VIP Program
Grove has a VIP membership plan that gets you free shipping and access to Free Gifts and other benefits several times a year.  I've been a Grove Collaborative VIP for a little over a year, and I really love it.  I think of this fee as like I'm paying my Amazon Prime fee.  I set aside $1.63 per paycheck (we get 24 checks) to cover my membership each year.  To get that back, I always order enough to get a free gift.  Each month, they have a few items to choose from that you get for free when you spend a certain amount on your order.
You do not have to place an order each month, and you can schedule when you want your deliveries and what items you want in that order.  For example, we did not place an order all summer while we were remodeling the kitchen & laundry room.
Sound interesting?  Right now, you can get a 5-piece Mrs. Meyers gift set (a $35 value)  FOR FREE when you sign up and place your first order!  Once you're a member, you'll get a referral link to give the same deal to your friends and you'll get a $10 Credit!
My November 2019 Grove Order
This month, I beefed up my stockpile of favorite products, got some fun holiday towels, and tried some new products!
We were completely out of Mrs. Meyers Baking Soda Cream Cleanser.  We love this stuff for deep cleaning sinks, showers and bath tubs.  They were out of stock the last time I ordered, so I got two bottles this month.  They are $3.99 each.
We also ordered some back ups of our second favorite deep cleaner, the Mrs. Meyers Vinegar Gel Cleanser.  I especially like using this on our chrome bath fixtures as well as shower doors.  It works really well!  These are also $3.99 each.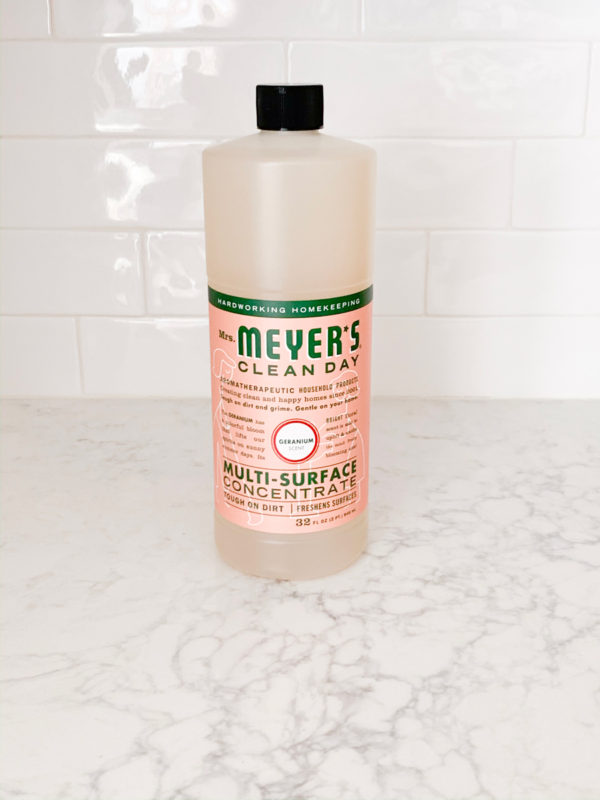 Every other box I order a Mrs. Meyers All Purpose Cleanser Refill.  Our favorite scent is Geranium and it's $7.99 for the concentrated bottle.
We tried two new products this month.  First was the Method Daily Steel Cleaner.  I've had trouble keeping our new fridge clean, so I thought I'd try this.  I've used it a couple of times, and I'm still on the fence.  It's $4.99 for this bottle.
We also got this Mrs. Meyers Surface Scrub to keep our kitchen sink clean.  We've been using Bar Keepers Friend, but I thought I'd give this a go and see if we like it.  I'll keep you posted.  The Surface Scrub is $4.95.
We're trying to deck the halls, and I was excited to order my favorite dish towels in this festive red!  The Grove Collaborative 100% Cotton Dish Towels have a really great weight and look nice hanging on the dishwasher.  They are $9.99 for a two pack and come in 4 different colors.
There was one item that I ordered that I was really excited about, but it couldn't ship because it was backordered.  That item was the new Grove Collaborative Toilet Brush. I've been trying to find a solution to the toilet brush issue in our house, so I was excited to see this one with DE powder in the base.  That eliminates nasty, germy water from collecting in the base.  I also like that you can replace the brush heads.  I'm hoping they'll have it in stock when I place my next order.
The Numbers
As I needed these products now, I did not have enough in my order to hit the free gift threshold.  I did have 1 $10 referral credit to use.  My total came to $32.56 for 10 items.  That's just $3.26 per item.  The total cost of everything would have been $42.56, and I didn't have to drive anywhere or pay sales tax or shipping.
In the year+ that I've been a Grove Member, I've received several free gifts including full sized Hand Sanitizer, my favorite sponges, microfiber cloths, not to mention the FREE $35 5-piece Mrs. Meyer's Set that I got when I first signed up.  I make sure to get my VIP membership's worth each year.  Saving gas and time are bonuses!
With Grove, I know I don't have to worry about the products that are coming into my home or that I'll have a bad experience.  Each order is checked for accuracy.  They've even been writing me thank yous on the boxes!  You get plenty of notice before its time for your order to ship so that you can review the products you need or move your shipment date.  Your Grove representative will email or text you (or both) before its time.
They're also really great if you do have a problem.  They try to package everything really well, even taping the lids so that they don't spill.  I did have a small spillage issue one time, and they replaced the product right away.  They really are great!
I love shopping with Grove Collaborative, and I hope you do too! Get your FREE $35 5-piece Mrs. Meyer's Gift Set when you place your first Grove Order!  If you already shop Grove, what are some of your favorite products?  Tell me in the comments!  I'm always looking to try new items in my next order.