We lived in our house for 5 years before we started this kitchen & laundry room remodel. So we knew what worked (not much) and what didn't work (almost all of it) for our family. One of the biggest annoyances with our old kitchen was the pantry.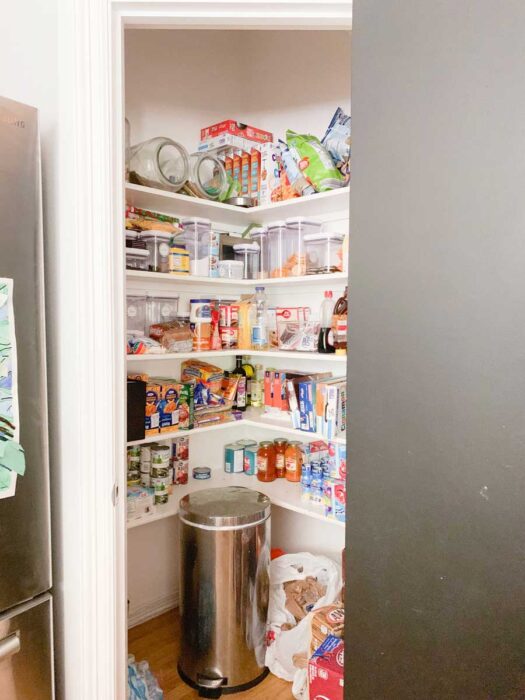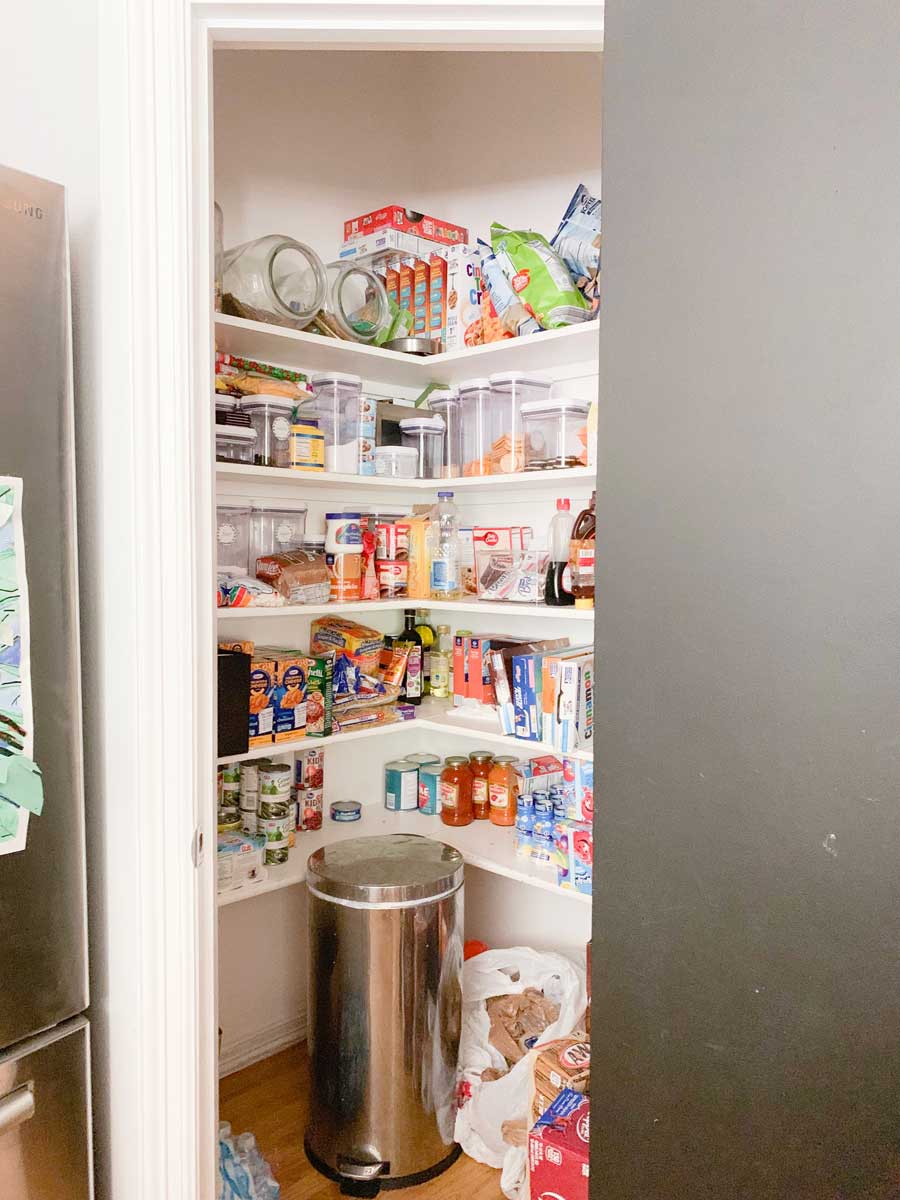 It wasn't big enough, the shelves weren't laid out properly, and there was a lot of wasted space. For example, the spacing between the shelves was too small to keep a cereal box upright or fit some of my containers. Yet, there was 4′ above the top shelf not being used.
In our last house, I added shelves to the pantry specifically to fit our needs, and it was wonderful! (It was a long time ago, at the beginning of my blogging journey, and the picture quality is awful!) I've really missed that functionality.
If you've missed the beginning of our kitchen & laundry room remodel using IKEA Cabinets here are all of the posts!
Designing the Pantry
When the kitchen designer that we hired initially saw our kitchen, her first suggestion was that we eliminate the pantry and go with pantry cabinets. Apparently, that is the cool thing to do in 2019. While I love the look of pantry cabinets in other kitchens, I knew those wouldn't work for our family.
I had always dreamed of a walk-in pantry that not only stored food but was also a place to keep our small appliances, cookbooks, and maybe even have a little workspace. Sort of like a Butler's Pantry.
Because I use coupons in combination with shopping the grocery ads, my pantry needs are drastically different than most of her client's. I may have 20 boxes of Cracklin Oat Bran at any one time. It is the only cereal that my husband eats, and he eats it for breakfast every single day. That stuff is expensive, so I tend to stock up when it goes on sale and I have coupons for it.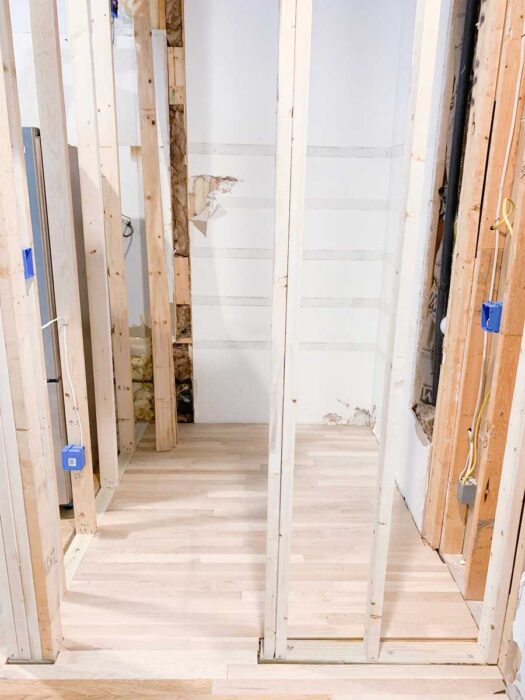 With that in mind, she embraced my vision, and was able to fit it in her design. It's basically what I saw in my head, but professionally drawn. I'm so excited to show you!
The New Pantry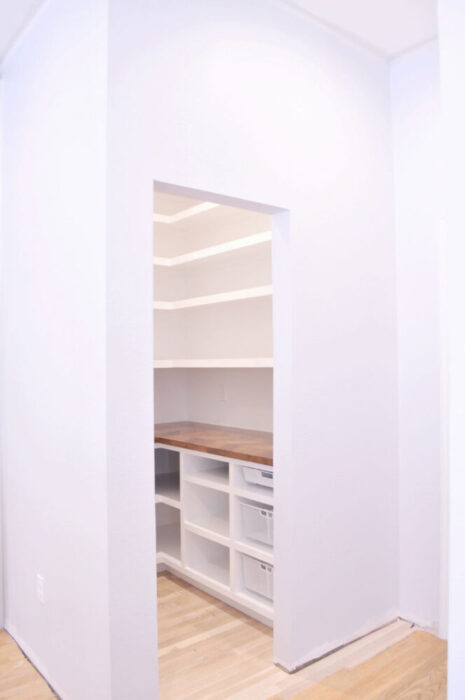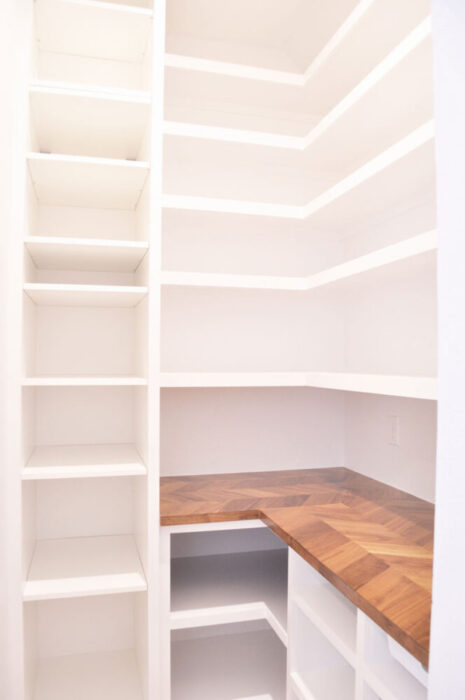 This pantry has everything I was looking for: open shelving, storage for small appliances, a workspace, and snack drawers. We took advantage of the 10′ ceilings, so its hard to get it all on one shot. The dimensions of the new pantry are 6′ x 5′.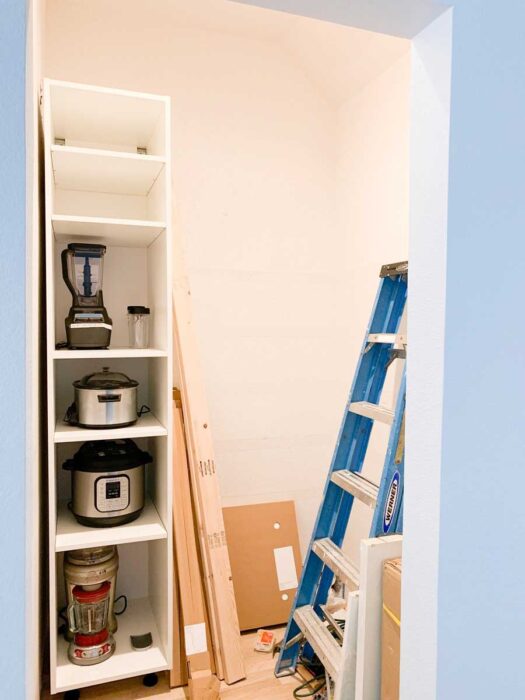 We only used one (really two) IKEA Sektion Kitchen cabinets in here: an 18 x 90″ pantry cabinet and an 18 x 20″ wall cabinet. Those are the components for the small appliance storage tower. I installed these when we installed all of the kitchen cabinetry. All of the shelving construction is built off this "unit".
I custom built all of the other shelving with wood from Lowes. Before I built the shelves, I painted the ceiling with Valspar ceiling paint and the walls with Benjamin Moore Ultra Spec Eggshell in Decorator's White.
The Upper Shelving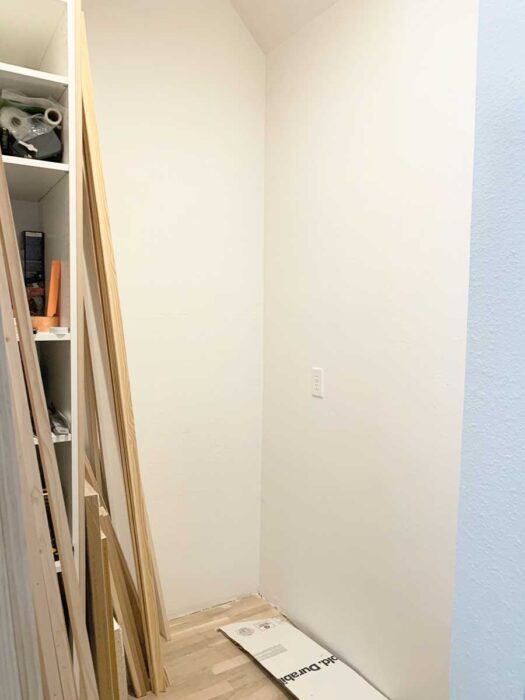 With the room freshly painted, I started with the upper shelving first. I wanted to finish those before building the bottom shelves, since those were going to be cabinet depth. It would be much harder to access the back of the upper shelves with the lowers in place.
After measuring my containers (and the containers I want to use), I decided on the height of my different shelves. We're going with 1 14″, 2 10″, and 2 at 9″.
Since I'm going to have base cabinets & a counter top, I knew the first shelf needed to be the same as the bottom of my cabinets in the kitchen. That meant that I needed to put my first line at 19″ above my 36″ countertop line. For the rest of the shelves, I took into account the 2″ thickness of the shelf profile as I went up the wall and marked my lines.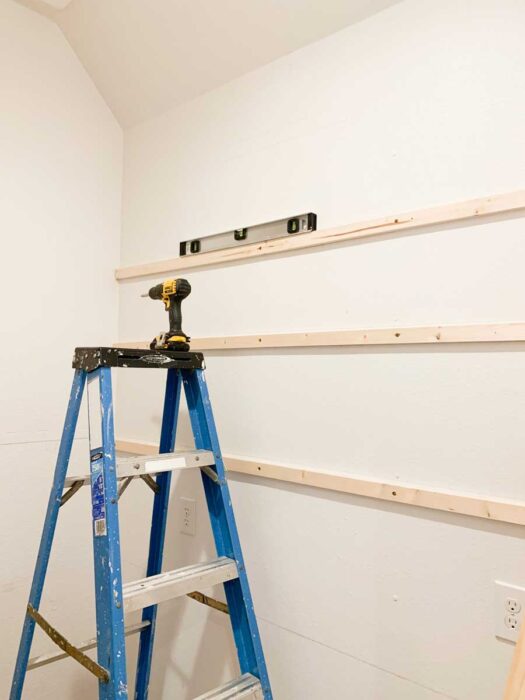 I used 1×2 pine to place level cleats on the wall, screwing into studs with 3″ cabinet screws. I used 1/2″ mdf for the shelves, and I nailed that into the cleats from the top using 1″ nails and my 18 gauge nail gun. This is similar to how I built the floating shelves in the Home Office and the built ins in the Guest Room/Craft Room.
We cut these shelves from the sheets of mdf into L shapes, which made the installation a little difficult. I thought by cutting them in Ls that the shelves would be stronger at the corner. I don't know if that's true or not, we'll have to see how they hold up. If I had to do it again, I'd probably use 3/4″ plywood instead of mdf, but I used 1/2″ because I didn't want my finished shelves to be too thick once the trim was installed.
The depth of the installed shelves is totally customizable. For me, I knew what containers I wanted to use, so I measured those first. That allowed me to make the shelves deep enough for to use those specific containers. My shelves are about 13″ deep. You can make your shelves as deep or shallow as you want to. Just measure your containers & make a custom fit!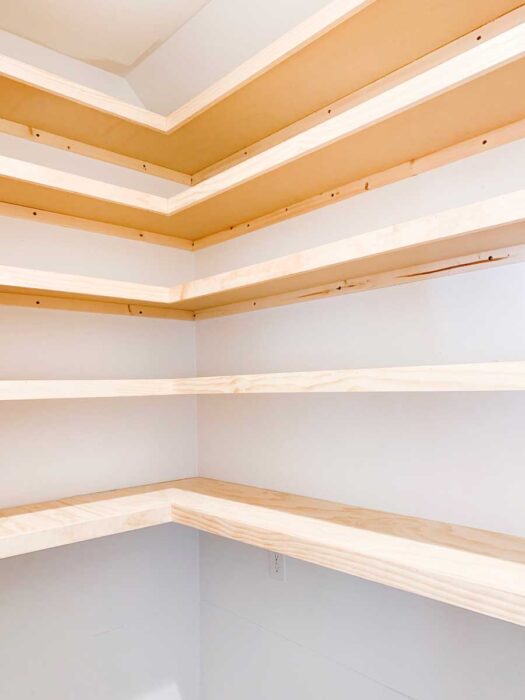 To finish off the fronts nicely, I used select pine 1x3s ripped down to 2″ and attached them with 1″ nails and my 18 gauge brad nail gun.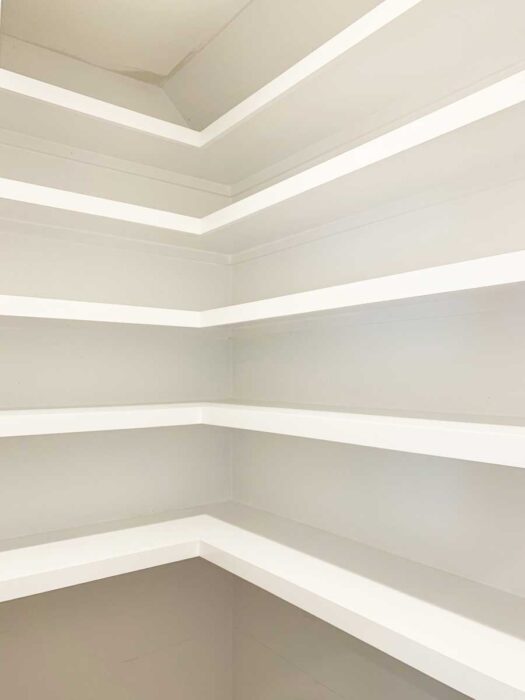 It only took a couple of days to build these shelves. I filled all of the holes with white wood filler, sanded and caulked. Then I primed them and painted them with two coats of Benjamin Moore Advance in Decorator's White.
The Base Shelving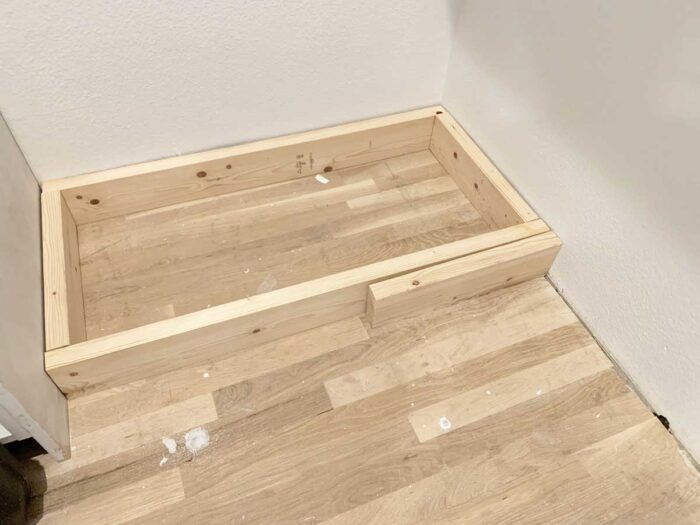 For the base cabinets, I used a combination of scrap wood I had in my garage and lumber from Lowes. The shelves are made out of 3/4″ mdf, since that's what I had leftover from the kitchen project.
For these, we started out by building bases out of 2x6s ripped to 4.5″. This is similar to what we did for the island cabinets. The cabinet boxes will be 30″ tall, so with the toekick that's 34.5″. The counter top is 1.5″ thick, so that finishes out at the standard 36″ high workspace.
Once we leveled those, we built the cabinet boxes with the mdf. These base cabinets will be a normal cabinet depth of 24″ when finished & trimmed out.
For the three base cabinets, we made 3 sided boxes (two sides and a base) and then used scrap mdf to square it with two strips across the top and one on the back (near the top). Then, we put a piece of 1/4″ plywood on the backs with small nails. The widths are custom for our space, but they are basically 2 19″ wide cabinets. The leftover space gives us room to get in the corner cabinet.
We chose 19″ wide because that would give us an opening of 17.5″.  The elfa drawers we are using in the right cabinet are 16 7/8″ wide. Making the opening 17.5″ wide gives us some breathing room on each side of the basket drawers.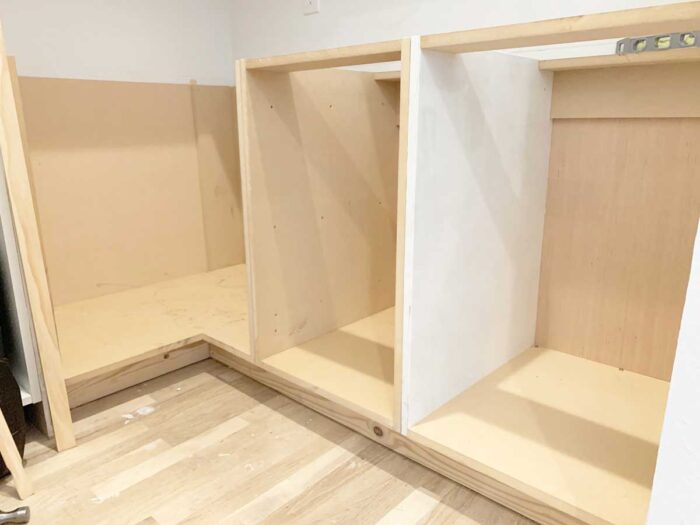 We installed these starting with the corner cabinet first. Then, we leveled the cabinets, and attached them to each other, then screwed them into the bases. I installed the shelves in a similar way as the upper shelves, only I ripped the 1×2 cleats in half first.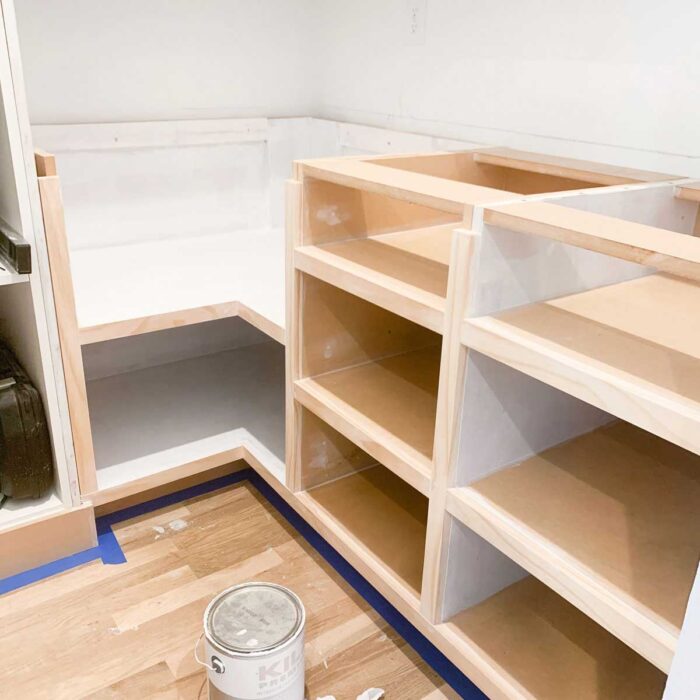 Once they were installed, I trimmed all of the fronts with Select Pine 1x2s. This is why I ripped the shelf supports for the bottom cabinets to 3/4″. At 3/4″, when you put the 3/4″ thick shelf on top, the whole thing is hidden by the 1×2.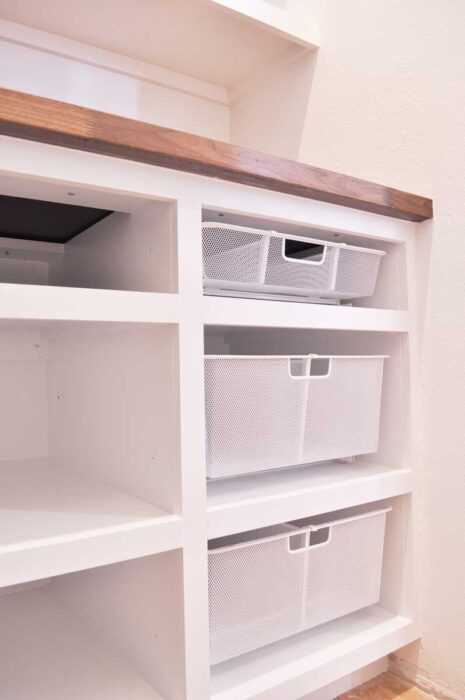 After I primed and painted the base cabinets, I installed the elfa mesh glider drawers in the first cabinet. I used 1 Medium 1 runner glider drawer and 2 Medium 2 runner glider drawers. Installation of the glider rails is very simple. It's just 4 screws into the cabinet. This means, you can make this cabinet as wide as you want, as long as it is wider than the drawer. It is easier to install the top elfa drawer before the countertop is in place. These elfa drawers are going to hold bagged chips and snacks in an easy place for the kids to reach them.
I also got elfa drawer dividers and labels.
You can save 25% right now when you buy any 3 Elfa including my pantry cabinet drawers! They come in multiple sizes and are super easy to install.
The Countertop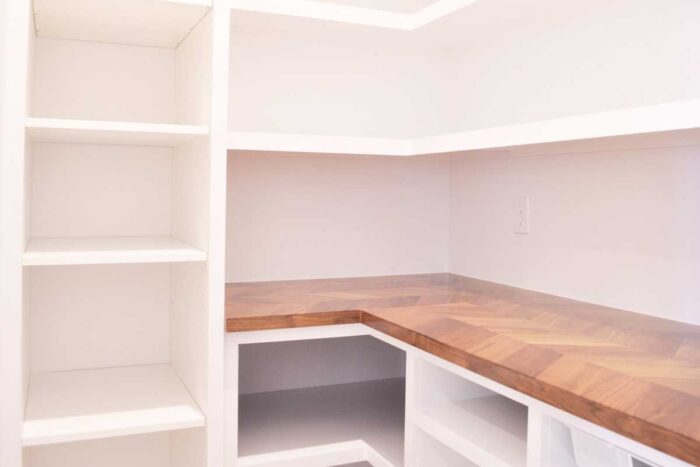 For the countertop, we used the large IKEA Barkaboda Butcher Block. This is the same countertop that we used in the Built In Bar Project in the living room. I love the Chevron look, its just so much more interesting than regular butcher block. We did not cut the depth down at all. The depth is 25 5/8″.
To protect it, I used 3 coats of Waterlox Original Sealer followed by one coat of Waterlox Satin Sealer. The original waterlox was a little too shiny for me, and the Satin requires 3 coats of the original first. I love Waterlox because it penetrates the wood to protect it. Its expensive, but worth it. Luckily, I had plenty leftover from the Guest Bathroom Remodel.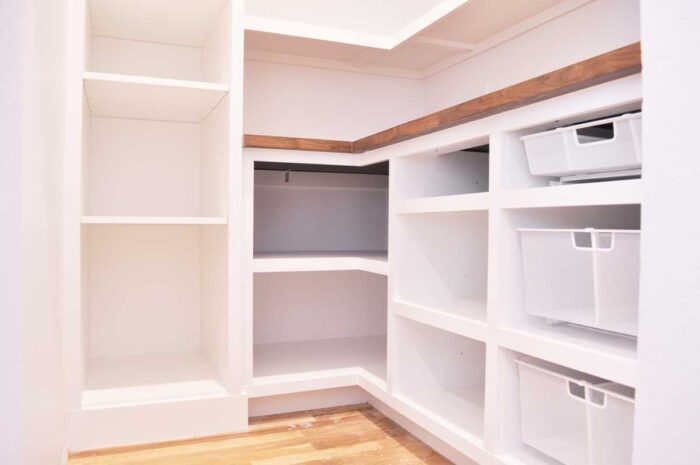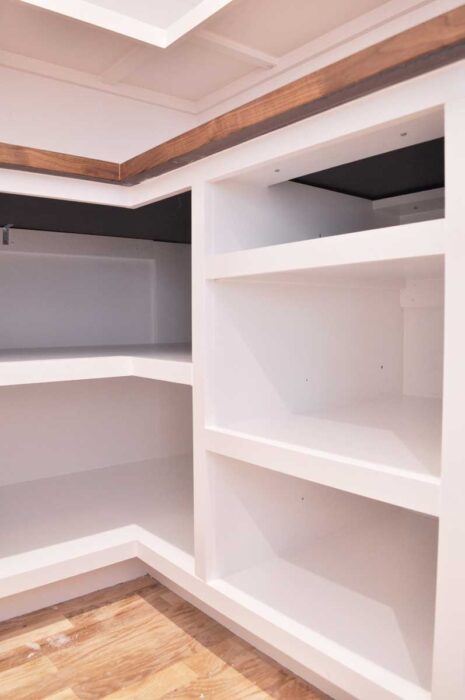 For the final steps, we caulked the countertop and touched up the wall & shelf paint. Then, I got to decorate!
The Decor (So Far)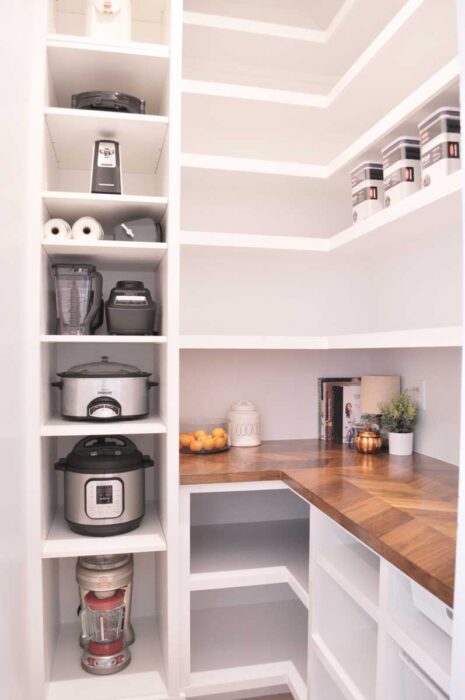 It's important to me that the pantry be just as pretty as the rest of my house, so of course I'm going to decorate. Pantry decorating is more about organizing and keeping things neat and tidy than pretty, but with a countertop, we can throw a little pretty in here too.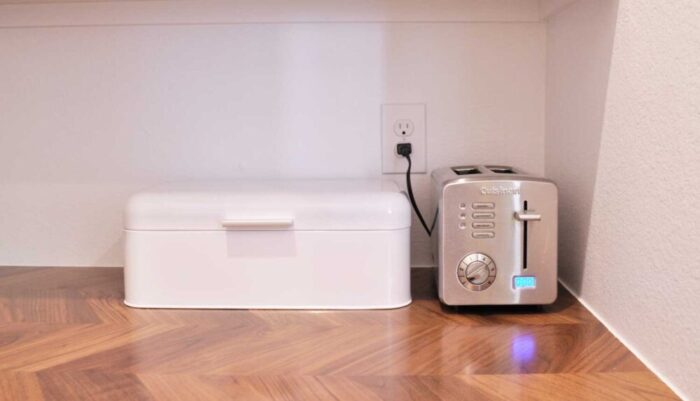 I was really excited to get the toaster out of the kitchen and in a spot where the bread is. I bought this bread box on Amazon and its so roomy! It fits all of our bread, english muffins, and tortillas easily. I think I may put some rub & buff on the handle in the future.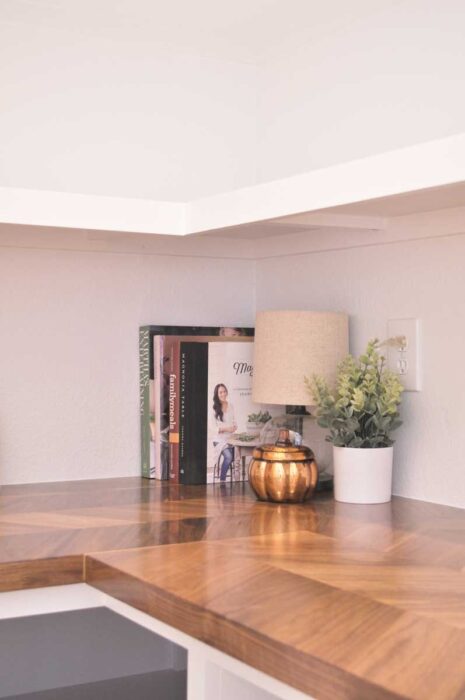 I also have a mini lamp in here, and we leave this on all the time. It's totally not necessary, but I love it! Mini lamps are one of my favorite things and are usually under $15. I love to share them when I see cool ones on my Instagram Stories & the LikeToKnow.It App. Make sure you're following me there so you don't miss any! Any of those would be perfect in here, and honestly, I'm eyeing that navy one for this spot.
The corner of the countertop was the perfect place to put some of my larger cookbooks, and I'm thinking the rest will go on one of the pantry shelves. My cookbook collection is rather small because I kind of think they are outdated with Pinterest having any recipe at your fingertips, but I still like to look at them from time to time.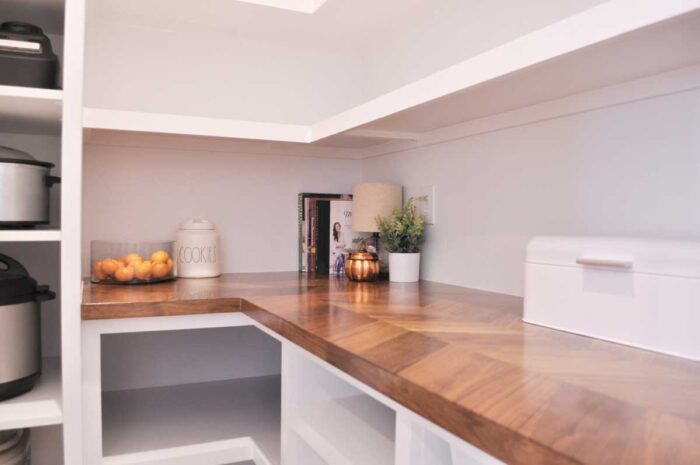 I also moved our fruit bowl to this space and added a Rae Dunn Cookie jar that I picked up at HomeGoods last month. I'm desperately searching for a Red version for Christmas, and I may or may not have spent 5 hours last Friday looking for one. #noshame
Can you imagine decorating this space for the holidays? I can't wait! I have a funded Holiday Decor YNAB budget category just waiting for Target to drop their decor! Read more about how our YNAB budget changed our lives in this blog post.
The Appliance Storage
The appliance tower is working out nicely. A few years ago, I paired down our kitchen appliances when I Konmari'd the kitchen. I can honestly say that the only small kitchen appliances that are in the actual kitchen are the coffee maker and the stand mixer. I love having a defined space. It keeps you from buying unnecessary appliances.
The Snack Drawer
The kids of course love the snack drawer. They were shocked that mom bought individual sized snacks, but I had to make it look cute! Sometimes I buy them, if they're on sale and I have a coupon, of course.
What's Next?
I haven't moved the rest of the food back in just yet for a couple of reasons. First, the Advance paint is amazing, but it takes 30 days to cure. I don't really want to repaint these any time soon, so I'm giving them the full 30 days before I put them to use. Second, I'm going to add white contact paper before I put anything on them. I'll probably do that next week. Finally, I'm still trying to figure out what containers I need to buy. So stay tuned for the organized reveal when I finally have that finished. The pantry is organized! Find out all of my favorite containers and how I organized the pantry in this post.
Finally, even though this pantry looks complete, there are a few projects left to be done. I'm going to add wallpaper to the blank wall to the left of the appliance storage. I haven't figured out which one I want to get yet, though I have an idea in mind. I want something dramatic and colorful. Maybe with lemons. I've never done wallpaper before, so I'm trying to figure out if I want to do traditional wallpaper or peel & stick. Do you have a preference or any tips? I also have one farmhouse hook from my Amazon order last month leftover to use in here for aprons.
We still need to add the crown molding, and we're going to put a barn door on at some point. In January, the floors are geting refinished, which is why we weren't worried about them when painting, obviously. The flooring guys will also be putting in 5 1/4″ baseboards in here after the floors are done. I also really want to tile the backsplash area.
The Budget
I didn't really have a set budget specifically for the pantry, as it was all rolled into the bigger Kitchen budget.  Overall, we spent about $900 on this pantry.  That sounds like a lot, but most of it is the countertop & the IKEA cabinets that we used.  The wood for the shelving was about $250.  The elfa drawers, dividers and labels were $116.  I bought those during the shelving sale and they were 25% off, but they usually go 30% off at the beginning of the year during the Elfa Sale.
Everything Elfa is on sale up to 25% off right now for a limited time! I haven't seen that 30% off come back, so this is the best deal!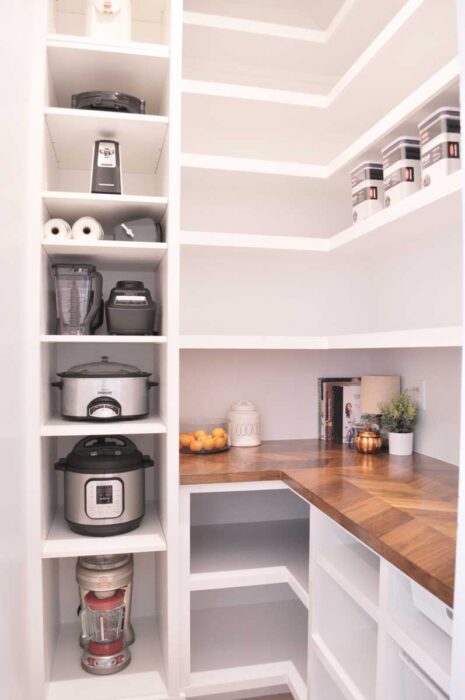 I'm really happy with this pantry! It looks exactly like the pantry I was picturing in my mind. It's going to be so much fun to fill it up with the awesome grocery sales that happen during the holidays! I'm also excited to get back to seriously Meal Planning, because that saves us so much money! Now, I need to get back to my Weekly Savings Challenge so that I can earn some cash to go buy stuff to organize it with!

The Elfa Sale at The Container Store is when the pantry glider drawers are 25% off! That's the best sale all year and its usually in January and February. They also go on sale in June with a buy more, save more sale. While you're shopping, make sure to pick up some of The Home Edit products that I used to organize the Medicine Cabinet!
Want to see how I organized this pantry? Check out the Pantry Organization Reveal! After that, don't miss the Laundry Room Organization Post for tips & products to inspire you to get organized!
What's your favorite part of the pantry? How would you organize it? Do you have any favorite organizing products or maybe a wallpaper suggestion? Let me know in the comments!
Don't miss Your Top 7 Pantry Questions Answered!
IKEA Kitchen Remodel
The remodel is done! Check out the rest of the posts to watch our vision come to life!
Want to see the rest of what we've done in this house?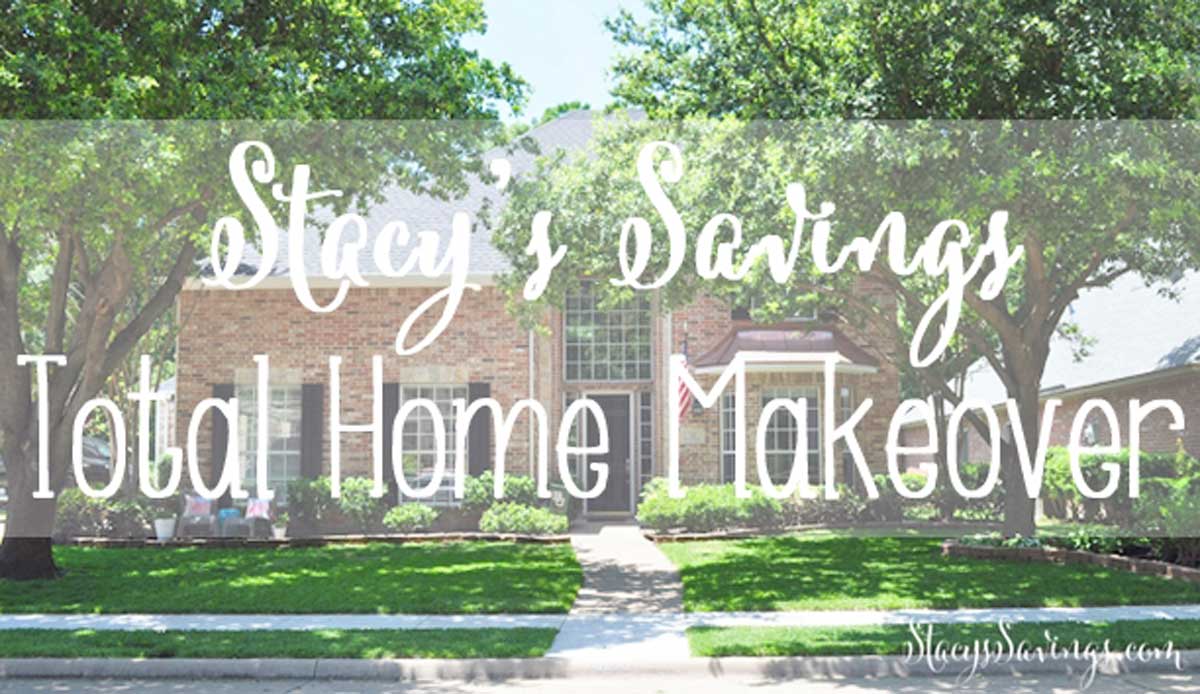 Check out all of the Stacy's Savings Total Home Makeover posts!