It's been two years since we completed our IKEA Kitchen Remodel, so I thought it would be a great time to review how it's held up! In this IKEA Kitchen Cabinets Review, I'll let you know what I love, what I don't love and what I wish we would have done. It will be fun! Let's do it!
First, don't miss our full IKEA Kitchen & Laundry Room Remodel Series
Now that you're caught up, let's get to the review!
IKEA Kitchen Cabinets Review
Let's get just cut to the chase and answer the question I know everyone wants answered: Would you buy IKEA Kitchen Cabinets Again.
Answer: ABSOLUTELY 100% HANDS DOWN YES!
With that out of the way, let's talk about what I love about using IKEA Kitchen Cabinets in a renovation.
What I Love
First, know that I've used IKEA Kitchen Cabinets in several rooms in my home before we did the kitchen remodel. So I had experience with how they are assembled and installed. The rooms we have used them in are:
There are some quirks with the Sektion system, which I will get to in a moment, but having that prior experience working with them prepared me for the massive kitchen & laundry room project.
Please note, for all of these projects, including the Kitchen & Laundry Room, we did not use IKEA Doors or Drawer Fronts. In our projects, we have always purchased solid wood versions from Scherr's. There are many companies now that make custom doors and fronts for IKEA cabinets, like SemiHandmade. I cannot speak to the quality of the IKEA versions, so this review is strictly about the cabinet frames and the Sektion System itself.
The Quality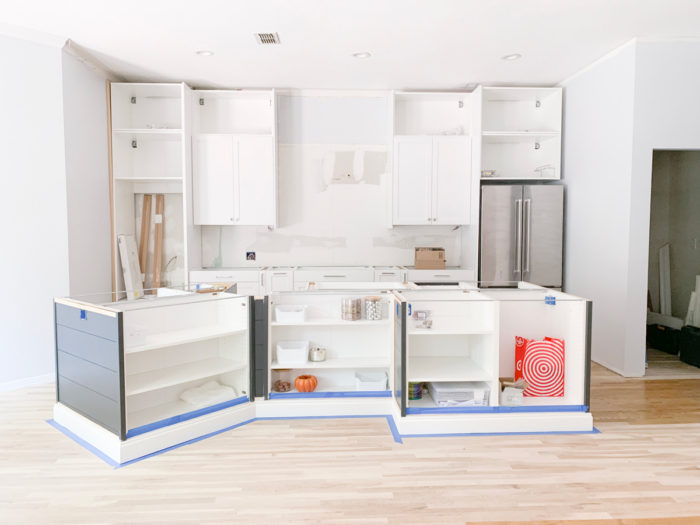 Overall, I'm very impressed with the quality and stability of the IKEA Kitchen Cabinets frames. The frames are very sturdy & strong. They are not like what you think of when you think of particle board IKEA furniture. We have not had a single problem with any of the IKEA cabinet frames. They are just as sturdy as our old solid oak cabinets were.
If you're worried about how your IKEA Kitchen Cabinets Frames will hold up in the long run, don't be.
The Assembly
The IKEA Kitchen Cabinet Frames are easy to assemble, especially when you have many to put together. You can sort of do it in your sleep after a while. Assembling them into a complete kitchen is frustrating at times, but as you work with them you figure out ways to get it done.
The Price
This is by far my favorite part about IKEA Kitchen Cabinets. You cannot beat the price. We waited for the IKEA Kitchen Sale and were able to save 10% on our order. We also signed up for the IKEA Credit Card to pay for the kitchen, which we promptly paid off with cash. This gave us rewards to spend on other items for our kitchen remodel, like drawer organizers.
Since our Kitchen space is so large, and we were doing the laundry room, our IKEA bill for cabinet frames was higher than most. Also, the custom doors & trim cost more than the IKEA versions. But combining those, we still beat new cabinets from any other retailer or custom cabinet maker. Without question. We would have paid at least double what we did for IKEA then it would be for those options.
Wall Cabinet Depth

Perhaps my favorite thing about IKEA Kitchen Cabinets is that the wall cabinets are 15″ deep. Our old cabinets were less than 12″ deep, and our dinner plates stuck out into the face frame. There's so much more space in our upper cabinets in the new kitchen!
Continued Customization

Another thing that I love about our IKEA Kitchen Cabinets is that I can still buy pieces for it. After living with our kitchen for a while, I realized that certain cabinets would work better with an extra shelf. Or, that deep drawer that I keep plastic containers in would work better if there was a shallow hidden drawer inside for the lids. I don't have to wish I had done those things during the remodel. I can just drive 15 minutes to IKEA, buy the shelf or hidden drawer, and install it in my kitchen in minutes.
There are so many internal organizers at IKEA that are specific to the Sektion system. Plus, they're always coming out with new ones too!
They're Modular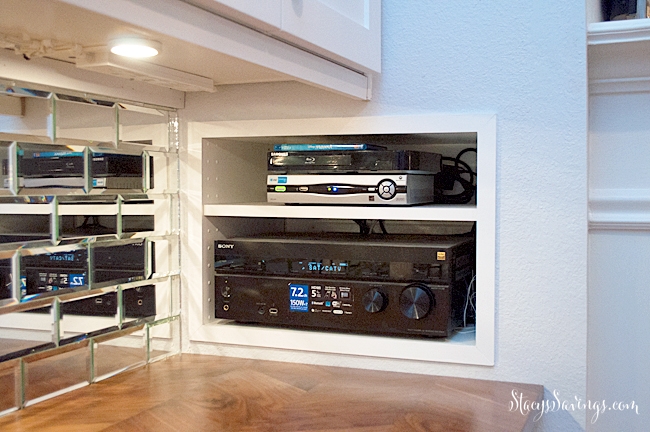 IKEA Kitchen Cabinets are modular, so they are easily hackable if you need something slightly different. For example, when we did the built in bar, we needed a 21″ wide x 15″ tall cabinet to house our media equipment. IKEA doesn't sell one that size, but they do sell a 21″ wide cabinet and a 15″ tall cabinet. Since the Sektion cabinets are modular, the assembly holes are all in the same places across the line. So I was able to buy both the 21″ cabinet and a 15″ cabinet and put the pieces together to create the 21″x15″ cabinet that I needed for the space.
We've also cut down the depth of the cabinets before, and used a dowel hole maker to make new assembly holes. We did that in the kid's bathroom and also in one of the island cabinets.
Not Just For Kitchens

OK, this one is controversial, because I think in the IKEA Kitchen Cabinet Warranty it says they are only to be used in an actual kitchen or its void. So if you care about that, maybe skip this part. If you don't care about the warranty, know that you can use these cabinets all over your house. They're just a box after all.
In fact, after we finished the kitchen, I used 2 wall cabinets to make a built in bookshelf room divider in our playroom! We've had these cabinets in our kid's bathroom for 5 years now and haven't had a single issue.
So those are all of the things I love about our IKEA Kitchen Cabinets. Now, let's talk about some that I don't love.
What I Don't Love
First of all, this heading is slightly misleading, because there really isn't anything I don't love about my IKEA Kitchen Cabinets after 2 years of use. Well, maybe the 21″ cabinet's limitations, but I don't really hate that, it's just annoying. Try to avoid having to use the 21″ wide cabinet if you can. It only takes the medium sized drawers & there aren't as many organizers for some reason.
In the photo above, you can see the 21″ cabinet on the left. These medium internal drawers are the only ones that fit in this size cabinet. We use this for storage bags & wrap, lunch boxes & school water bottles, and back stock storage & trash bags.
They Take Creativity
This might have something to do with the fact that we only used the IKEA Kitchen Cabinets frames, feet and rail system. Everything that you see in my kitchen & laundry room remodel is NOT IKEA. The IKEA is all underneath. That's the issue. IKEA Kitchen Cabinets take some creativity to install.
What do I mean? Well, the cabinet frames themselves are not meant to be seen unless you open a door or a drawer. There are cover panels for the sides, deco strips for the bottoms of upper cabinets, and toe kicks for the bottoms along the floor.
Sometimes it takes a lot of creativity to figure out how to cover up that space between the cabinet and the oven, for example. Or gaps between cabinets. Like I came up with these island small shiplap areas on the fly out of scrap wood from my garage. That wasn't in the original design.
One thing I did to make this part easier was I saved the hardware boxes from the cabinet frames and divided all of the excess hardware pieces in a drawer. We were able to use some of those materials in the finish out. Having it all organized & separated in one place made this much faster.
This can get exhausting, because by this point in the remodel, you're just so over everything & ready to have your kitchen back. But press on. You'll figure it out.
The IKEA Kitchen Sale – After You've Installed Your Kitchen

The IKEA Kitchen Sale is great when you're building your kitchen. You know you're going to spent $2500+ or whatever their threshold is to get the discount during that sale. Its after your kitchen is done and you need that one hidden drawer or that one thing to make it perfect, and you can't get the discount because your total is too low.
When we bought our Kitchen, the IKEA Kitchen Sale was 10% off everything with no minimum spend. I've been watching the IKEA Kitchen Sales over the last few years, and 10% off with no minimum is extremely rare. In fact, it hasn't happened since.
You know I like a good deal and don't want to pay full price. So this is annoying.
Ordering Through The Kitchen Department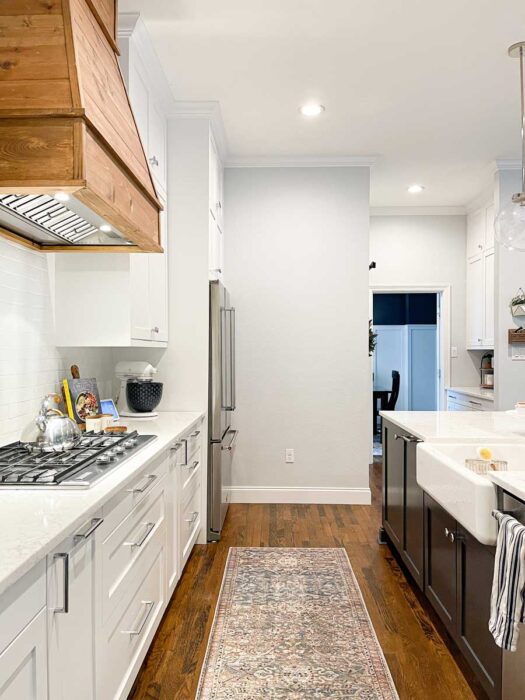 Again, this is an "after your kitchen remodel is complete" complaint. When you are making your HUGE first kitchen order, sitting with the IKEA Kitchen Designer and making sure you have every hinge, every foot, every everything is very important. It can take hours.
But when you go back during your remodel to get one thing, or after your remodel to get one thing, YOU are the IKEA Kitchen Expert and YOU know enough that you could work there. But you can't just go to IKEA and pick up that drawer or that hinge or that shelf off the warehouse rack. You have to have an IKEA kitchen designer order it for you in the kitchen department. It's annoying, especially if its just for one hinge.
What I Wish We Would Have Done
There's really nothing major that I wish we would have done during the remodel. All of the things that I wish we would have done I can still do right now, with one exception.
First, I wish we would have put hidden drawers in all of the deep lower drawers in the kitchen. I can still do this, and I've been saving money & waiting for the kitchen sale. I would put things like container lids, our pancake griddle, and other flat items in this hidden drawer. I've already installed one for our container lids & it was life-changing!
Second, I might have hired someone to paint the doors for me. Again, we used custom doors that came unfinished. The company we used would have primed them for me, but I didn't want to pay the extra cost for that. In the end, painting them myself took me months. They look fine, but they would have been perfect and I would have saved a ton of time if I had hired a painter.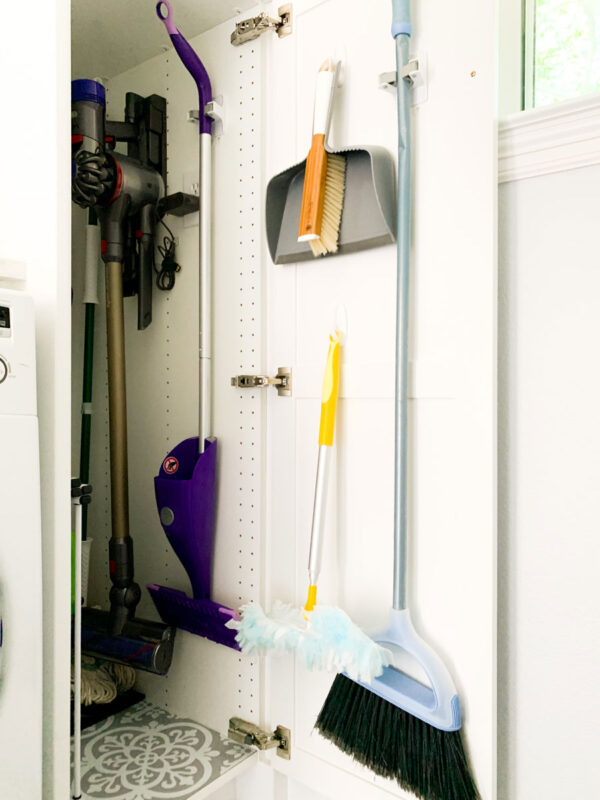 The one thing that I wish we would have done that we can't really go back and do without some major deconstruction, is the utility cabinet in the laundry room. IKEA Kitchen Cabinets only come in two depths: 15″ and 24″. For the laundry room, we had a 32″ depth for the utility cabinet. Originally, we were going to build an extension cabinet on to the back of the IKEA cabinet so that we wouldn't loose that space. We were only storing mops, a drying rack, and our vacuum in there, so things wouldn't really get lost in the back.
In the end, we didn't do it because we weren't confident enough in our skills that we thought we could, and we were just ready for the project to be done. So we skipped it. We probably have the skill now, but it would be very difficult to do now with the laundry room completed.
In Conclusion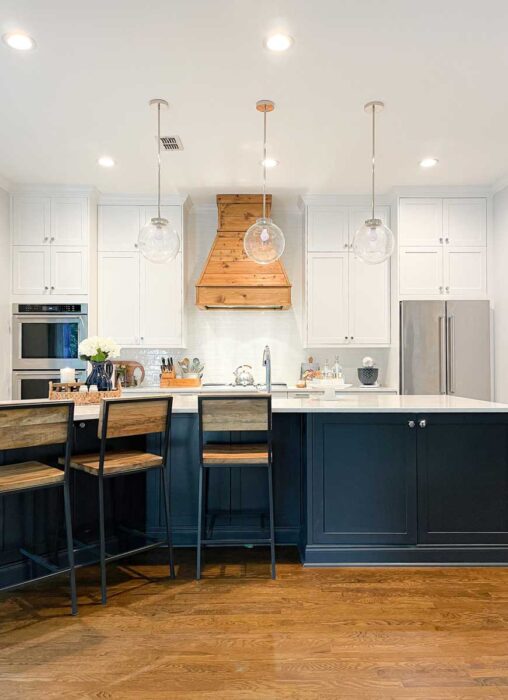 So that's my review of our IKEA kitchen cabinets 2 years later. Would I do an IKEA kitchen again? Absolutely! 100%! Our neighborhood is mostly semi-custom homes and our neighbors thought we were crazy for putting IKEA cabinets in our kitchen. But do you think this looks like an IKEA kitchen? No way! You just can't beat the function and price of IKEA cabinets.
If you're not handy, its going to be extremely difficult to find a contractor to install IKEA cabinets for you. Most remodel contractors I talked to do not want to use these cabinets because they make more money selling custom cabinets. If you can't or don't want to install them yourself, you may find a handyman to help you, but not many contractors are willing to do IKEA kitchens since they don't make enough money to justify their time.
If you think you can take on a DIY kitchen remodel, IKEA cabinet frames should be at the top of your list!
Want more of my DIY Projects, Home Decor, Organization & more? Make sure you're following me on Instagram to stay updated!
Do you have an IKEA kitchen & have different answers? Tell us what you love or don't love about your cabinets in the comments! If you're considering an IKEA kitchen, and you have more questions, leave them in the comments & I'll be happy to answer them!