Hello everyone!
I feel like we've done a ton of projects lately.  I'm so behind on my blogging about them, but, you know, real life.  Anyway, I'll have plenty of time to catch up because I'm almost out of small stuff.  That's right.  We're about to hit a wall (unfortunately, not literally) with the tiny, inexpensive projects around the house.  I'm sure I'll come up with some that I'm not thinking about, but for the foreseeable future, there's not much left.
The last whole room update that we're going to do before trying to save up & tackle one of the massively-expensive projects is the Master Closet!  I'm so excited about this one y'all!
We have a pretty big closet, but it isn't being used to its full potential.  When we moved in, we just hung things up, and they've been in the same spots ever since.  It's slightly organized, but its a hot mess.
Our closet is more than just clothes & shoes storage.  It's also where I keep my nail polish, necklaces & extra/special makeup.  There's also a lot of things that are not in here that I'd like to keep in here, like luggage, swimsuits, pajamas & unmentionables.  All of that stuff is either in dressers in our bedroom or in the attic.
With our Master Closet Remodel, there are a handful of problems to solve.
The first issue is that the closet needs to fit all of our stuff.  Or at least all of my stuff and most of Doug's stuff.  We can still use his dresser in the bedroom.  In fact, our room would look weird without it.  I would love to consolidate all of my stuff in here so we can sell my dresser/mirror combo.  It takes up a ton of space in our room.
There's also some Broken Stuff in here that needs to be fixed.  There were walls that needed to be repaired from where the old Alarm Box was, Shelves were bowing, a closet rod wasn't even attached on one side!
#2 on the list is lighting.  Currently, we have 2 flush-mount globe lights with two bulbs each.  Both of these cheap builder-grade fixtures are on the long side of our L-shaped space.  That means there is no light in my "accessories area" or the entry to the closet.  We're going to fix this by ditching the 2 crapy lights and installing 3 6″ recessed cans with LED light kits.
I know, I know, fancy closets have fancy chandeliers.  I don't really want a chandelier, though.  The weird shadows that they give off would bug me.  I want to put a full-length mirror in there, and I need a bright light.  There is no natural light, so we need to brighten up the space without strange shadows.
Also, I want to be able to use the full height of the closet (10′), and I don't want to have to try to avoid a hanging light fixture when I try to pull a suitcase from the top while perched on a ladder.
So no fancy lights, just practical ones.
Item #3 is an integrated hamper.  I'm sick and tired of having the hamper where its at.  I feel like it cuts the walking flow of the closet, and its just cumbersome and annoying.
The last item is that I want it to be built in and pretty.  There it is!  Pretty is always on the list.
I've researched a ton of different options for how to accomplish this on a budget, and I always come back to the same conclusion: Ikea's Pax Wardrobe System.
I've been playing around with the Pax Planner on their website for 6 months, and I think I've figured out what I need.  Here's what I've come up with: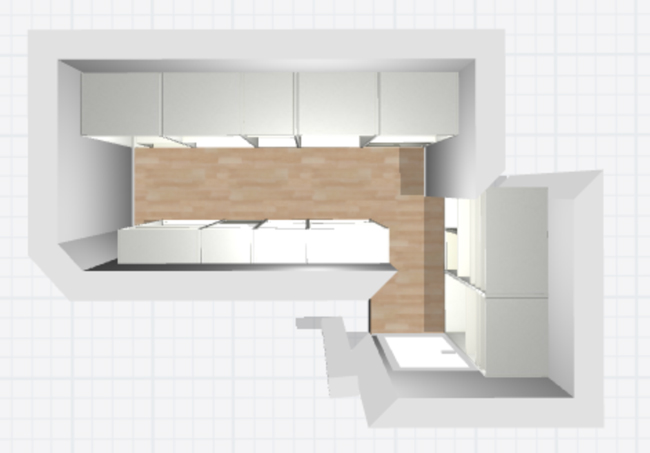 Basically, we're going to have 3 zones.  The first zone is the area where you walk in.  That is all mine, of course!  This will still be where my makeup, jewelry & nail polish will be, but I'm also going to add my scarves & accessories (purses, bags, hats, etc) to this area.  This will actually be the last part of the closet to be finished, as I'm going to concentrate on the clothing & shoes area first.  That way, the closet is only empty of clothing for the shortest amount of time possible.  I really hate it when there's stuff all over the house where it's not supposed to be, so I try to get the "stuff everywhere" part over fast.
The second zone is the back wall.  That's where the majority of the clothes will be.  The back wall will have all 24″ deep wardrobes.  Some will have drawers, some will have double racks, and all will have a shelf near the top.  In order to maximize the space, we can fit 4 29″ wide Pax frames and a 19″ wide frame perfectly.  I will get 3, and Doug will get 1 29″ and the 19″.  I will have drawers on this side for all of my drawer stuff.  Doug's wardrobes will be all of his hanging clothes & the hamper.
The last zone is the front wall.  This will be mostly shoes, but also Doug's drawers & hunting gear.  We will use 2 19″ frames and 2 29″ frames.  I'm really excited about this wall – well, my part of this wall!  This wall means we can get the gun safe off that end wall.  I'm going to anchor it inside a reinforced wardrobe, and create a locker-type area with the leftovers to hang his backpack & bulky stuff.  It's kind of genius.
The end wall will be totally empty, so I'm going to get a fancy full-length mirror from HomeGoods.  I've never had a full-length mirror, so if you follow me on Instagram, you might start seeing a lot of selfies.
I wrote the draft of this post back in September when I started planning this project.  Since then, I have started the KonMari process of decluttering the house, and that started with my clothes.  It is now January, and I just got an email this morning that the PAX/Komplement items are 15% off for IKEA Family Members!  You know what that means!  It's go time!
Stay tuned for updates!