In the 4 years we've lived in our home, the one project where I get the most satisfaction is a closet remodel.  Every closet in our home (except one) has been customized to our family's needs.  Custom Closets don't have to be expensive, and they don't have to come from some fancy closet company.  In this post, I'm going to show you how I built a DIY Custom Closet in every closet in our home on a budget & to maximize space, even the awkward ones!
First, a "custom closet" doesn't have to use a fancy system.  Installing a cheap shelf in a closet makes it a DIY custom closet, as long as it makes the closet work better for you.  There's so much dead space in closets when a builder puts in a rack or a shelf.  Instead of working around that, take it out!  Then, a whole world of possibilities opens up for you!  A DIY custom closet remodel can be as cheap or as expensive as you make it.
Here's how we completely customized all of the closets in our home on a budget.  Each DIY custom closet remodel post has the instructions and budget of the project.  Just click on the link provided for details.
My Son's Closet
The first DIY custom closet remodel we tackled in this house was the closet in my son's room.  This one was in really bad shape, so we had to do it first.  His clothing rod was literally falling off the wall.  A quick coat of paint (Benjamin Moore's Light Blue), a Billy shelf from IKEA, a couple of boards & closet rods, and this closet was done.  We've quadrupled the storage, and the closet has been able to grow with him.
The Closet Under the Stairs/Coat Closet
The next DIY custom closet we did was the closet under the stairs.  This one had a totally awkward layout and had to serve many functions.  Not only is it an under the stairs closet, but it is the coat closet for the house.  It's also next to the garage door, not the front door.  We did some creative thinking and came up with a space that served all of the functions we needed.  It's still not done.  I'm actively on the lookout for things to hang on the wall, like bins for the kid's school work.  But, all of this storage is really nice!
The Girls' Shared Closet
After those two closets were done, we got the news that Baby #3 was on the way, and that meant it was time to address the closet situation in the girl's now-shared bedroom.  This room has the one of the smallest closets, and we had to make it work for two girls and all of their stuff.  I took a page from my son's closet and did a twist on the Billy Hack for the Girl's Shared Closet.
I realize all of baby's clothes aren't in that closet, and that's because she's still in our room.  Actually, both of our daughters sleep in our room, but that's another topic for another time.  Anyway, all of her clothes are in my old dresser in my room.  One day, I hope to have her moved in here (anytime now is great, baby)!
The Guest Room/Craft Room Closet
In the new guest room/craft room, we had a basic builder closet with almost 5 feet of storage above the shelf.  Since this closet wouldn't be storing clothes, I wanted a space that could contain the wrapping paper and other crafting items.
Using some leftover wood we had in the garage, we installed two shelves above the builder shelf.  We also installed a wood clothing rod, just in case we want to use it in the future for toys.
I reused a hanging shelf (similar) that we had previously used in our daughter's closet to contain ribbon, bows, small gift bags and shipping materials.  I found a few bins at HomeGoods to hide other crafting materials that aren't needed all of the time.  Some wall racks from IKEA hold the wrapping paper, and some plastic drawers hold more wrapping materials and craft embellishments.  There's still enough room left over for a guest to hang a few items and store a small suitcase or bag.  I hope one day to add a can light in here so we can see better (and get better photos), but for now, this closet is done.
The Master Closet
The biggest DIY custom closet remodel was the one we did in our Master Closet last year.
We took a Pax Closet System from IKEA and built it in to make it look like a custom closet.  This was definitely the most expensive closet remodel we've done in this house, but this would have been triple the price tag if we'd had one of those companies come in and do it.  I love the function of this space & it even has crown molding & baseboards installed since these pictures were taken!
The Linen Closet
We have one closet left that hasn't been customized, and that's the Linen Closet.  That closet is upstairs and is mostly used for game and puzzle storage.  It's just a closet with shelves.  We don't really use it for linens or towels.  I haven't really decided what I'm going to do in there yet.
You don't need a ton of money or a garage full of power tools to create the DIY custom closet of your dreams.  The early closets we got done with just a drill!  All of the closets except the Master Closet were done for under $200.  My son's was the most expensive of the cheap closets because it had the bigger IKEA Billy Bookcase.
Here's a handy pin if you want to come back to this post later!  Thanks for pinning!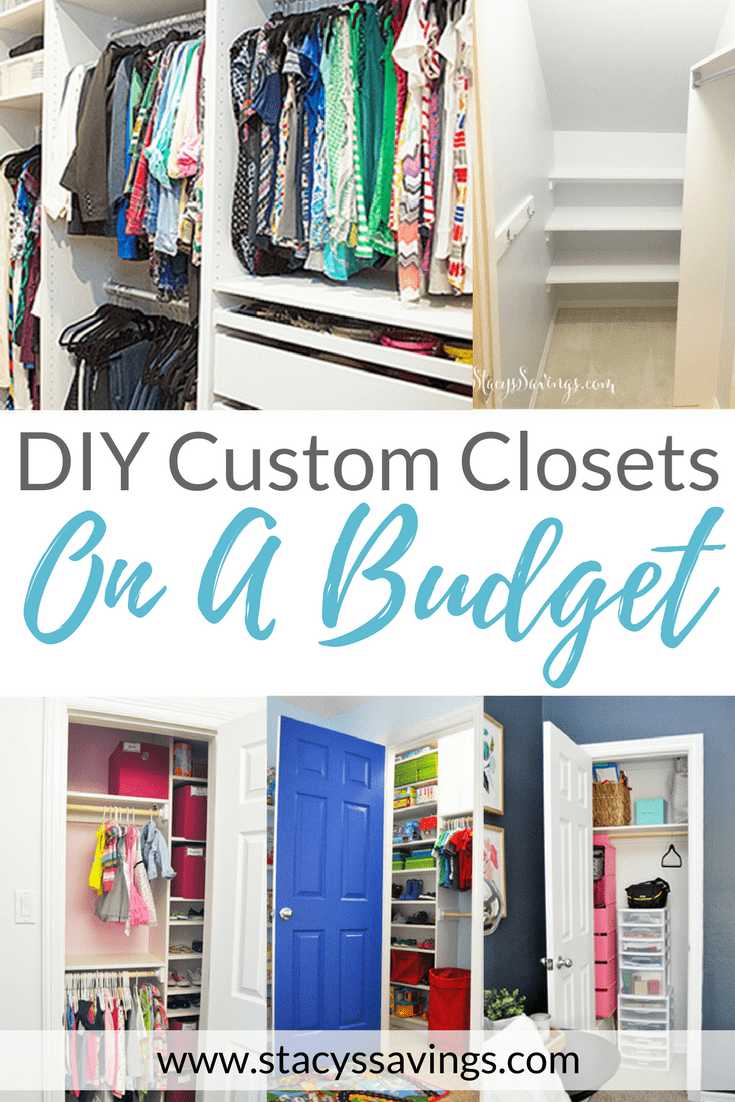 Have you customized any closets in your home?  It's a relatively easy project.  The smaller closets are weekend projects, and a lot of that is waiting for paint to dry.  Adding additional storage to your home pays off in more ways than one for sure!  How have you customized your closets?  What are your favorite closet organization tools?  Tell me in the comments!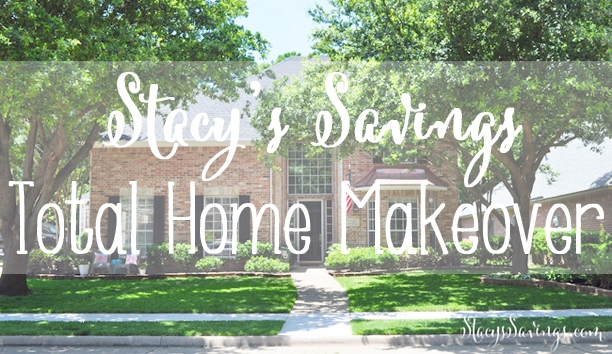 Check out all of the Stacy's Savings Total Home Makeover posts here!