So, if you caught last week's Total Home Makeover post, and you follow me on Instagram, you know we're deep into a remodel of the kids Jack & Jill bathroom.  We'd been planning on slowly remodeling this bathroom piece by piece over the next year, with very large breaks in between pieces & while maintaining a useable bathroom upstairs.  However, a slow leak in the toilet that finally showed up through the dining room ceiling has caused us to stop everything else and get this remodel completed quickly.
Here are some more before shots:

It's pretty tight in there, so it's hard to get good pictures.
We have several goals for this bathroom:
Create more storage space
Make it feel open & airy
Modernize
Pretty & Functional
Our plan at this point is to gut everything, get a few small plumbing jobs done (move some water lines over a few inches to clear the cabinets, replace all of the shut off valves), and then do repairs to the subfloor.  There is water damage to the subfloor around the toilet, so we'll need to replace it.  We've already removed one wall and prepped the walls.  The demo is also mostly done.
Once the subfloor & plumbing problems are fixed, we're going to install the new cabinets and bathtub, and then tackle the floor.  We want to get these steps done as soon as possible, so that we can install the new toilet.  The kids don't really use this bathroom too much yet, but its hard not having a toilet upstairs, in case my son needs it in the middle of the night.  So doing what we need to do to get the toilet in is priority #1.
After all of that is finished, we're going to tile the shower.  We want to add a recessed niche along the side wall, sort of like this one pictured above, to hold shampoo, conditioner and soap.  That's going to require a little framing work.  We've never tiled a shower before, so we're I'm excited to try it!  This will be practice for when we remodel the downstairs guest bathroom in a few years.
We're finalizing choices for this bathroom, but we're probably going to do countertops (Silestone) and sinks next, and then cabinet doors and drawer fronts last.  We've decided to use IKEA kitchen cabinets, because they get awesome reviews, but I hate the doors & drawer fronts.  I've found a few companies that make custom doors & drawer fronts, so I've asked for quotes.  The cabinets can still be functional without them for a while.
We're going with a similar feel to the Master Bathroom that we had remodeled last year.  We're doing white walls & trim (Benjamin Moore Decorators White), White Toilet, White Rectangular Tub, Delta Dryden fixtures in Polished Chrome, Carrera Marble Hexagon floors & accents, and white subway tile.

This time, we're doing one Navy Blue and one Hot Pink Vanity and White Silestone Countertops.  The Hot Pink vanity is going to be a risk for me, but I think it will work since its basically inside my daughter's room.  We'll see.  I might hate it.  I'm going to paint a big poster board and let it sit there for a while before I actually paint anything.  I'm trying to decide between Benjamin Moore Gypsy Pink and Hot Lips.
I had a healthy Free Amazon Gift Card Balance from all of those Rewards Websites that I use, so I ordered a Big Box of Fun including a Nail Gun, Compressor Hose, Couplings, a Critter Paint Sprayer, a Jigsaw, and an Air Compressor.  I'm excited to use my new toys while we remodel this bathroom!
I'm also planning on doing some kind of shelving over the toilet.  I only have one stud, so I'm either going to try to squeeze a new stud in there or do a hanging shelf system.  Not sure yet.  I think I'm going to do some kind of stained wood to warm up the room a bit.  We're also planning a trip to the Pottery Barn Outlet to pick up new towels and accessories for the bathroom.
So that's the plan for the bathroom.  I'd really like this room done by the time the kids go to school in the fall.
Have you ever remodeled a bathroom by yourself?  What were your challenges & wins?  Tell us about it in the comments!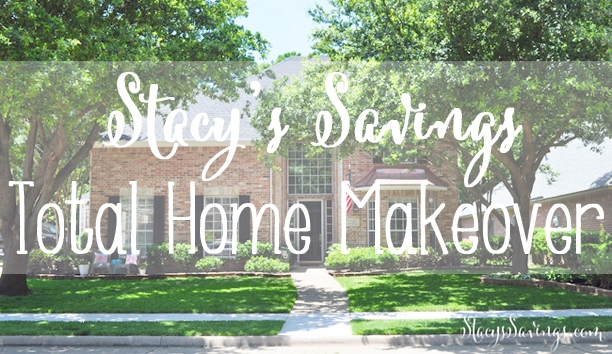 Check out all of the Stacy's Savings Total Home Makeover posts here!