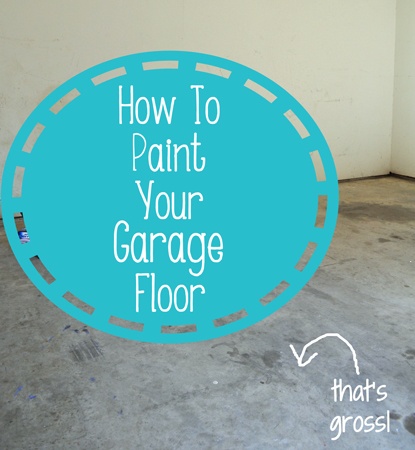 We lived in our little pink house for over 10 years, and we always wanted to paint the garage floor with an epoxy kit.  I actually bought one about 8 years ago, and it sat…for 8 years.  It never got done.
So, when we bought this house, we knew that if we were going to epoxy the garage floor, we had to do it before we moved in and filled the garage with stuff.  After getting the keys, we immediately swept out the garage and got our supplies ready.  That's normal, right?  The VERY FIRST THING you do after getting the keys is clean & paint the garage floor?  I know, we're weird!
We used 2 Rustoelum Garage Epoxy Kits that we picked up at Home Depot.  Our new garage is 2+ car sized, about 500 square feet, so we used 2 1car kits (that's all they had at Home Depot).  We went with the gray kit.  We also picked up some Behr Anti Slip Additive to make the finished floor less slippery and more safe.
The kit comes with a DVD that shows you exactly how to do it.  First, you clean the floor with your favorite push broom or wet-dry vac.  Then, you mix the etching solution with water, using a watering can, and spread that around the floor, scrubbing and then squeegee-ing as you go.  We did all of that the first night, and then the next afternoon, we got started painting.
After watching the DVD, we mixed the epoxy cans and added our anti-slip stuff (really easy, just stir it in).  While waited the 30 minutes necessary for the epoxy to do its magic, I separated the "sparkle chips", as I called them, into 6 solo cups so that we could more evenly spread them around the floor.  They don't really sparkle, but they do add some style to your floor.  When the epoxy was ready, I did the cutting in around the edge with my favorite Wooster 2″ brush (super comfy handle!), and Doug rolled in 4′ x 4′ sections.  I then spread the chips.
That's it!  We just let it dry for 24 hours before walking on it, and 36-48 before putting things on it.  It looks awesome and so clean!  It makes the walls look even more gross than they did before (we're doing something about that VERY soon)!
We did have one issue.  It seems that the second kit is a bit darker than the first.  We think the reason why is that Doug said the second kit had more of the anti-slip additive in it.  So if you want a more even look, maybe separate the anti slip stuff into two cups so that you can use an even amount in both batches.
In total, we spent about $125 on paint & the additive, plus we spent $20 on a push broom & squeegee.  We use a roller, tray & brush that we already had, which would have been another $20 or so.  It's a huge payoff for a little expense.  It looks fabulous!
I'm sorry that I'm only showing you this tiny corner of our garage.  The rest is currently covered by boxes, unorganized garage paraphernalia, broken down boxes, and a HUGE pile of debris to take to the dump.  Trust me, its an unorganized mess that is hive inducing.  Be glad I shielded your eyes from that wreck.  I'll update this post when the garage is clean.  😉
At the time this was finished, this was the cleanest, most updated part of the house.  The walls on the other hand?  Absolutely disgusting.  The garage was so gross, covered in gecko poop (seriously!) and nasty cobwebs.  I had to buy one of these for my extension pole and go around the whole house, because every room had cobwebs and every vent and exhaust fan was caked in dust.  Gross!
While we were doing this project, we discovered that the garage door/opener that was supposed to be in the process of getting fixed while we looked at the house, was never fixed.  We called our trusted Garage Door Repairman, who came out and told us that it was cheaper to get 2 new openers and 2 new doors.  So we did that.  He cut us a big deal on the installation of the openers, since we had two doors and we'd used him before, so that helped.  We ended up going with these Craftsman Garage Door Openers.  We had one in the last house, and it we really liked it.  It has a motion-sensing light in the garage, and the belt is super quiet.  Highly recommended!
Next up for this garage, paint with primer, some type of organization system, and ceiling loft storage!  This may be the first completely updated room in the house…maybe.

Check out all of the Stacy's Savings Total Home Makeover posts here!
Do you have plans for your garage this Spring?  What are you thinking?  Anyone painting?  How do you organize?  Tell us in the comments!