I'm so excited about this project, that I got all of the posts up in three days!  I couldn't wait to show you!  If you missed the why & how I built these shelves, check out Post 1: Getting Started and Post 2: Construction.  You can also see the evolution of this room so far in the Craft Room Series of posts.
After all of the construction was done, it was time to install our crown & decorative moldings.  I love the way our thicker molding looks in our dining room and home office, so I wanted to do the same thing in here.  Basically, its a piece of Crown Molding, then about 3″ of flat wood, and then a small 1.5″ thick piece of decorative molding.  I was using the header boards that I installed as the flat wood panel between them, so I just needed to install the molding pieces.
We needed to install crown molding all around the room.  I wanted the shelf totally built in with the crown connected to the molding in the rest of the space.  That finishes the built in off really nicely.  I was originally going to carry the smaller piece all the way around the room, but I would have had to skim coat in between the molding in order to get a flat, non-textured surface to mimic the molding extension, and I decided it was too much work.  So I just did the crown molding on the other walls.
For this crown molding installation, we used the Kreg Crown Molding Kit to help with the cutting & angles.  It's $30, and it is a must-have for your next Crown Molding project.  It easily saved me hours during the cutting process.  Best $30 I spent on this project!
We got all of the molding installed, and then it was time to patch all of the holes and caulk everything. This took about two days, 2 tubes of wood filler, and 12 tubes of caulk.  There are a million cracks, crevices and nail holes to cover.  I did use white wood filler this time, and I don't know why I've never used that for painting projects before.  It's much better than regular wood filler when you know you're going to paint the surface white.  It blends right in.
With the construction all complete, it was time to prime all of the trim & molding.  When that was done, I gave everything one coat of paint, even the stuff that was previously painted, in order to blend in the places where I caulked, scratches from installation, or patched holes.
The next day, I gave all of the molding & trim a final coat of white paint.  I used Benjamin Moore Advanced paint in Decorator's White, just like we've used on all of the trim all over the house.  I also touched up the navy paint in the shelves and around the moldings.
And this is the final product:
It's always so fun to imagine things in your head, and then build them and see them in reality.
That's where we're at today.  I'm just waiting on everything to cure before loading up the shelves!  The paint, even though its dry to the touch, takes about 30 days to cure & turn hard as a rock.  I don't ever want to paint them again, so I'm sitting on my hands and trying not to let the box full of crap in the living room bug me too much.  I want to make the 30 day mark!
I have to say, they look FANTASTIC.  I'm so proud of myself!  This is by far the biggest carpentry project I've ever taken on.  I was really scared that it would take a long time, or that I would screw it up.  I contemplated hiring it out for while, but I'm so glad I took the leap and did it myself!  Sometimes, I come in this room and just stare at them.  I can't wait to fill up all of these shelves with books, craft supplies, family scrapbooks and other treasures!
WOW!
This room has made a HUGE transformation, and I feel like these shelves should have always been here.  I can't believe that the room used to look the way it did.  This project has definitely given me more confidence now to tackle some of the other built ins that I want to build around the house.
Once I can unpack my boxes, this room will be done except for some decor.  I still need to get you the DIY headboard post, the closet organization post, as well as the total room update post.  I've got a lot of blogging to do!
This completes almost everything on the list for this room!
Demo Built Ins and Remove Wallpaper
Repair Walls & Texture
Paint Ceiling
Install 4 Recessed LED Lights
Install New White Ceiling Fan
Paint Walls
Assemble & Install Cabinets
Case Window
Custom Bamboo Shade w/Blackout Liner
Install Baseboards, Caulk, Prime & Paint
Patch Carpet
Trim Cabinets
Build, Stain & Install Countertops
Add Closet Shelving
Add Closet Light
Furnish
Finish Decorating
Built In Shelves
Add Crown Molding
Replace Carpet with Hardwoods
Replace Window
The decorating & closet light will hopefully be done this fall.  The new floors and window are a long ways off.  We're talking years.  So I'm calling this room DONE!
The shelves took me about 8 full days to create.  I did it in 3 hour spurts, and I had to wait for Doug to do some things, so in real time, I did it over about 10 days.  If I had no distractions (kids), I probably could have done it in 5 days, and most of that is paint drying time.
The materials for the shelving cost me about $500 for wood, paint/primer, caulk, molding & hardware.  The molding definitely drives up the price.  That was about half of it.  Combining this cost with the cabinets & decor updates from the previous post, we're right at $1,000 for this room.  What a transformation for $1,000!
What do you think?  This is the part where you tell me how fantastic my work is.  Haha!  I'm totally not humble about this project!  It was a HUGE challenge that I conquered!
I'm adding this project to the Thrifty Decor Chick's Before & After Party!  It's one of my favorite posts of the month!  Great way to get inspired!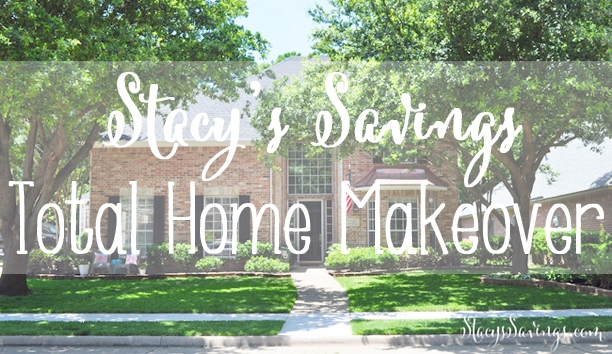 Check out all of the Stacy's Savings Total Home Makeover posts here!