I swear, the master closet remodel has been "done" for almost a year.  But, there are still a few little nagging projects that I just haven't had the motivation to complete.  The little vanity area I built in my closet it one of them.
I had always envisioned a vanity spot to hold my everyday jewelry with a little mirror to check my look on the way out.  I wanted to jazz it up and make it different from the rest of the closet.  In reality, it was a dumping ground for things that needed to be stored elsewhere.
I've been slowly collecting items to make the vision that I had for this spot a reality.  I just couldn't find the right background piece to pull it all together.  That is, until I went to Target to check out the new Opalhouse Collection.
That's when I found this Devine Color Speckled Dot Peel & Stick Wallpaper on the clearance shelf for 50% off.
I had been searching for something to put on the back of this little section of my PAX built in master closet since we remodeled the closet.  Every store I visited, I would keep my eye out for anything: wrapping paper, wallpaper, contact paper, whatever.  I was going to do marble originally, but the second I saw this peel & stick wallpaper on the clearance rack, I knew that was it.
So this weekend, I spruced up the little vanity section of my closet in about 10 minutes time.
Hanging the Wallpaper
First, I removed everything from the vanity shelf and the shelf above. I wanted to cut the wallpaper to just slightly larger than my opening, so that the edges would be behind the back of the shelves & tucked into the sides.  Once the shelves were gone, I measured my space.  The opening was 28″ wide and a tiny bit over 20″ tall.  Since my paper was 20″ wide, I decided to save paper and lay this horizontally. The pattern is scattered, so it was the same either way.
I cut 28 1/4″ of paper.  There's no lines or anything on the back, so I made two marks at 28 1/4″ on each side, then connected them with a level.
I removed the first few inches of backing from the side of my paper, since I was laying it horizontally.  Then, I tried to line it up as level as I could using the shelf holders as a guide.  It's basically exactly like contact or shelf paper.
I smoothed the paper down as I went, gently pulling the backing as I moved down, saving the side edges for last.  An old gift card came in handy to get rid of bubbles.
Once everything was on the back of the wardrobe, I used the gift card to spread the edges behind the side walls.
That's it!  Super easy!  I had to realign it once, but its basically contact paper.
The Finished Vanity!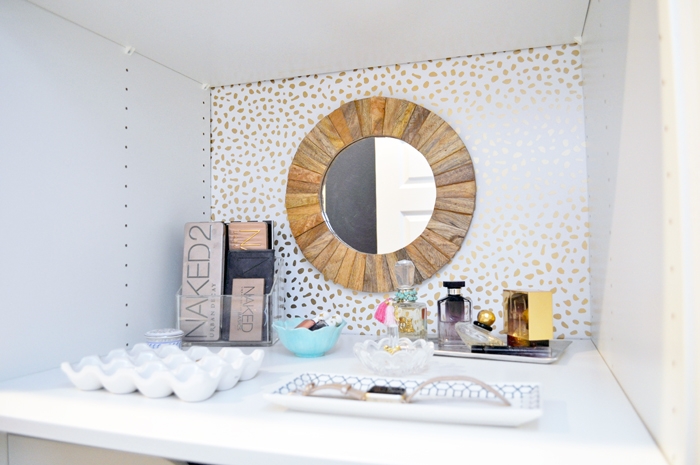 I had purchased a small round mirror at HomeGoods many months ago.  It matches the arrow hook rack on the opposite wall.  I used a 2″ trim nail to hang the mirror.
One of my favorite ways to organize is to give everything a home.  This vanity area stores some of my everyday go-tos.  To finish the space, I used an acrylic remote holder from HomeGoods to store my make up palettes, an old West Elm hammered tray for my perfume bottles, a Waterford Crystal wedding ring holder for my daily rings, a ceramic Egg Dish from World Market for my small earrings, and an old spoon rest that I found on clearance at Target for my watch.
One of my favorite things in the world is this small pill box that I got at Buckingham Palace when I was in college.  It was part of the China set commemorating the Queen Mother's 100th Birthday.  I keep my kid's teeth in it.  I mean, the Tooth Fairy does.  Whatever.
Now this little area of my closet is tidy & special!  I just love it!  I keep walking past it and staring.  It's really making me want to get the rest of the closet finished so I can show you.  Maybe I'll just show you since most of the other projects left to do are hidden from view.  Stay Tuned!
I still have a ton of wallpaper left over.  Doug has a small vanity area in the closet, so I may repeat this project over there.  I'm also considering lining the drawers with it.
Have you used Peel & Stick Wallpaper for projects around your home?  I'd love to see them!  I really loved working with this stuff, and I couldn't beat the price.  I love when things fall into place like that!