~This is another post from the Wayback Draft Bin that has been waiting for edited images.  I've updated it to add a couple of other light fixtures that we've since changed.  We've got a few ceiling fans left to replace, but there are no more fugly light-fixtures left in this house!  Lighting Updates make a HUGE difference in how your home looks and feels.  It is so simple, and there are great-looking fixtures for every budget.  I hope you enjoy this lighting update post! ~Stacy
2015 was been a "low" year as far as the Total House Makeover was concerned.  We were trying to save up for some bigger remodel projects.  So in the mean time, we did small jobs around the house that did't cost very much.
One of the goals for that year was to update most of the light fixtures.  Our house was built in 1995, but the wallpaper & lighting choices are straight out of the 80's.  Everything is glossy brass and cheap.  We're going for a contemporary-transitional-modern-rustic vibe in the house – I like to call it comfortable contemporary – and I had finally found the perfect fixtures!
If you follow along with the Stacy's Savings Weekly Savings Challenge, you know that I've been saving cash each week to spend on furniture and decor.  Well, I finally had enough saved to order most of the new lighting, after waiting for sales and coupons, of course.
The Playroom
First, we replaced the ceiling fan in the Playroom with one that was Iron & Walnut from Home Depot.  It was only $50 at the time, but has gone up to $60.  We also replaced the one in the Living Room with the same fan.  This made a huge difference because the old fan was hung way too low.  It was also the only light fixture in the room.  At the same time we replaced the fan, we also installed 4 recessed cans with LED lights to modernize the lighting.  We also put these on smart switches that we can control with our phones or Alexa.
We love these fan & light switches by GE.  They are easy to install, and they let us do so much from our phones!  We can dim the lights, turn them up, off or on, and we can adjust the speed of the fan.  They hook up to your Alexa for hands-free controls!  Amazing!
The Hallways
Next, I replaced all of the cheap "apartment globe" hallway light fixtures with these cool Geometric ones from the Young House Love Collection at Shades of Light.  These super-cool fixtures are just $79 each, and now come in several finishes!  These do not have any glass to clean, and the price was right.  We even had our electrician add an additional junction box upstairs between the kid's rooms so that we could have some more light in there.  It was weird and dark with just a single light at one end of the hallway.  I couldn't get a good angle on that hallway (I didn't even get a good one here!), but I'll upload a better shot this weekend!
The Stairs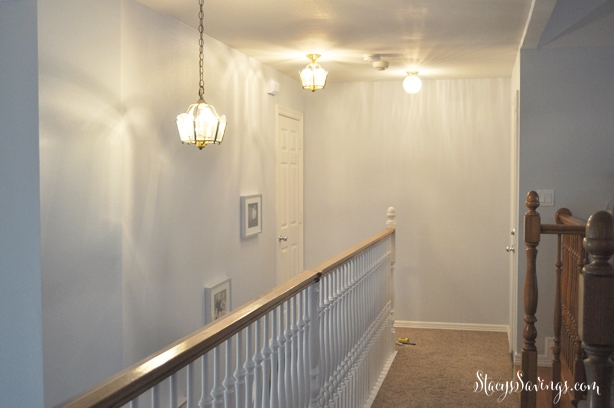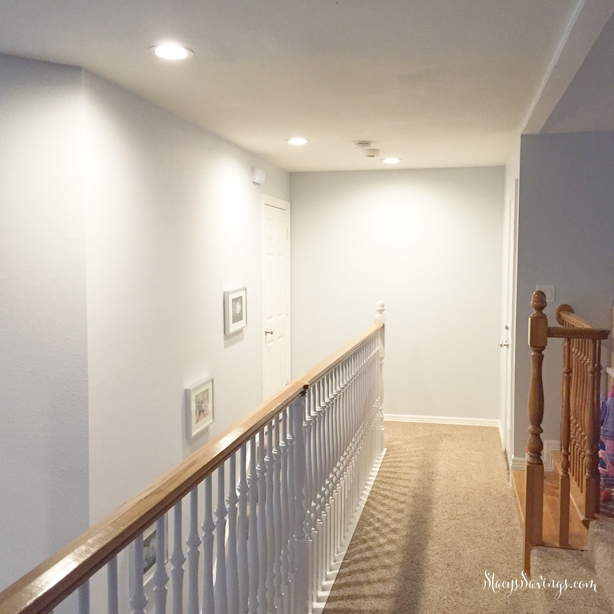 Then, we replaced the dated light fixtures in the stairwell with recessed cans for a more modern look.  It cut down on the headache-inducing reflections on the wall from the glass & created a brighter, cleaner space.
The Front Yard
We replaced our old and dated Outdoor Lanterns with these from Shades of Light.  They make a much better impact than the old ones did, especially the one by the garage.  When the Electrician was here, I had him wire the garage lantern to the porch light switch, so they would all turn on at the same time.
The Entryway
We also tapped the electrician for the two fixtures out of our reach.  We had him switch out the old brass foyer chandelier with a rustic one from Ballard Designs, as well as replace the porch light with this one from Shades of Light.
The Dining Room
Lastly, in early 2017, we finally got rid of the two most ugly light fixtures in our house: The Dining Room & Breakfast Nook lights.
The Dining Room Light was this fake-patina, garden flower monstrosity that was completely embarrassing.  I had a coupon for West Elm, a reward certificate, and the rectangle capiz chandelier finally went on sale.  I was able to combine all of that for a pretty sweet deal!
The Breakfast Nook
The still-unused breakfast nook had this cheap, metal fixture that reminded me of the aliens from Batteries Not Included.  Remember that movie?  Well, it wasn't a good look for the dining room, so that thing got trashed.
We had this geometric pendant fixture from West Elm that we had hanging over our kitchen sink in the old house.  I couldn't bear to leave it there, so we excluded it from our listing and took it with us.  It had been sitting in a box, so I decided we could put it in the breakfast nook temporarily.  It's much better than a movie alien and free!.
Most of these lights we installed ourselves, but like I said, we had the Electrician out here to help us with a few things.  Our Electrician works hourly, so we don't call him until we have a list for him to do.  This trip, he installed the two high lights, added a light box in the hallway, added an electrical outlet near the stairs, moved a switch to a different wall in the kid's bathroom, and wired the garage lantern to be on the same switch as the other front exterior lights.  It took him about 3 hours to do all of that.  The scaffolding took a while to build and take down for the two high lights.
We have a few rooms where we want to add some recessed cans, and 3 ceiling fans to replace, but that's about it for lighting updates here.
Light fixtures come in all different price ranges, and they are a great way to get an instant update to your space.  They are an easy DIY change that you can make in about an hour.  Just always remember to shut off the power at the breaker, and use a voltage tester to triple check that the line you're working with isn't live.
Do you have a favorite light fixture in your home?  Where is your favorite place to find new light fixtures?  I love Shades of Light and West Elm.  Lately, I've seen some really good ones on Wayfair.