~This is one of the most popular posts on my blog!  It's been featured in slideshows on the websites of both Country Living and Good Housekeeping!  It's really old, and the images need updating, but the idea is still good.  I hope you all enjoy this little project I did in my son's room.  It's still going strong almost 4 years later, though the train bridges will probably get replaced with completed Lego sets pretty soon. ~Stacy
My son LOVES Thomas the Train.  Loves him!  He has a bunch of trains and tracks, and tons of bridges, and it all gets out of control…quickly.  The bridges don't fit in the train table, and the trains fall out.  We needed some train storage.  I thought that the colorful bridges, accessories & trains were cool to look at and would make good decor when not in use.  So, I decided to use a blank wall in my son's bedroom to display his collection & build some toy train storage.
***NOTE – if you have a climber, this is probably not the best solution for you.  My kid doesn't really climb stuff.  He's actually been listening when I say "don't ever climb and/or hang from this shelf.  Ever."  We told him that he has to ask an adult to get down a piece for him.  He's done that pretty well for the last 3 years.
Now that we've got that PSA out of the way, lets see what I did!
Supplies & Planning
All I used were 3 LACK Floating Shelves & 4 Mosslanda Picture Ledges from IKEA.  You could also use these Threshold picture ledges and floating shelves from Target, which I will discuss in more detail at the end of the post.
I first figured out my spacing, and decided that everything fit better with 15″ between the LACK Shelves, and 4.5″ between each Mosslanda Ledge.  Then, I left a little more space between the last shelf and the first ledge because Rocky has a crane, so he's a bit taller than a normal train.
Installation
I marked my space, and hung the LACK shelves first, top to bottom.  That way, I only had to vacuum once.  Then, I made sure my shelves were all level across, but also level vertically with each other.  I didn't want one sticking out further to one one side than the other.  After that, I mounted them according to the directions in the instruction booklets. All in all, it took me just a couple of hours to get everything installed and decorated.  Instant Gratification!
I was able to fit just about every bridge, accessory, and sign on the shelves, and I staggered them and made a cute display!  My son loves it!  It's nice to fill a blank wall with stuff we've already spent money on, you know?  Those trains and accessories are expensive!
The picture ledges are perfect for toy train storage.  This isn't all of his trains, he still has some under the train table, but its a good amount.  He likes to put his favorites on the wall, where he can see them, and they are easy for him to grab.  They would also work great for small cars, action figures, or any other small toy collection your kids want to display.    The ledges are wide enough to put the trains two deep on the racks if you want to.
Now, the 4 little bins under the train table hold all of the tracks, "unpretty" accessories, and overflow trains.
I love how this unused space is being fully utilized for something practical, but it also provides some much needed interest or art for this space.  My son loves it, and everyone that comes in his room loves it!
This is a very versatile storage system that can grow with your kid.  You don't have to store trains on it, you could do books, decorative items, Hot Wheels, Legos, action figures, the possibilities are endless!
Total Investment
All in all, this toy train storage project cost about $105 for the shelves & ledges.  The Mosslanda Picture Ledges are $9.99 each.  There's a smaller 21″ version that sells for $5.99. We use those for books on the other side of his room.  The LACK Shelves are $14.99 each.  Screws and anchors to mount these pieces to the wall are not included.  I had those on hand, but while you're at IKEA, you could pick up a Fixa set for $7.99.
For those of you without an IKEA around, or if you want the convenience of online shopping, Target has some ledges that are extremely similar to the old IKEA Ribba version of the ledges that don't have the groove down the middle.  They have several color options including white, black, espresso, natural and walnut.  At 23″, they are slightly longer than the short IKEA ledges, so you'd have to double up to have longer ones like this.
Target also has floating shelves in several colors that are the same length.
The Target versions are more expensive than the IKEA, but I remember the days of not having an IKEA close by, and sometimes Target is all you have.  Plus, they have free shipping with a REDcard!
Here's a pinnable image for you!
What do you think of my DIY Toy Train Storage?  Do you have a creative storage solution for your kid's stuff?  What's your favorite way to store all of those trains and accessories that seem to multiply quickly?  Tell us in the comments!
Be sure to check out how I customized my son's closet on a budget with a sweet IKEA hack!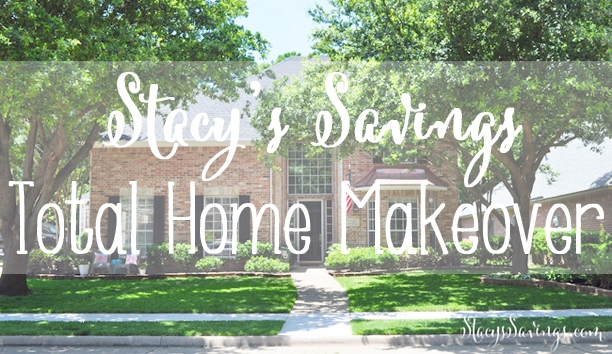 Check out all of the Stacy's Savings Total Home Makeover posts 
here
!