If you've been following me on Pinterest, you'll have seen that I've been pinning a ton of vegetable gardens and raised bed tutorials.  I've been wanting to build a Raised Vegetable Garden for a very long time.  Space for a garden was on my want-list when we bought this house 4 years ago.  I knew there was a perfect spot on this lot, but there were lots of issues to overcome.  We had to remove 20 year old holly bushes.  We also had to wait until the fence was moved to keep critters out. That meant we had to wait until the retaining wall was done.  Those projects were finished this Winter, so it was time to build our DIY Raised Vegetable Garden!
We haven't done much to the outside of the house, but we have resodded the yard, built cute patios in the front yard, did some updating in the backyard and resurfaced the pool.  That last one was not DIY.  No way.
The Issues
The spot for our garden is on the South side of our home.  The bed will be next to our HVAC system, along the brick wall, and next to where the backyard/pool area starts. My vision for this small side area is to clean up the space, install some sort of official pathway, and grow food.  Right now, we're going to focus on the growing food portion, and work on the rest of that later.
As I was pinning, I found lots of different raised bed options.  We have many animals living among us on the creek, mostly squirrels and bunnies.  We need something tall enough to keep them out, but low enough that we can still work on the garden.  Also, we wanted something slightly higher than the recommended 12 inches tall to make it easier for a disabled family member to help in the garden.
In all of my pinning, I kept coming back to this garden bed on Wayfair.  It was taller than 1′, and the black mesh panels would keep the animals out.  The hinges to pull down the mesh panels are genius!  I've never seen that before!  I love the look, and I love the access.  I didn't love the price.  It was WAY more than I wanted to spend.  Even on sale.
I knew I could build something very similar, so that's what we did this past weekend, the first weekend of Spring Break.  We had to do it this week, because we needed to get our crops planted before April.
Supplies
Here are the supplies that I used for this project:
Affiliate Links Used
6 Cedar 10x8x2 boards
1 Cedar 2×4
2 Boxes of 3″ Deck Screws
8 Cedar 2×2
6 Hinges
3 Eyelet Hook Latches
1 Barrel Latch
4′ Level
Mitre Saw (or have the store cut the boards to size for you)
Drill & Impact Driver Combo
Small Carpenter's Triangle
Black Mesh
Staple Gun & Staples
Snips to Cut the Mesh
Building the Base
First, I started by measuring the space.  Our bed is going to be 9 feet wide by 4 feet deep  On Friday night, we loaded up the kids to go to Lowe's and buy our wood.  We chose cedar, and ended up buying 6 10'x8″x2″ boards, plus a cedar 2×4 for the supports.  Cedar isn't cheap.  These boards were about $25 a piece and the 2×4 was $8.  Hopefully with the 2″ thick boards, the box will last long enough to make the cost worth it.  Make sure you've chosen straight pieces of wood so that they assemble easily.
We started by just building the base of the bed, and it took us about an hour to assemble.  I measured my boards, marked my cuts, and cut them down with my mitre saw.  I cut 4 9′ boards and 4 4′ boards.  You'll have enough left over for a small 1×2″ bed if you want.
After that, it was time to assemble the box!  I used 3″ deck screws to put the box together.  You want to use deck screws so that they won't rust.  I also predrilled all of my holes to avoid splitting the wood.
Assembling the box was very easy.  I laid out two of the front boards together, and connected them with a piece of 2×4 cut to 17″.  This will give me a 1″ overhang to act as a foot for easy leveling.  I placed one at each end and another in the middle.  Then, I repeated this step for the boards that would be the back of the bed.  I used 3 screws for each board, so 6 screws for each 2×4.  An impact driver and drill combo made this step go really fast.
Once the two long sides were put together, I stood them up on their tops with the feet in the air.  I placed one of the short boards on the side, making sure they were the same level as the completed sides.  Then, I drove a screw into each end to get the box square.  Once it was square, I finished screwing in that board on both sides, and added the bottom board.
After that, I just repeated that step on the other side, and my box was done!
This 9′ x 4′ bed is heavy.  I wanted to use 2″ thick boards because they will last longer.  We had to get Doug2 from across the street to help us place it in the yard.  I checked for level and used a mallet to strike the 2x4s to level out the bed.
Building the Bunny Gates
Now it was time to assemble the mesh panels.  I actually did this separately the next day.  My son and I went to Lowe's and bought 8 cedar 2x2s, black mesh, 6 black hinges, some eyelet hooks & 1 latch, and more deck screws.  Once we got home, we measured our 2x2s and cut them to 8 pieces at 52″ long and 12 pieces at 11″ long.  The pieces for the side gates are 41″ long. You will have a little bit of excess left over.
After I cut my boards to length, I screwed the 11″ pieces into the longer pieces, making sure they were square as I went. I made the side pieces screw into the cross pieces because I wanted to limit the screwheads exposed to the elements.  This way, they are concealed on the sides.
Since this bed backs to our house and is up against the HVAC unit, I decided to only have the front two gates and the left side gate moveable.  For the back two panels and one side panel, I had to assemble those on the actual bed.  The reason is because since those were stationary, I wanted to drive screws from the bottom of the mesh panels into the top of the raised bed.  I was able to do that with one panel, but for the others, I sort of had to make Cs (top, bottom and one side) and then carefully pull the top piece out to access the screw head.  It was tricky, but it worked.  I also drove a screw through the side pieces to connect the stationary gates to each other.
Once you have your 6 frames, you just cut the black mesh to fit with snips, and staple it to the back with a staplegun.  You now have 6 completed gate panels!
For the three movable gates, we installed 2 black hinges on the bottom.
To keep our gates up, we used 3 eye hooks on the inside top corners, and one latch in the middle.
The Finished Vegetable Garden
That's it!  I really love this bed, and I absolutely love that I didn't have to spend $400 to buy a pre-built one.  All in all, this project cost about $225.  Not cheap, but so much better than the $400 version.  I like mine better because the wood is thicker, and I know it hasn't been treated.  It's also custom sized to fit my space.  It should last quite a long time.
The main box took me an hour to build, but the bunny gates took longer.  It was maybe 3 hours to construct the bunny gates and finish installing everything.
You might notice that I have an interesting sprinkler arrangement in there.  That's for another post, but I'm super excited about that little DIY trick!  Stay tuned.
Now that the garden bed is done, this whole side of the house is really bugging me. Also, its tricky for some of our family members to get over here.  This is probably our next project out here, but we might hire this one out.  We'll see.
Here's an image to pin for later!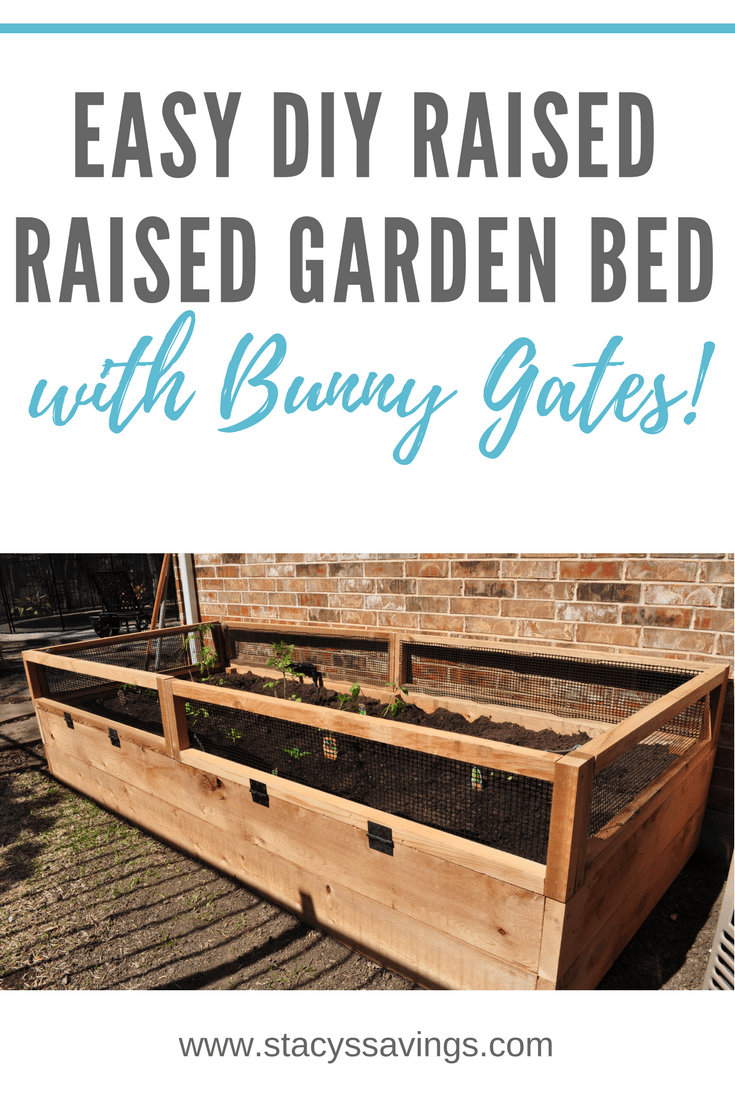 Have you ever built a vegetable garden bed before?  This was my first attempt and it was super easy.  I'm so excited to have a veggie garden this Summer and learn how to grow food with my kids.  I just hope my crops last through the Texas heat.  I want to hear what you grow in your gardens and what your must-have gardening items are!  I'm so excited to get started!  What do you wish you had known when you started gardening?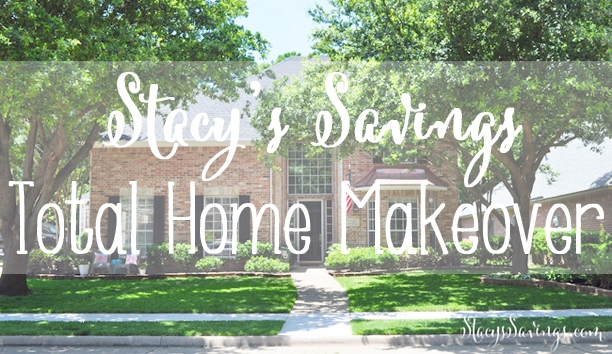 Check out all of the Stacy's Savings Total Home Makeover posts here!
I'm sharing this project on the Friday Favorites at Remodelaholic!  Go check out all of the other awesome DIYs & get inspired!