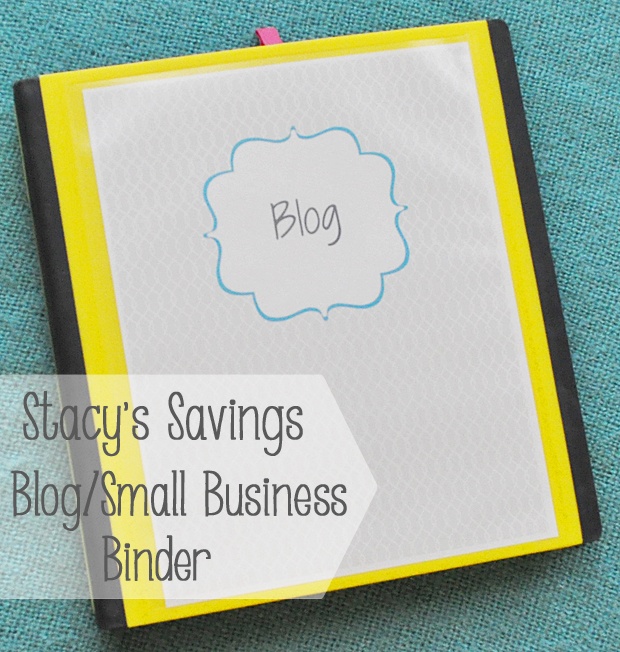 Now that we've fully recovered from the move, let's get back into the Organize Your Life With Binders Series with a new binder!  So far, I've shown you my Budget Binder, To Do Binder, Emergency Binder & Meal Planning Binder.
Today's Binder is my Blog & Small Business Binder.  If you don't have a blog, no problem!  Use it for any Small Business that you run, from an Etsy shop to a Scentsy Store or any at-Home Sales Business!  The possibilities are endless!
Supplies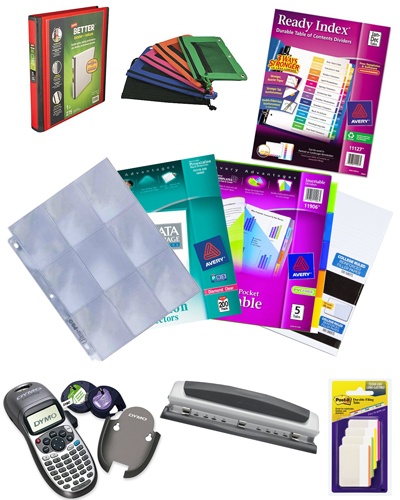 To make my Blog Binder, I used these supplies:
I used a yellow binder for my Blog Binder.   Staples has a ton of colors and sizes in their Better Binder Line.  They really are better binders.  There's no scratchy corners and the spine doesn't fall apart.  I love them!
I printed a basic "Blog" in 46 pt font for the spine window.  This way the title is easily visible from a distance and matches my other binders.
Contents
I keep a pencil pouch in each binder so that I always have a pencil/pen/eraser or even thumb drives.  Back to School is a great time to stock up on free pencils & pens!  It's not just for school kids!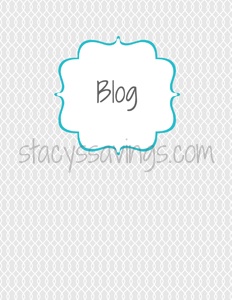 I created a set of cohesive printables for each binder that was modern, yet simple.  I did slip a cover page in a page protector just like in the other binders.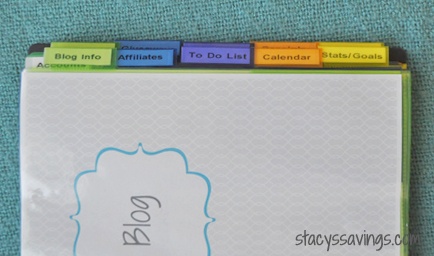 There are a lot of sections in this binder, so bare with me!
The first section of the Blog Binder is the Blog Info Section.  This is where I keep all of the information about my website & its design: from fonts to color codes to typical image sizes.  Anything that I need to remember to make my blog look uniform, it goes here.  That way, I don't forget what width size I use for sidebar images or whatever.  I also have websites, user names and passwords for accounts associated with my website.  Like GoDaddy, Picket Fences or Google Analytics.  I have quick access to everything.
The next section is my Affiliate section.  If you don't have a blog, but are using this for a Small Business, this could be your vendors or customers.  I use Post It Tabs inside this section to break it down further.  The first page in this section is Affiliate Info.  It's where I keep the log in websites, user names and passwords.  You could put your contact person here.  I also keep a running tally of total earnings for each site.  This way, at the end of the year, I can see which companies I'm more successful with.  I start the Earning tally over again at the beginning of each year.
Behind that, I have a copy of my W-9, as well as any contracts that I've signed with Affiliate Companies.
Next, I have two subsections for Sponsored Posts and Product Reviews.  Each of these subsections has a cover page in a page protector, and I keep track of what posts & items I get paid for on the table sheets behind them.  This way, I don't forget about something & I can follow up if I haven't received payment yet.
After the Affiliate Section comes my To Do List for the blog.  Each week, I sit down and schedule out what posts I want to publish when.  I also keep a list of other post ideas I want to do, or items that need to get done that week.  Below that, I have blank space for notes.  I use this to remind myself to do things like "edit blog binder photos".  Things like that.
The Calendar Section is behind the To Do List.  I have 12 blank monthly calendars and a pack of monthly tabs in this section.  I use the calendars to plan out posts or jot down due dates so I can see the whole month at a glance.
This next section is probably the most important to me!  It's where I keep track of my Stats & Goals for each week.  Every Monday, I sit down and fill out the stats as well as tally up earnings from all of my income sources.  There is a line item for each social media account.  Page Views are tracked on the "Other" line , but I don't really write that down because it's all in Google Analytics anytime I want to look.  I break out earnings for the week by income source in the Notes section.  The top right has a to do checklist for website maintenance items that I want to tackle that week.  I keep the old sheets behind an Archive tab, so I can look back and check the growth.  I love this section!  It keeps me going and motivated!
After the Weekly Stats & Goals Section, I have a section dedicated to my Blog Wishlist.  This section has a blank page where I can jot down everything I want to accomplish during the year.  As I complete the items, I cross them off.  I can write anything here, and some goals are lofty, but its been fun to cross off things that I thought were crazy a few months ago.  That's all thanks to you!  So Thanks!
The Giveaways Section is next.  I have a table sheet here where I jot down all of the Giveaways that I sign up for & bring to you guys.  This way, I don't forget that I signed up for something, or forget what the prize is.
The next section is just an "Ideas" section.  I just have loose Notebook Paper here, and I use it for notes from conference calls, or to jot down ideas for new blog posts.
The last two sections are for receipts & any Gift Cards that I sometimes receive as payment.  I have a baseball card holder page there for the gift cards to keep them organized.
I use my label maker to create all of the label tabs.  It just makes the binder look more polished and neat!  I'm a stickler for that!
That's it for the Blog & Small Business Binder.  Again, you could adapt this to any Small Business that you run.  It's very helpful to have all of this stuff together during Tax Time, and I really love the weekly status reports that I do.  That's probably my favorite thing!  I can see exactly how my blog has grown (or not) each week in just 15 minutes.
I'm attaching my Printables here for you to download for FREE!  These are non-editable PDF Printables.  That's why they are FREE!  I do have some conditions of their use: These printables were created by me under a creative commons license.  You may use these for your personal use to create your own House Binders, but please do not sell them or use them for any commercial reason.  Enjoy!
Blog Cover Page
Blog Information Page
Blog Accounts Page
Paid Posts Cover Page
Product Reviews Cover Page
Paid Posts & Product Reviews
Blog To Do List
Blog Calendar
Blog Stats & Goals Printable
Affiliate Info
Blog Wishlist
Giveaways
What do you think about the Blog & Small Business Binder? Anything you would do differently? Do you think this would help you get organized and stay on top of things? Do you like the printables? Tell us in the comments! If you like this post, please Pin it to Pinterest!
Check out the entire Organize Your Life With Binders Series!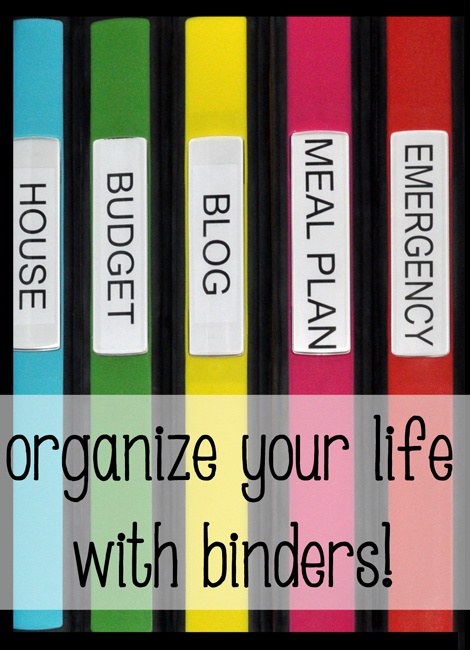 Coming soon: Remodel Binder (New), Pool/House Binder (New), Kid Binder, Manual Binders & File Box!