Let's get organized in 2015!  Meal Planning is one of my favorite ways to save a TON of money.  Get your binder together and start meal planning for 2015!
It's time for the second binder in the Organize Your Life With Binders Series!  This one is going to save you some money!!  Missed the others? Check out my House Binder, Budget Binder, Blog & Small Business Binder, and Emergency Binder!
This is my Meal Planning Binder.  This binder has everything I need to put together our meals for the week.  Meal Planning is essential to living frugally.  There are several goals : 1) No Eating Out! 2) Make Meals Using Items We Already Have! 3) Reduce The Grocery Budget!  All three of these goals are totally doable with just a little preparation.  That's where the Meal Planning Binder comes in.
Supplies
The Meal Planning Binder is fairly basic.  Here are the necessary supplies:
Binder Organization
Again, I'm using a Staples Better Binder.  They really are better binders.  This one is pink to differentiate it from the others.  I printed a basic "Meal Plan" in 48 pt font for the spine window to match my other binders.
I keep a pencil pouch in each binder so that I always have a pencil/pen/eraser.  Inevitably, my Meal Plan changes, whether its because we forgot to thaw meat or we had more leftovers than we thought we would have.  Pencil is always a good way to go!
The printables for this binder match my House Binder.  I wanted all of my binders to have the same look and feel, but use as little ink as possible.  Again, I made a cover page to slip in the clear binder cover, and use another in a page protector.
First and Foremost, this is a Meal Plan, so that's the first section.  I really just meal plan dinners, but you could use this to plan the menu of all of your meals.  The key to saving money with Meal Planning is to look at what you have on hand and make meals using those ingredients.  The goal is to not need anything from the grocery store, or only need 1 ingredient.  Like an onion or something.
I include a small square on the top right for a shopping list.  This is the stuff that you need to buy that week in order to complete the recipes in your Meal Plan.  This isn't your whole shopping list.  That comes later.
There's a small notes section for any extras you need to jot down.  Like "find recipe".  Whatever you want!
The next section is an Inventory of all of the food that we have on hand.  I actually have two separate sheets, one for the Pantry, and another for the Garage Freezer.  Each time you use something, change the inventory number.  This helps you know what you have so that you can meal plan more efficiently.  Most people have more food than they know, and so you should be able to severely cut down on your grocery shopping just by coming up with a plan that uses what you already have.  Got Stove Top?  Use it to make meatloaf!  Many pantry items are versatile!
The third section in the Meal Planning Binder is the Shopping List.  I do my weekly shopping at Kroger, so this printable is specific to Kroger, by including a Mega column, but you can use it for any grocery store.  I've used it for Target trips.  This printable really helps you figure out how much you are going to spend BEFORE you go to the store.  Use the weekly ad, find matchups on a local blog, or write down prices for items you buy all of the time so that you can plan your grocery trip down to the cent.  I use this list to figure out how to maximize my weekly shopping budget.
Recipes are an important part of any meal plan.  I've created some "recipe card" printables to keep your favorite family recipes in your meal planning binder.
I also keep a ton of plastic page protectors to keep recipes that I've ripped out of magazines or printed from online in easy reach.
The last section in this binder is the Take Out section.  This is my Friday night section.  I try not to use it, but sometimes, it's just easier.  If you have money in your budget, this section is where you go to find your favorite meal from your local take out restaurants.  Yeah, they are all online pretty much, but some aren't.  I keep the plastic page protectors here for when menus get left on my porch or I pick one up at a local restaurant.
I use my label maker to create all of the label tabs.  It just makes the binder look more polished and neat!
That's it!  With this binder completed, you can plan your family's weekly meal menus without ever stepping foot in the kitchen.  It's all right here in one place!
FREE Printables
I'm attaching my Printables here for you to download for FREE!  These are non-editable PDF Printables.  That's why they are FREE!  I do have some conditions of their use: These printables were created by me under a creative commons license.  You may use these for your personal use to create your own House Binders, but please do not sell them or use them for any commercial reason.  Enjoy!
Meal Plan Binder Cover Page
Weekly Meal Plan
Pantry Inventory
Freezer Inventory
Shopping List
Recipes
What do you think? Anything you would do differently? Do you think this would help you plan your family's weekly meals and save money? Do you like the printables? Tell us in the comments! If you like this post, please Pin it to Pinterest!
Check out the entire Organize Your Life With Binders Series!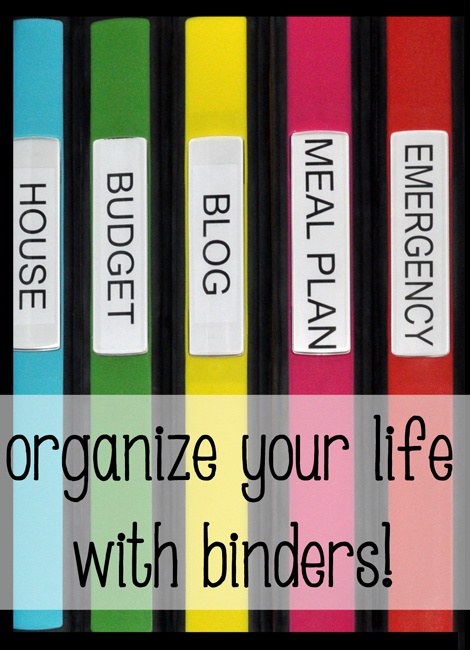 Coming soon: House Remodel, Manual Binders, Kid Binder, File Box!