Hey Everyone!  Sorry its been so long since a new post.  You know how the end of the school year is.  Totally Crazy!  We're gearing up for several different big things coming in the next few weeks, one of which is the Kitchen Remodel!!  Woo hoo!  But first, we have the end of the school year, and then we are going on a much-needed vacation.  I'll be back in June with the first look at our new kitchen & laundry space!  I hope you have a wonderful end to the school year and start to Summer!  ~Stacy
We've lived in this house for 5 years now, and that is 5 years too long with this kitchen.  If you've been around the blog for a while, you know that I hardly ever show pictures of our kitchen.  It's bad.  Real bad.  After doing some number crunching late last year, we decided to change our initial plan, cash out some investments, and get a kitchen that works for our family in 2019.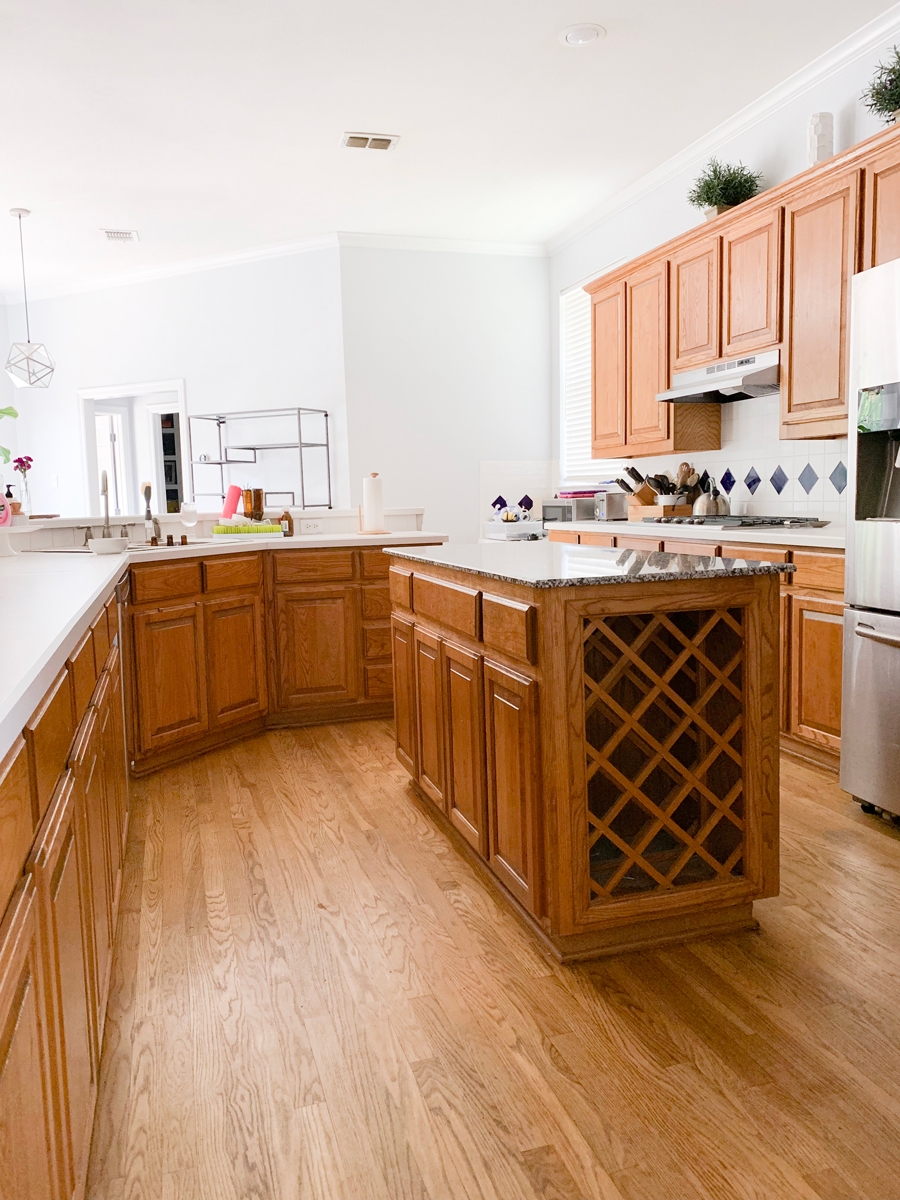 Our kitchen is big.  Many people would probably love to have our kitchen.  I get that.  After living with it for 5 years, I'm so over it for many reasons that you can't see, as well as those ugly oak cabinets which you can see.  In the kitchen at our old house, we had updated the counters to quartz, updated the back splash, and replaced the sink with a single-basin with a touch faucet.  It was reasonably modern and we loved it.  Using this kitchen for the past 5 years has felt like a major set back.
The Problems
Other than the obvious cosmetic issues (those honey oak cabinets, that basic backsplash) there are major functional issues.  First and foremost, the island is too close to the perimeter cabinets, even for 1995 standards.  This is the main reason for bumping up the timeline.  Our middle child uses a walker to walk, and she actually gets stuck between the corner of the island and the diagonal pantry door.
The ovens are tiny.  We have a 24″ double oven, but its only about 20″ wide inside.  That means we can't get a roasting pan in there because the handles are too wide.  We can't cook a turkey.  Also, the oven window's are melty and its just gross.
Our fridge has a major cooling/ice making problem.  Do not ever buy a Samsung Fridge.  No one can fix them and they are designed in a way which causes the coils to ice over, stopping the fan from running.  This means your fridge can't cool.  Our fridge was a hand-me-down from my parents, and its been a nightmare.  Our ice maker stopped working, so we've been buying ice from the grocery store every 3 days.  #UNCLE
We hate our double basin sink.  We really miss our single basin sink we had in the old house.  This sink is a builder-grade drop in sink, and its all moldy underneath it.  It's gross.  I don't think it was installed correctly, because there are gaps between the sink & the countertop.  The faucet is flimsy and has a separate sprayer which I can't stand.
We have white formica countertops that I can't keep clean, no matter how much bleach cleaner I use.
The pantry shelves are too close to each other which means our cereal boxes can't stand up.  I'm not even talking about the big ones family-sized ones.  The regular sized boxes don't fit.  Also, the light doesn't work even when we change the bulb.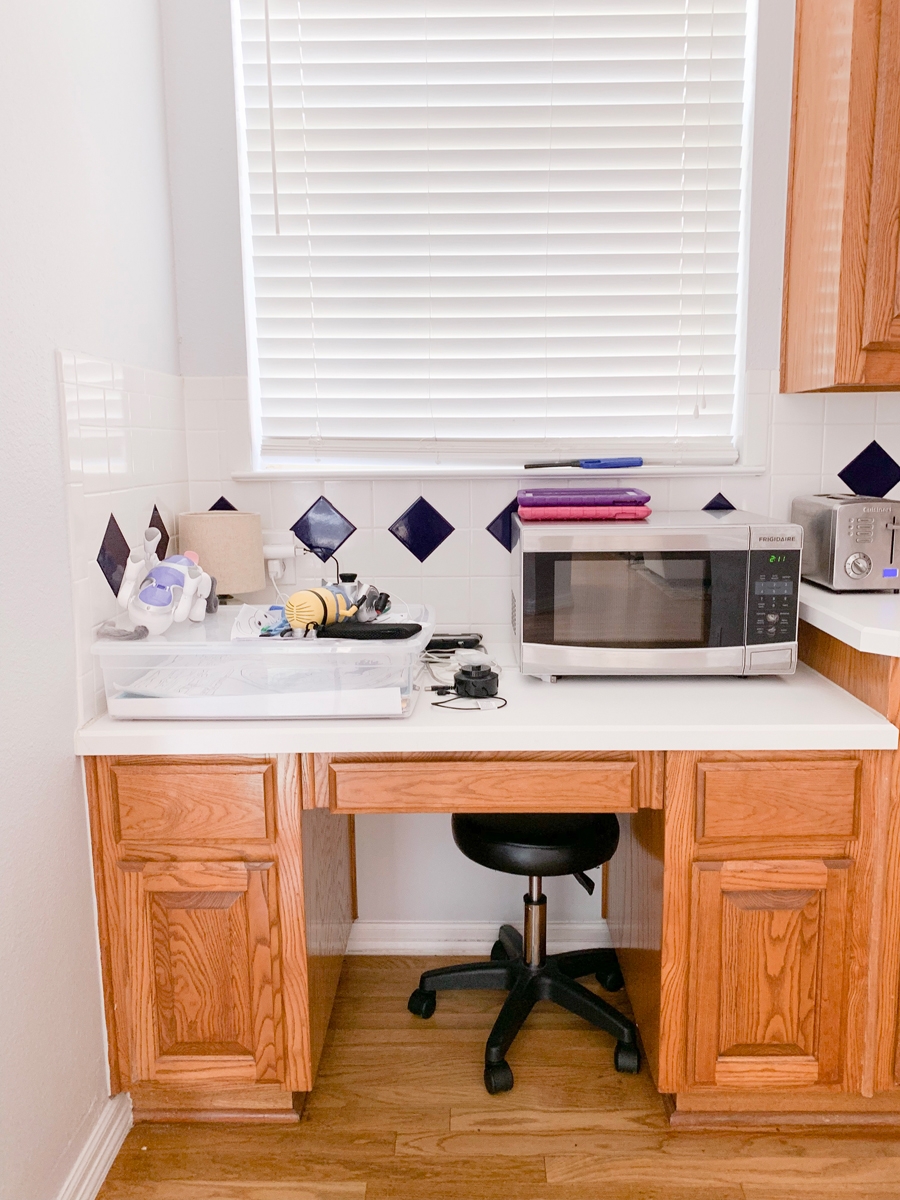 Our microwave died 3 years ago, so we have a countertop version on the desk that never gets used.
I'm sure there are more issues, but as you can see, there are a lot of problems in this big kitchen of ours.
The Plan
So, our plan for this summer is to clear everything out, re-work the layout, and make this big kitchen function for our family of 5.  Oh, and we're also doing the Laundry Room while we're at it.  And getting all new floors on the 1st floor.  It's a major domino.
The first thing we did was hire a Certified Kitchen Designer.  I knew what I wanted, but I wanted someone who was trained in kitchens to make a plan for me to follow.  Our designer was able to offer suggestions and solutions that I hadn't thought of.  She also made sure our space would be ADA compliant for our daughter.
We met 5 times over the course of 5 months, and she presented me with a binder that has all of the plans & measurements.  This is going to make the job so much easier.  We shouldn't have to make too many decisions on the fly mid-remodel.  Also, she passed along her trade discount at different suppliers for the components of the remodel to help us save money on the budget.
The Remodel
After we demo & clear everything out of the kitchen, the first thing we're going to do is have part of a load-bearing wall removed.  I found a local contractor who specializes in load bearing wall removal and who also has an excellent liability insurance policy.  This is all they do every day all day.  Removing a portion of this wall and sinking beams into the ceiling to carry the load will not only open up the house, but will help us to create a space that allows our daughter to walk around unencumbered.
Removing the wall means we can spread out the space so that we can have one giant eat-in island in the kitchen.  The island will be a full 48″ from the wall cabinets.  When we entertain, everyone ends up in the kitchen.  Having one island 4 feet from the perimeter will give us the space to move around.
Next, we're moving the double ovens to where the desk & window are now.  That means we're closing the window up.  I'm ok with this because our neighbor has a bedroom window directly across from this window.  I feel like they can see in our house at night, and I don't like that.  Plus, moving the ovens allows me to have a GIGANTIC dream-pantry!
We're going to be using IKEA cabinet frames with custom doors & drawer fronts from Scherr's.  We've previously done this in the kid's bathroom, home office, guest room, and built-in bar.  It's going to look amazing!  Also, the island is going to have a farmhouse, single-basin sink with a motion-sensor faucet!  And of course, there will be hexagons!
The Timeline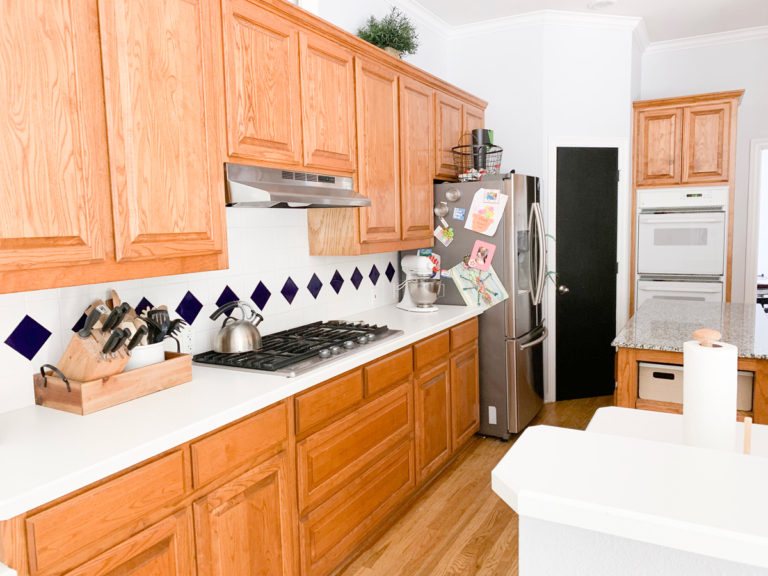 The two parts of the existing kitchen that we are keeping are the stove and the garbage disposal.  We're going to start from scratch with everything else.
For budgetary reasons, we are going to be our own General Contractor.  We're also going to install the cabinets and trim, as well as do some of the electrical work and tile the backsplash.  We have contractors for load bearing wall removal, plumbing, drywall, and some electrical.  I did get some quotes from General Contractors, but I just didn't want to spend that money for them to organize everything.  It would have pushed the project further into next year.  This really needs to be a Summer project for our family, even though the kids will be home.
I purchased all of the cabinet frames from IKEA during the last kitchen sale to save 10%.  And because you know I always need some sort of new tool for any project, I got a new paint sprayer using Credit Card Points to hopefully help me paint the cabinets faster.  I ordered the cabinet doors last week.  I'm in the process now of ordering all of the other supplies, including the sinks, hardware, and faucets.
Because we're moving the wall, island and peninsula, we're going to have to patch the hardwood floor.  Our flooring guy is coming out to patch once the wall is done so that we can get started rebuilding.  Once the kitchen project is done, he will be replacing carpet on the 1st floor with hardwoods to match, then sanding the existing floors & restaining everything.  This is why we waited so long on the kitchen project.  The kitchen is a massive and expensive domino in this house.
The wall is coming down June 12th, and then we can get started moving the plumbing, patching the floor, and installing the cabinets.  I'm hoping we have all of the cabinets and trim on the lower cabinets installed by the end of July.  I'd really love to have countertops, appliances, and a working sink before the kids go back to school.  That's the plan.
The Laundry Room
Oh yeah, we're also doing the laundry room too.  This is a massive project. Our laundry room is big, but it was lacking storage to match its size.  We also have the same floor transition issue that we had in the guest bathroom. The tile is on the slab, but that's a full inch below the hardwoods in the hallway.  This is a trip hazard for our daughter.
In order to raise the floor in here like we did in the guest bathroom so that our tile can be level at the transition, we had to raise the threshold of the patio door.  That meant we had to get a new patio door in the laundry room as well as the kitchen.  These were both on the replacement list, and we did that in March.  I haven't shown you those because I'm still painting them.
We ordered the doors from Lowe's during a 20% off custom order door sale, and Lowe's also installed them.  They were great!  These doors are the same ones we had originally, except they have Low-E glass and they are much better insulated.  You can tell the difference when you open and close the doors.  Our old doors were leaky and had rotted frames.
Because we already had the cabinet frames on hand, we went ahead and installed the wall cabinets in the laundry room.  I love having all of my stuff in cabinets instead of stacked on top of the cabinets!  There's so much storage!
The sink and the washer/dryer are going to be scooting down the wall to make way for a pantry cabinet at the end, so that's why there's a gap.  These new cabinets shown are just the upper cabinets for this room.
The Budget
Now comes the budget.  With such a big space, and really 3 separate projects between the kitchen, laundry & floor, it's going to be really expensive.  We're expecting the Laundry Room to cost about $10k.  The Flooring will be around $14k.  That leaves us about $40k for the kitchen, including new everything.  We're saving a bunch of money by doing a lot of the work ourselves, but it's still going to be really expensive.
We've cashed out some investments that we didn't really have a plan for, and we've also been saving all of our pennies and living really frugally in order to have the cash to do this project.  We normally put away money for house projects, but we ramped it up a bit so that we could do this project this Summer.
We're hoping to stick to the budget and timeline, but we're also realistic about the fact that that rarely happens during any home improvement projects.  But at least we can try!  I have created a totally separate YNAB budget just for the House Projects category from our master budget, and it's keeping me in line.
So that's the story of why we're taking on this massive project this Summer and what the timeline is.  We cannot wait to have a big, open, pretty kitchen.  We think it will be pretty life-changing!
My plan is to show you this in pieces, but since I'm doing most of the work, I may be posting sporadically.  I'm hoping for once a week updates.  Right now, we're wrapping up school and going to take a quick vacation.  Until then, please follow along on Instagram!  I'll do my best to post updates in Stories.
Do you have any big projects going on this Summer?  What home renovations have you been saving up for?  Tell me all about it in the comments!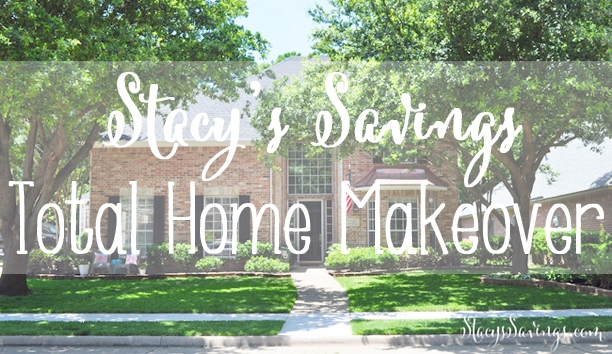 Check out all of the Stacy's Savings Total Home Makeover posts!