Last Spring, I told you how I finally was going to start the veggie garden I've dreamed about for years!  I finally had the space to build a raised garden bed with bunny gates for about $200.  The bed has worked out really well & looks beautiful!  If you follow me on Instagram, you may have seen some garden progress in my stories.  Since we just cleared everything out and planted our Fall garden, I thought I should show you how the Spring/Summer garden went and what we were able to grow.
I live just North of Dallas, TX, and the Summers here can be brutal.  It can be difficult to grow food in the worst of the Summer heat.  Since this was my first Spring & Summer growing anything, I didn't really know what I was doing.
We ended up planting regular tomatoes, Roma tomatoes, and cherry tomatoes, as well as Bell Peppers, jalapeño peppers, Watermelon, Beans, and Cucumbers.  We also planted cilantro, basil, rosemary, oregano, and parsley.  These were all transplants from the local nursery.  From seed we planted lettuce and carrots.  Green Onions were planted from kitchen scraps.
First off, I'm apparently really good at growing vines and leaves, however, not so good at getting any produce.  My regular tomato plant took off and grew taller than me, but it never produced a single tomato.  I had read that about Texas tomatoes, so I probably won't try those again.
The cucumber plant was overtaken by the 3 tomato plants, and it never really grew much.  The Bell Pepper plant also never produced.  The Bean vines went crazy and produced a few pods, but I didn't harvest them because they were difficult to see.  The watermelon plant took over half of the bed, but never produced a watermelon.
The raised garden bed wasn't a total failure, though.  We did get a handful of cherry tomatoes, several Roma tomatoes, and a few small jalapeños.  The Roma Tomato plant by far was the best producer this time.  We also used some of the cilantro and basil from time to time.
When everything started getting overgrown or turning brown, we removed everything but the jalapeño, the bell pepper, green onions, and the rosemary plants.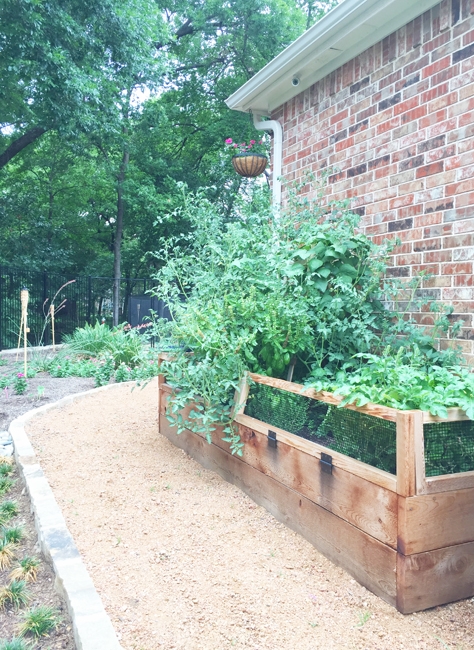 I really love the raised garden bed!  It looks beautiful and the gates seemed to do their job.  That was a very easy build that a beginner can totally handle.  Here's how to I built my raised bed in case you want to try too.
Check back next week to see what we've planted in the garden for Fall!
Did you plant a Spring raised garden bed?  How much did your crop produce?  Do you have any tips for me for next season?  Tell me in the comments!