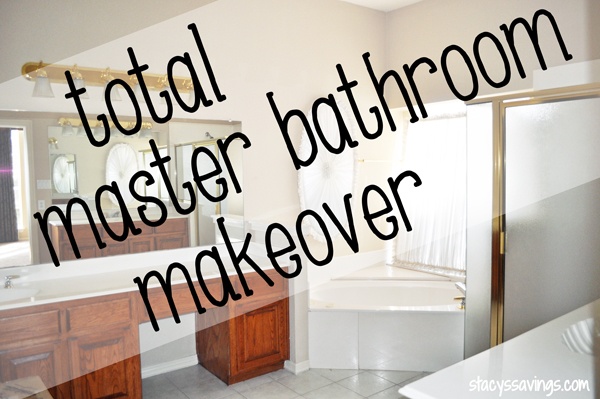 The Master Bathroom in this house is a hate-hate relationship.
When we had our home inspection, the inspector found a massive leak in the shower pan.  It was so bad, it soaked through two walls, creating a wet spot on the slab foundation outside of the house, and sopping wet carpet in the Master Bedroom.  There was a place on the Master Bedroom wall (which happened to be right behind where the shower valve was) that had been clearly opened and repaired, although not re-textured.  Also, the jetted tub was tiny and had cracks under the jets.  We tried to get some information out of the sellers (who lived in the house for 14 of its 19 years), and got radio silence.  Awesome.
The Master Bathroom itself has great bones.  There are a lot of negatives (tub was crammed in the corner and had several different levels of trim, lots of wasted space, one sink is uncomfortably close to the wall, and the window placement is questionable, everything is outdated), but there are a bunch of positives as well.  The room is BIG.  It's squarish.  It has a separate (tiny) Water Closet.  The shower is big.  There's a Make Up Vanity.  It has 10′ ceilings.  There's a lot to work with.
When we looked at this house during the home-shopping process, we had in mind that we would do small, cosmetic updates ourselves until 2015, when we would be able to take out a Home Equity loan and tackle the Big, Expensive remodel jobs (i.e. Kitchen, Master Bath, Patio, adding a Media Room) all at once.  That way, we'd have some time to figure out how we wanted to use the space and decide what items we really wanted and what we could live without.  With the leaks and the overall problems in the Master Bathroom, we had no choice but to address these issues right away.
Before we moved in, I got on Angie's List
, found a bunch of local contractors, and had some of them come out to give me estimates.  The plan was to just redo the bathtub & shower, and leave the rest of the room for the loan in 2015.  That quickly turned into "screw it, let's just do the whole damn thing."  So that's where we're at.  We're about to start on a MAJOR & EXPENSIVE remodel of our Master Bathroom.
While one part of me is super excited at the thought of having a calming, updated, modern space to relax in, the other part of me is sick about how much it's going to cost.  I'm trying to find as much savings as possible.  For example, we're doing all of the demolition ourselves (my husband is currently whacking away at the tile floor as I write this).  We've also taken on the jobs of painting walls, painting cabinets, purchasing all of the plumbing fixtures and bathtub (gotta love Build.com!), installing the new baseboards, getting the lighting done, and the final cleanup, as well as some other stuff.  Even with all of that labor money saved, this project is still really expensive.
With the leak, we knew we were going to find problems behind the walls when we removed them.  Sure enough, three weeks ago as I was starting the demolition, I found termites.  Lots and lots of active termites.  So gross!  We had those treated ASAP (more expense!), and we were put on a strict "No Demo" order for 3 weeks.
Then, I ordered a super fancy Kohler Air Bubble Bathtub (the bathtub splurge was the compromise for buying a house with no in ground spa/hot tub – but I got a crazy good deal on it – more to come on that!), which has to be custom made, and it takes 21 days + shipping.  I just received an email that it's shipping out tomorrow.
The contractor that we picked is starting on Monday, so we've got the rest of this week and weekend to get the demo done in there, and I think we're making good time.  I'm going to try to start working on refinishing the cabinets while the contractor is in there (picking up paint samples this week!), but I know that they will be long gone before we've (I've) finished all of the work we need to do on that room.  I'd really love for everything to be finished in there by Memorial Day.
Until then, I'm trying to get through the next couple of weeks thinking about that fantastic first bubble bath I'm going to be able to take!  I've been showering upstairs in the kid's bathroom, pulling off wallpaper with each shower.  I'm ready to not have to hike up and down the stairs to bathe.
I'll be taking you through this process with me, but in the mean time, make sure you follow @stacyssavings on Instagram to see the action as it happens like the demo shot above!
Have any of you ever done a full bathroom remodel?  Got any tips or advice?  What are some elements you want in your dream bathroom?  Tell us in the comments!

Check out all of the Stacy's Savings Total Home Makeover posts here!