March 1st marked 2 years in the house!  I'm WAY behind on Total Home Makeover posts, but that was because I had a baby, and photos take FOREVER to edit.  I'm hoping to have one house update post per week (maybe two) so that we're not behind like this next  year.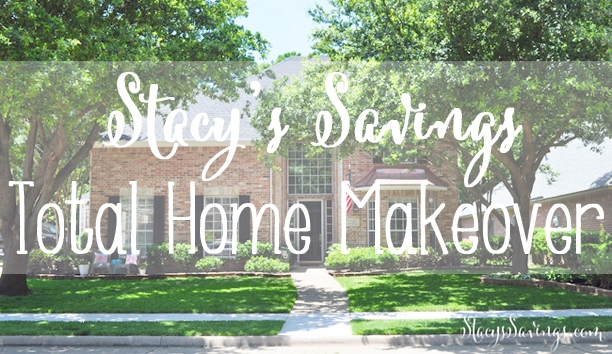 You'll notice there's a bunch of "More To Comes" after the items that we've done.  That's because I haven't edited the pics or done a post.  As I get them published, I'll update this post with the links.
We made significant progress around the whole house in the last year.  Originally, we weren't planning on tackling any large projects in 2015, but that changed quickly after two things: our Property Tax Appraisal for 2015 and a leak in the kid's bathroom.
In case you missed seeing the Oak Abode before, here is what it looked like before we started anything.  And here is a recap of what all we got finished in Year One.  Also, here's Year Three & Year Four!
So let's check out everything that got updated/repaired in Year Two!
First, we built a little Sitting Area in the front yard to make a little dead space look nicer and function better for our family.
Then, we got some free sod, and with all the rain, decided it was the perfect time to resod the front and back yard.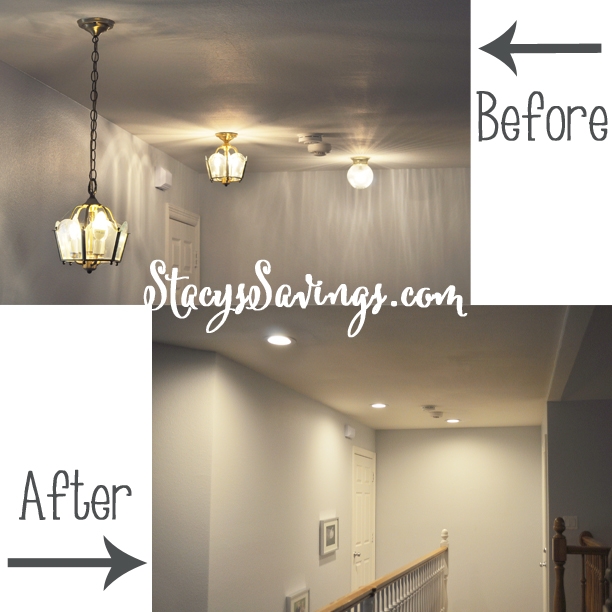 During the rain, we took the opportunity to update some things inside of the house.  Including the lighting.  We started with replacing the lights over the stairs with recessed LED cans.
The next lighting project was adding 4 recessed LED cans and a new ceiling fan to update the Playroom. More to come.
We also switched out the foyer light to a more modern version. More to come.
As well as the hallway lights. More to come.
And finally, the outside lanterns on the front of the house got updated.  I guess I need to do a big lighting update post…
After that, we started our slow remodel of the kid's Jack & Jill Bathroom, which quickly turned into a full gut & remodel that took all summer.
And we fixed the dining room ceiling from the leak damage.
The bathroom did some damage to our House Project Budget & Emergency Funds, so we had to cool it for a while.
For Christmas, my husband did a Phase 1 Remodel on the Powder Room. More to Come.
At the beginning of 2016, we gutted & rebuilt our Daughter's closet to make room for 2 little girl's clothes.  We did an IKEA Hack with a Skinny Billy Bookcase this time, similar to the one we did in our Son's closet last year. More to Come.
We also completed most of the Formal Living Room to Home Office Conversion, and we converted the old 4th Bedroom/Office to a craft room/guest room.  I've got posts queued up on both of these, but I need to edit the photos.
That's a lot more than I had planned on getting done when I was writing this post last year.  These projects may be small (except the bathrooms), but they made a significant difference on the overall feel of the house.  The kitchen and laundry rooms are still disasters, but with the office built, things are starting to get organized around here, and organized is how I like it!
It also shows me just how many update posts need to get done.  More like how many photos I need to edit…
There's so much left to do, that the list would be a mile long.  I've condensed it down to broad, general items for now.  As we start working on them, the posts for each room will have more detailed lists.
Here's what's left:
Finish Built Ins in Office & Guest Room/Craft Room
Front Yard Landscaping/Hardscaping
New Fence/Patio Remodel/Back Yard Landscaping
Dining Room Remodel
Finish Decorating Entryway
Total Kitchen Remodel
Complete Laundry Room Remodel
Total Remodel of Guest Bathroom
Partial Remodel of Powder Room
Custom Master Closet Built Ins
Final Touches to Master Bathroom
Add Wood Floors to the Rest of the House & Refinish With Dark Stain
Replace Windows
Add Plantation Shutters/Shades
Case All Windows
Finish Attic to Media Room Conversion
I hope we get some of these smaller items crossed off during 2016.  We'll see.
If you follow along with the Stacy's Savings Weekly Savings Challenge, that money that I save goes towards furnishings & house stuff too, which is in addition to our house projects savings account.
So that's the State of the House for the second year.  It looks WAY better than it did just two years ago, and we're really making it our own.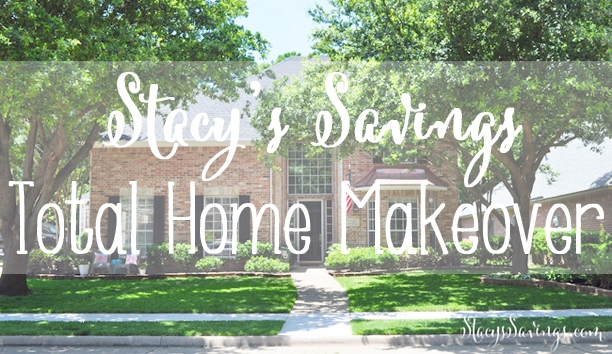 Check out all of the Stacy's Savings Total Home Makeover posts here!