I'm back with another house update!  The entryway area of the house has been a work in progress for a few years, but last year, I finished the Phase 1 Makeover.  The Entryway Update was important to me because its the first thing you see when you walk in our house.
I've never had a real entryway before, and I was super excited to finally get to have one in this house.  Entryways are so welcoming, and they really set the tone for the rest of your house.
This entryway is really long, and the stairs come at a diagonal, so it has some challenges.
Paint
When we moved in, all of the trim was honey oak, and the walls were tan, just like in the rest of the house.  We had the trim painted white, Benjamin Moore's Decorator's White to be exact, and the walls were painted Bunny Gray.  The blinds over the door were also removed.  Who puts blinds there anyway?
Those blinds ended up being the exact width of my son's window, so I swapped out his metal death trap blinds for these.  Win Win.
One of the biggest changes in this space happened when I painted the inside of the front door.  I did this little project a couple of years ago, when I fixed the exterior side of the door.  When that project was finished, I painted the inside of the door.
After filling all of the holes and knicks with wood putty & sanding the whole door, I primed it using an oil-based primer and painted it with the same Benjamin Moore Advanced Satin Paint in Charcoal that I used in the laundry room & garage.
I love the way it turned out!  Well, all except for the cracks when the door expands & contracts with the seasons.  I just lightly sand those spots, then use a foam brush to spot apply primer & paint.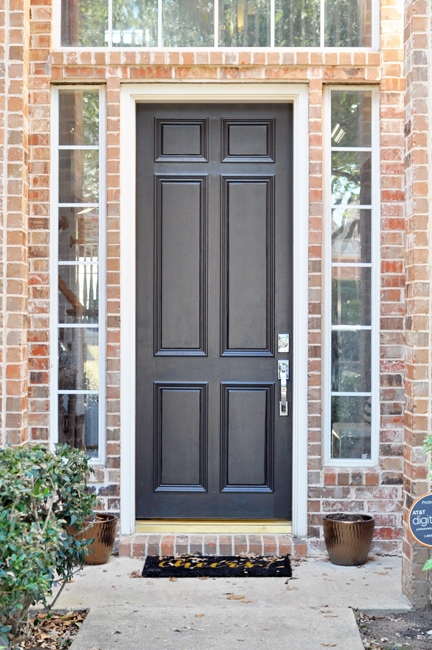 I also ordered new polished chrome hinges and a new handle set & door knob to match the rest of the house!  These were ordered from Build.com because they had the best price & free shipping.  It looks spiffy!
I'd really like to replace the brass threshold, but that seems like a lot of work, and they only come in satin finishes.  The one we have has a massive dent in it, so it will need to be done eventually.  It's not bugging me enough right now to fix it, but I'm sure it will eventually.  Maybe I'll just spray paint it.
Fixtures & Furniture
A couple years ago, we replaced the dated brass light fixture.  I found this one on Ballard Designs, and I thought it would bring a rustic but contemporary feel to the space.  This was before it was on Fixer Upper all the time.  I really love it!  Much better than what was there before.  If you've following along the Weekly Savings Challenge with me, you knew that in 2015 I was saving for new light fixtures.  That was the first one I bought with that money.
Last winter, I picked up the Everett Foyer Table during a killer World Market Sale.  I think I paid about $200 for it after sale & coupon.  This table is a blogger favorite, and now I know why!  It's long, it has hidden storage, its beautiful, and its a great price!  I love having these hidden drawers, but I have nothing in them!
Decor
I'm still playing with the table decor.  I picked up a Capiz Shell Threashold Lamp & Shade at Target last Spring, and that vase is from World Market.  The metal bins, mirror, mail tray & navy stool are from HomeGoods.
Near the door, I've got a random dipped basket that I use to house newspapers until I'm ready to clip coupons, or corral packages.  This basket also travels to neighbor's homes for mail collecting when we're away.
On the opposite side of the entryway, I have a small Threshold chrome & white bench that fit perfectly on the new wall we had built for the office.  It's a great place for the kids to take their shoes off.  The pillow is also from Target last year.
This time last year during the Target Home Sale, I picked up the framed palm prints.  I love that they bring the greenery to the other side of the room.  They really finish off this space.
The metal envelope on the wall is the perfect place for outgoing mail.  Again, its from Target, and it goes on sale often.  There's even a swanky new gold version!  As you can see from the before pictures, this is one of the very first things I installed in this house.  I may have even bought it before we got the keys.
SmartHome Updates
Last year, I replaced the old electric receptacle behind the entryway table with this GE ZWave Bluetooth Outlet, as well as the Front Porch & Driveway Lantern Switch with a GE ZWave Bluetooth Switch.  I hooked it up to my Samsung SmartThings Hub, and now I can turn the lamp on and off with my phone from anywhere or tell Alexa to do it with my Amazon Echo.  The outside lights are programmed with the sunrise/sunset.
I can't wait to replace more switches to Bluetooth Switches.  Making our home more Smart was one of our 2017 projects that I'm going to do a post on soon.
Before & After
I'm super happy with this space!  Let's check out the befores and afters side by side!
This room is pretty much finished.  At least it is for now.  Someday, I'd like some sort of rug in here, but I'm not sure what size/style I want.  We'll have the floors refinished when we have the kitchen remodeled.  I also want to case the windows & get plantation shutters for the side lights, maybe do some sort of wall treatment, and we need to replace the windows.
Including the door hardware, I think I spent less than $650 in this space.  I did this over 2 years, and I strategically shopped sales.  It took longer than I wanted, but its done now & I love it!
What do you think?  Have you ever done a room over a few years?  How did you cope with the emptiness?  That was my biggest problem.  It felt so empty and made the rest of our house feel like it wasn't put together. Do you have the Everett Foyer Table?  How do you style it?  Tell us in the comments!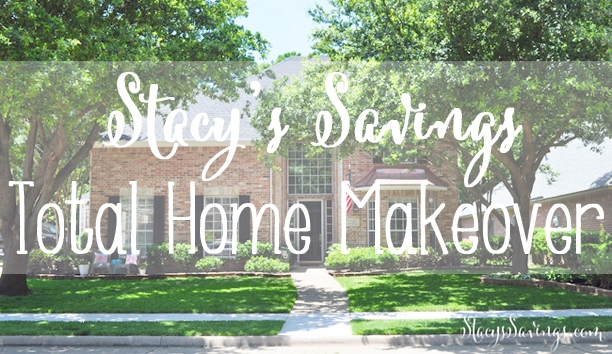 Check out all of the Stacy's Savings Total Home Makeover posts here!