Yesterday, I told you about how we're getting started on our grand plans to convert our open Formal Living Room and turn it into a Home Office.  Formal Living Rooms are just a waste of space these days.  With a downstairs den and a formal play room, how many general living areas does one really need?  So many people are working from home part or full time now that a Home Office is a much better use of square footage than using it for a Formal Living Room.  So that's what we're doing.
Here's what we were dealing with just prior to getting started: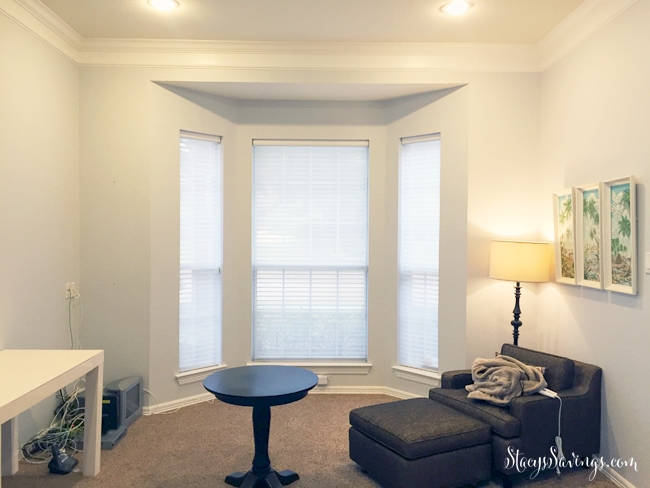 Don't mind the stuff in the entryway.  That's stuff from the Formal Living Room/New Office that I moved to paint.  That area usually becomes a dumping ground when renovating around here.  I really need to get a table there.  I want the Everett Foyer Table from World Market, but its always Sold Out when its on sale and I have a coupon.
I don't normally keep that much furniture in the dining room, but I had moved it to paint the ceiling.  🙂
Sorry for the crappy iPhone pic.  🙁
We started this project by painting the ceiling a bright white, and then painting the back wall Benjamin Moore's Hale Navy.  I wanted an accent wall here, because we're going to put in IKEA kitchen cabinets with custom doors from Scherr's, and we're painting those white.  Eventually, we want to build in some upper shelving with open backs, so by painting it navy now, I don't have to paint it around the shelves later.  Plus, its much easier to paint when you can move furniture, and I had the paint on hand (yay for no spending extra money!), so I just went ahead and did it.
Next, it was off to IKEA!  We picked up the 49 boxes we needed to build & install all of the cabinets in this room, plus 2 for the Guest Room/Craft Room remodel that we're doing right after this one.  That way, we didn't have to make 2 trips to IKEA.  Plus, we had the money saved up, so we went ahead and got them.
I started putting the cabinets together, and of course, I couldn't wait to line them up to get an idea of what we were going to have soon!  At this point, I didn't do the 5th cabinet, because of that jungle of cords there.  We had to have AT&T come out and move the main Cat 5 line from the guest room so that the modem could live in here when we started using this room as an office.  This was a win-win for us, because the wifi signal was awful way in the back of the house.  We have a wifi extender, but with the modem in the front of the house now, we have much better coverage, even without the extender.
There's another issue with the modem.  We have AT&T Uverse TV Service, and the main DVR for the house has to be plugged directly into the modem.  So we had to come up with a plan about where we would put the tv, how we would get the Cat 5 to the tv position, etc.  So for now, we just have an extra tv plugged in so that the DVR will work.  Sidenote, that was the TV from our master bathroom in the old house.  🙂
With those things being done, the next step was to build the walls between the Formal Living Room/New Office & the Dining Room, plus the door wall to the Entryway.
Our contractor and his partner got started on Saturday morning, and they almost finished it in one day!  I was shocked.
They did the framing, drywall, taping/mudding, and texturing all in one day!  That would have taken us weeks.
A few weeks ago, I special ordered a single french door with 10 panes of glass from Lowe's, similar to this one.  Lowe's was having a 15% off special order doors sale, plus I saved another 5% with my Lowe's card.  They said it would take 12 days to be delivered to the store, but it was there in a couple of days after ordering.
Yeah, that was an interesting trip home from the store.
The contractor came back the next day and installed the door, and then I painted the walls to match the rest of the house, which is Benjamin Moore Bunny Gray.
You'll also see some baseboard trim in the Dining Room in that photo.  I had carefully pulled the baseboards away from the wall where we're going to put our built ins, because I didn't want to go buy new baseboards for the new wall.  Our colonial baseboards are sold at a millwork shop and not available at the Blue or Orange Big Box.  That means, its expensive.
The piece from the built in wall was in two pieces.  The piece in the photo is one, and when I placed the second piece there, IT WAS A PERFECT FIT!  What are the odds of that?
We have a small problem in that the contractor set the base plate into the carpet, and the builder put the baseboards on the concrete, so we have to jigsaw the bottom off this weekend before we can install them & paint them.  If we installed them now, they'd be about 3/4″ higher than the existing baseboards in the room.
I'm not really worried about the baseboards being perfect or cut, because in a few years, we want to put hardwoods everywhere, and replace all of the baseboards with 5 1/4″ baseboards.
There are two other amateurish things that bug me.  The first one is the light switch.  I let Doug choose which way the door would swing, and he said he was more comfortable with it swinging right when opened, so we chose a right-hung door.  The amateur move?  The light switch for the room is behind the open door.  You now have to close the door to turn the main lights on.  Not a huge deal, just slight annoying.  I think the door will be closed most of the time anyway regardless of if anyone is in here.
The other thing that bugs me is that I think the door is hung too high.  There's a gap of more than an inch above the hardwood.  Doug thinks that when we continue the hardwoods into the office in a few years, that the gap won't matter, but I think he's wrong.  I think the noise will travel and it will bug him too.  He says it won't, but I think that's just because he doesn't want to have to rehang the door.
Other than those two things, we're really happy with the progress so far!  Its only been a few days, but it already feels like the walls have been there forever!  I'm on the lookout for a buffet table to go against the new wall on the Dining Room side, but I'm pretty picky, so that space won't be filled for a while.  We had an electrical outlet added on that side for future lamps, decor or items needed to serve food.  I also want to get a big piece of art.  I have grand plans for the dining room in the future, but that won't be this year.
So far to this point, excluding the contractor, we've spent $420ish on the IKEA cabinet frames and about $30 for a gallon of paint at Lowes.  We used about $30 in stuff we had on hand (paint roller, roller covers, paint tray, liner, cutting in brush, etc.).
Here's what we have left to do:
Build Walls & Install Door
Paint New Walls to Match House
Remove Carpet & Prepare Subfloor for Built Ins
Install IKEA Cabinet Rail & Hang Cabinets
Replace Light Bulbs with LED retrofit lights
Install Baseboards & Door Casings
Prime & Paint Door/Jamb
Install Door Hardware & New Chrome Hinges
Build, Install, Stain & Poly Countertop
Order, Prime & Paint Cabinet Doors
Install Cabinet Doors
Order & Install Cabinet Hardware
New Desk & Chair
Fix Windowsill
Add Window Casings
Build & Paint Shelving
New Curtains/Decor
DIY Pull Out Cabinets for Office Electronics
Office Supply Storage & Organization
Finishing Touches
That's a long list!  Remember, we're not ordering the cabinet doors until March, so this reno is going to take a while.  Our plan is to get enough done that we can move Doug in here for work as soon as possible.  He doesn't need cabinet doors to work.  Once that is done, we can get started on re-doing the guest room so that it functions better for our family.
Have you ever converted a room meant for one thing into a space that's more useful?  What did you do?  How long did it take?  Tell us about it in the comments!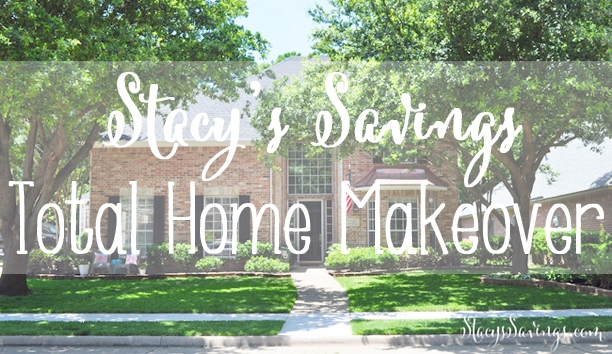 Check out all of the Stacy's Savings Total Home Makeover posts here!