We've done a lot of work on both the Home Office Renovation and the Guest Room/Craft Room since I last updated you.  If you missed the update on the Guest Room/Craft Room, click here.
The Home Office is about halfway done, but it's useable for now.  Check out this post and this post to see where we started.  See how I added Built In Floating Shelves to finish the office (for now).
When I last left you, the walls in the new office had been built and the door was installed.  After the contractor left, we got to do the rest of the work!
So, what did we do?  I painted both sides of the new home office wall Benjamin Moore Bunny Grey like the rest of the main parts of our house.
The IKEA Cabinet Credenza
After the home office was painted, it was time to work on the IKEA kitchen cabinet credenza.  We figured out where the legs were going to be on the cabinets so we could cut the carpet & pad back to expose the concrete slab.  Eventually we're going to put hardwoods in this room, and those will have a 3/4″ subfloor underneath.  That would put the finished floor much higher than the current carpet is, so I wanted to add the same subfloor we will use under the cabinets as well.  Since we were building them in, I didn't want any bounce or movement in the cabinets, so I didn't want to build them on the carpet.
This job was easy.  There was actually a seam right where I wanted to cut, about 1 foot in from the wall.  So I just cut the seam and then cut away the pad.  I saved the carpet for the craft room where we would need a patch about that size.
Once that was done, I just used duck tape to tape some underlayment plastic to the slab to act as a moisture barrier.  I didn't have enough of one roll, so I used what I had: a little regular grey, a little pastel dots, and a little Super Mario Bros.  Whatever works.
Next, we used our newest tool purchase, the powder actuated tool (so much fun – and loud!) to secure strips of subfloor to the concrete.
Installing the Cabinets
With the subfloor installation complete, it was time to hang the IKEA Sektion Cabinet Rail and install the cabinet frames for our home office built in credenza.  Before installing the two end cabinets, we cut out holes for our electrical outlets and added outlet extenders so that we could attach the faceplate to the back of the cabinet for a seamless look.  We want to hide as much ugly machinery as possible, so the printer & shredder will be inside the cabinets.  This way, they'll have electric available.
Building the Countertops
After we installed the cabinets, it was time to work on the countertops.  We used 2 12′ long 2x10s.  Doug sanded them down, stained the boards with Minwax Dark Walnut, then we used our Kreg Jig to make pocket holes.  We attached them with 2″ pocket hole screws, scribed the sides of the boards so they fit the weird curves in our walls, and installed the counter with wood screws through the bottom of the rails on the cabinets.  A couple coats of semi-gloss polycrylic and some caulk along the walls, and this counter was done!  We had everything on hand except for the boards, so it only cost us about $25 for the lumber to make the countertop!
It's so pretty!  I stuck our diplomas up there for now, but those are going on another wall soon.  This home office is going to take a while to decorate, and eventually, we want to add some built in shelving up that wall, so I'm taking my time.  I want to find just the right items.
We also installed all of the baseboards (some salvaged from inconspicuous parts of our master closet), installed the door casings, painted all of the trim, painted the door, and swapped out the brass hinges on the new door for chrome ones to match the rest of the house.
Decorating the Room
I found this desk at West Elm on sale, plus I had a coupon code, and it was one of those double reward points weekends.  It's like it was meant to be.  I bought it.
Cabinet Doors & Hardware
We ordered custom cabinet doors & drawer fronts from Scherr's and used our Critter Paint Sprayer to paint them Benjamin Moore Decorator's White using their Advance Paint.  I found the handles & drawer pulls at build.com.  We went with the Sable Finish on the hardware, because I wanted to bring more rustic modern look to the space.  I love the 12″ drawer pulls I chose.  Having one long handle looks so much better than 2 short handles.  I must remember that for the future kitchen remodel!
The last big thing we need for this home office is to find a desk chair.  The one I wanted to get has a 200lb weight limit, and, well, that's not going to work.  Everything else I like is too expensive.  I don't want a black mesh office chair from an office supply store, I want something that's like furniture.  Something upholstered and tufted.  Maybe some nailheads.  I'll know it when I see it.  For now, I'm just stalking my local HomeGoods, and Doug's using a spare Kitchen Table chair.  Its not very comfortable.  He reminds me of that every day.
Here's what we have left to do in the new Home Office:
Build Walls & Install Door
Paint New Walls to Match House
Remove Carpet & Prepare Subfloor for Built Ins
Install IKEA Cabinet Rail & Hang Cabinets
Replace Light Bulbs with LED retrofit lights
Install Baseboards & Door Casings
Prime & Paint Door/Jamb
Install Door Hardware & New Chrome Hinges
Build, Install, Stain & Poly Countertop
Order, Prime & Paint Cabinet Doors
Install Cabinet Doors
Order & Install Cabinet Hardware
New Desk & Chair
Fix Windowsill
Case Windows
Build & Paint Shelving
New Curtains/Decor
DIY Pull Out Cabinets for Office Electronics
Office Supply Storage & Organization
New Windows
Hardwoods
Plantation Shutters
What's Next for the Home Office
We're getting ready to get started on the floating shelves in the home office next month, but we have to finish the Craft Room built ins, and then we're going to take some time off.  We also need to case the windows, but I want to get Plantation Shutters, so I can't case the windows until we decide to do that.
Other than that stuff, I'm just keeping my eye out for deals on boxes/bins/file holders and other home office things to organize those cabinets, as well as stuff to decorate the future shelves and curtains.  I did pick up some picture frames at HomeGoods and a small lamp from Target.
I have to tell you, it is so nice having Doug out of that back room.  The house is so much more functional now that we have a dedicated Home Office, and we're not wasting space with an unused Formal Living Room.  Plus, the cabinet storage is ah-ma-zing!  I need to organize it better, but there are empty drawers/shelves!  I can't wait to stock up on supplies during Back to School, because now I have a place to stockpile them!
Do you have a dedicated study/home office?  What is your favorite way to organize it?  I have a few ideas up my sleeve, but I'm still trying to make lists of what exactly needs to go in there and how much storage I'm going to need.  Give me some ideas in the comments!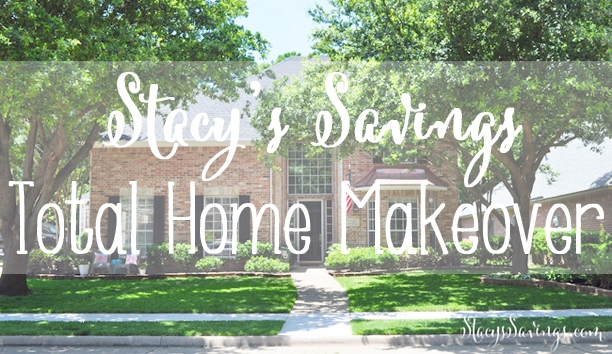 Check out all of the Stacy's Savings Total Home Makeover posts here!