It's been a long time since we started the Kitchen remodel.  7 months to be exact.  And while the kitchen has been "complete" for about 6 weeks, I'm just now getting around to showing your our IKEA Kitchen Remodel reveal!
We broke down the actual remodel process itself into several different posts.  Make sure to check those out!
There is so much to unpack in a large project like this kitchen remodel reveal, so this post is going to focus on three things: lots of before & after photos, a rundown of the specs, and a summary of the budget.
Over the coming months, I'll go more into detail on why we chose IKEA cabinets, the budget specifics and how I kept track of it, how we organized our kitchen and more.  But for right now, we'll just skim those topics and post lots of before and after photos.  Sound good?
Kitchen Remodel
We are loving our new space! The large island is a great place to gather.  We just love looking into the kitchen from the living room and vice versa!
View From Kitchen
It looks good from every view!  No longer do we have one side of our house In the 90's and the other side in 2019.
View From the Back Wall
Getting rid of the orange-honey oak cabinets was a huge improvement.  The white cabinets (Benjamin Moore Advance Satin in Decorator's White) and handmade subway tile are crisp and clean.  The Scherr's Shaker Doors on the IKEA cabinets are really beautiful.  You can't even see any IKEA unless you open a door or drawer.
The DIY Farmhouse Vent Hood Cover really warms up the space. By removing the pony walls and tiny island to go with one big island, the space is more simplified.  We love all of the room between and around the island.  The old kitchen was cramped.  In this new kitchen, our daughter can get around the space with or without her walker.  It's been so great!
Before & After Kitchen Window
One of the biggest issues I had when figuring out how I wanted this new kitchen to be laid out was with this window.  Way back when we first started our budget for this renovation, I had a contractor come out to give me an idea of the cost.  He suggested closing the window and moving the double ovens to that spot.  It was a lightbulb moment for me.  When we hired our kitchen designer, I made sure she took that into account in her design.
If you're local to the North Dallas area and are looking for a Kitchen Designer, make sure you contact me!  Our kitchen designer is amazing!!  You can use any of the social buttons on the top right of this page to get in touch.  I'd love to pass along her information.
Getting rid of the old desk area and window allowed us to make the space more balanced.  Our new double ovens are so much bigger and better than our old ones!  After living with those tiny ovens that couldn't cook a turkey for over 5 years, we went with the biggest ovens we could find.  I guess we're over compensating.  We love the cobalt blue interiors of the ovens.  The top oven is a convection oven, but I haven't attempted to figure it out yet.  Let me know if you have any convection oven tips!
Coffee Station
This space gives us the perfect "butlers pantry" area where we keep our coffee station.  I have some fun ideas for decorating this space soon!
More Before & Afters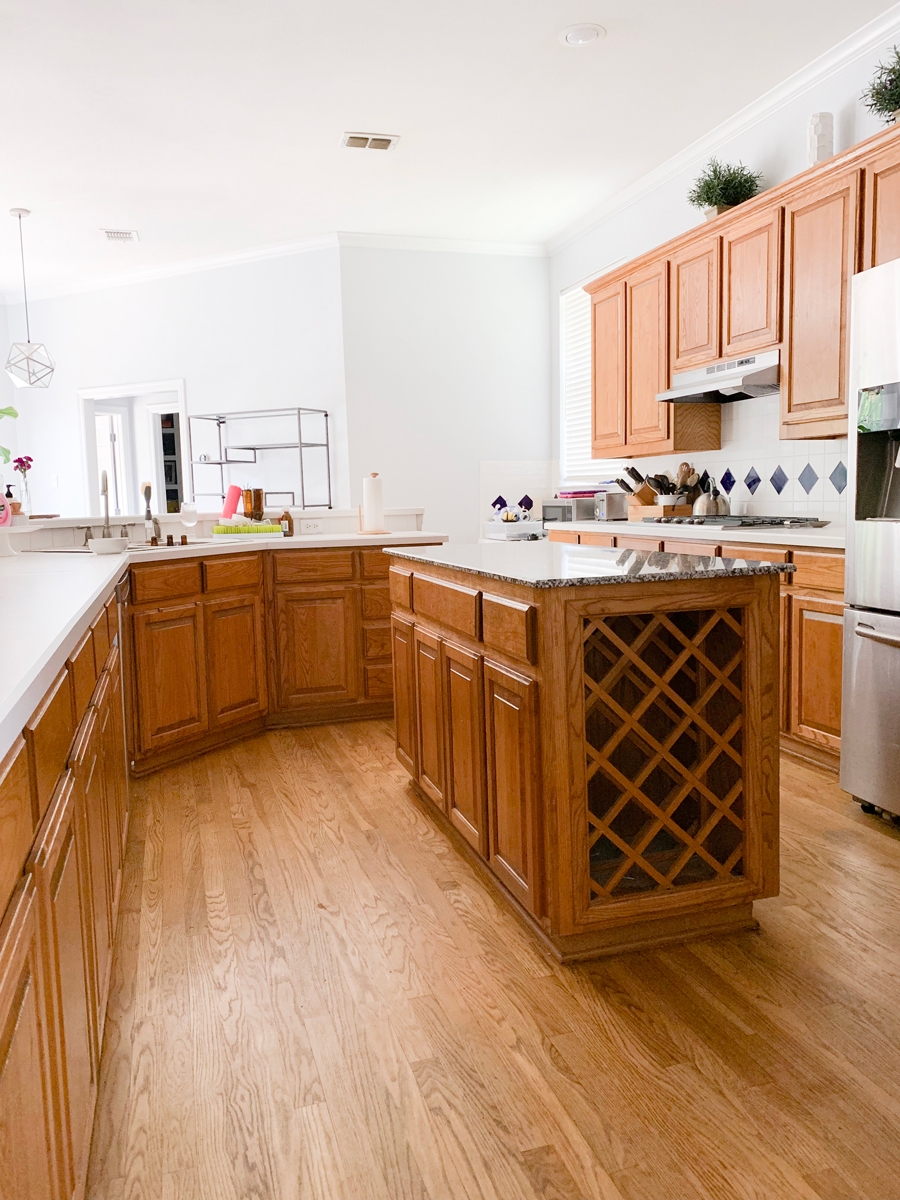 There is so much space now between the island and the perimeter!  Before, it got crowded in our kitchen quickly.  Now, there's room for one person to work in each area AND someone to walk between them.
We purchased all new KitchenAid Appliances back in December of 2018 in order to lock in year end pricing deals.  The only appliance that is from the old kitchen is the cooktop.  That was replaced when we moved in, and we chose that one because we knew we wanted KitchenAid appliances when we finally were able to remodel.
This is the first time we've done the ice maker in the freezer and an interior filtered water dispenser.  This was important to me because our old fridges had the outside dispenser, and it would always get messy.  There would be drips down the front of the fridge, and the bottom would get calcium build up from our hard water.  We still have some drips from various kitchen activities, but I don't have to worry about the ugly calcium anymore.
There is more room inside the fridge because the ice maker is in the freezer.  We also saved a little money by choosing this option vs the one with the in door dispenser.  Saving money is always a win in my book!
I love this backsplash tile and I love that it is under $1 per tile!  I purchased all of the backsplash tile during a 20% off tile sale at Lowe's.  This is the same tile that we used in the Guest Bathroom Accessible Walk-In Shower.  I love the handmade qualities: the wavy pattern, the shine, and of course the way the light hits it.  It looks way more expensive than it really is, especially on sale!
Of course I had to include some hexagon action as a permanent feature of the space.  All of the cabinet knobs are hexagons, and the matching drawer pulls have a hexagonal profile that I'm crazy about.  If you don't know what I'm talking about, I wrote this post all about how the hexagon shape is a special little Easter egg I hide in all of my remodel projects around our home.

The countertops are my favorite thing!  Maybe everything is my favorite!  But really, it took me a really long time to decide on a countertop.  I love the look of marble.  But after having it in our master bathroom for the last 5 years, I knew that was way too high maintenance for my family.  We had quartz counters in our last house, and I knew that was the way to go.  The only question was could I find one that looked like the carrera marble that I love so much?
I was ready to go with another marble look-alike quartz when I found this one after doing some late-night Pinteresting.  It's LG Viatera Karis.  I hunted down a showroom where I could see a larger piece (they didn't have full slabs on display).  The veining on this piece is so random.  I love that it's not too dark and sharp, but it's also not too soft and uniform looking like some marble-pattern quartz are.  Our fabricator did a great job with installation.  This one is a little more expensive than what I had chosen originally, so it pushed the budget up a bit.
This farmhouse sink is such a game changer.  We've been longing for a single basin sink since we sold our old house.  We have fond memories of bathing babies in that big ole sink.  The babies are too big to bathe in the sink these days, but it's been so nice to wash large pots and pans without a separator in the middle.  We keep a grid in the bottom to protect it from scratches & clean it with Bar Keepers Friend.
Our hands free faucet is another upgrade that we left behind at the old house.  This version has a different spray setting to push things toward the drain.  It makes cleaning a breeze!
I found these innovative Built-In Pull Out Step Stools on a Facebook video that a friend had shared a few years ago.  I immediately bookmarked it because I knew these had to be in my new kitchen.  These are from a company called Hideaway Solutions.  The stools pull out from the wall and then can be opened either toward the right or left!  I have both stools open to the right in this photo.  This makes putting away the clean dishes a breeze.  It also lets my shorter kids help us with the cooking!
We still need to add the toekick pieces to the stools, but those are coming.  We just haven't had time to do that yet.
The Budget
It was really hard to separate the budgets for the kitchen from the laundry room from the flooring.  It's all sort of one big massive project.
As you can tell, the floors aren't refinished yet.  The flooring guys are coming during Spring Break to add wood in some rooms and then refinish everything.  They're also going to replace the baseboards and install them where they are missing right now.
I will do a much more detailed budget post in the future, but Overall, this kitchen cost around $60,000.  I know, that's a huge amount of money, and it includes the cost of the pantry which I went over in this post.
When we started planning the budget, I was thinking between $40k-50k. It's a really large space.  The back wall is 15.5 feet long and the ceiling are 10′.  Reconfiguring the floor plan meant moving walls, moving plumbing, moving electrical.  All of that is expensive and was probably half the total cost.  Plus quartz counters, all new cabinets, all new appliances, it all adds up quickly.
To break it down roughly:
Demo & Pantry Framing $7K
Appliances $9K
Cabinets & Doors $10k
Plumbing/Electrical/Flooring Repair $12k
Quartz Countertops $12k
Finishes & Other Construction Needs $12k

In the coming months, I'll go more in depth on why we spent what we did and where the money went. I'm also going to show you how I kept track of the budget, down to the penny, with my favorite budgeting system.
After going over the final numbers with some contractors and our Kitchen Designer, they estimate that we saved over $40,000 on this project between acting as our own General Contractor and some of the choices we made, like using IKEA cabinet boxes.  $40,000!  I will also to do another post on how we organize everything, but I haven't organized it yet.  We're also still trying to get everything moved back in.
Here are some of the sources for the things you've seen in my kitchen!

So what do you think?  I'm really excited to get some photos of it in the summer.  The winter sun is really harsh through those west-facing windows.  I can't seem to capture it right with my SLR camera.  I'll keep practicing!  What's your favorite part?  Do you have any questions about an IKEA kitchen?  Let me know in the comments!
IKEA Kitchen Remodel Blog Series
Now that the remodel is done, check out the rest of the posts to watch our vision come to life!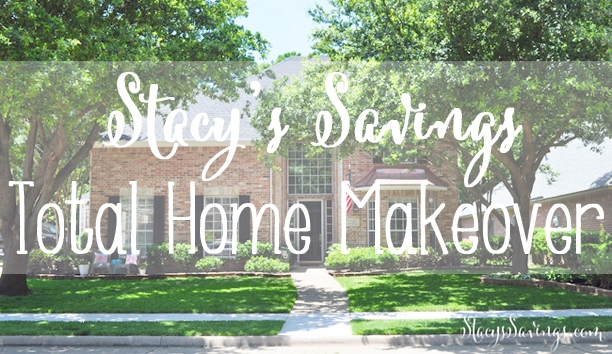 Check out all of the Stacy's Savings Total Home Makeover posts!