I've been wanting to write this post for several weeks. Please be warned, there will be cursing. DIY Shiplap doesn't get installed without a lot of cursing. I'll keep it to bullshit, but know that much stronger words were flying while this project was being completed.
Check out the reveal post for the Master Bedroom Mini-Makeover. That version has no cussing!
I've been wanting to do some sort of wall treatment/accent wall in our master bedroom for quite some time. In our old house, we had the wall behind our bed painted a different color than the others. I just love the look of the contrast and how it really anchors the bed as the focal point of the room. In this house, I wanted an accent wall with a different texture too.
I've been seeing grid patters and board & batten in my head for this space. For a long time, I was trying to decide between shiplap (which seems overplayed now) and a grid (like this). Last month, I decided DIY Shiplap was much less of a pain in the ass than a grid was. I'm not going to say I was wrong, but I'm not going to say I was right, either.
Shiplap vs. Grid Pattern
Why did I choose shiplap over a grid? Well, the first reason is wall texture. You see, we live in Texas, and walls in Texas all have spray texture on them. Wall texture is really annoying. It's annoying to paint. It's annoying to patch.
Because of this texture, you can't just slap some trim boards on it, paint it, and call it board & batten or a grid. You have to cover up the texture first, and that usually means installing some sort of panel board. Our wall is about 18′ wide and 10′ tall, so there would have been several seems between panel boards. Those seems would need to be covered with the trim boards. Trim boards need to run at an equal distance to form your grid. All of that was WAY more math than I wanted to do for this particular project.
Shiplap is just horizontal boards with trim around the edges of the wall. Sounds much less complicated right? No. No it was not.
Let's back up a bit. There are a lot of bloggers out there who have done DIY Shiplap on a budget. Most of them have taken 1/4″ plywood, ripped it down to boards, and installed it in a day, right? You've read those posts. I'm here to tell you, they're all Bullshit.
Supplies
Here are all of the tools I needed to complete this project:
1/4″ Plywood – cut down into 7″ panels. You'll have 1 piece of scrap that is smaller than 7″. I'm going to use it for window casings like in the playroom.
Nickels – Lots to keep in your pockets because you'll drop them.
200 Sanding Block – To sand all of your nail holes.
Paint Brush – I used a cabinet roller too, but it didn't paint as thick as the lines did with my brush, so I have to go back and use the brush for another coat on the boards.
2 Ladders
Why DIY Shiplap is Bullshit
"Use 1/4″ Plywood & save Money"
This is bullshit.
Yes, 1/4″ plywood is cheap. It's $16 a sheet.  My wall needed 7-8 sheets, so ~$128. Click & Lock mdf shiplap boards are $12 a board, and I would have needed ~34 of them. That's over $400. So yes, the plywood is cheaper. But, keep reading and you'll see why it might be cheaper to do the $400 worth of boards.
The other problem with the plywood is that your pretty little lines are going to have texture gaps behind them. If you use any paint sheen other than flat, you're going to see the texture in your gaps if you look close enough. I used Benjamin Moore Advance Paint in Satin (color is graphite) for my wall, because that is what I use for trim work. I wanted there to be a slight sheen on this paneled wall. So the texture bumps show when you're up close.
"Just Get the Guy at Lowe's to Rip The Boards For You!"
This is bullshit.
Yes, you can get the guy at Lowe's to rip the boards down for you (my Home Depot won't cut anything under 12″). Sure, its faster than cutting them yourself. Yes, you can choose to have boards whatever thickness you want. Those are all in the pro column for using the cheap plywood.
Here's the flip side. The boards the guy at Lowe's cuts (or you cut) aren't going to have straight cuts. The saw will cause little splinters all along the cut lines, and you'll have to sand those down. It's not a big sanding job, but it's an annoying one. It took me about 90 minutes in the garage with my mouse sander and some 220 sandpaper to smooth them out.
When you go to hang your shiplap, you'll see that the cuts are not straight. Also, plywood is made with thin boards that are pressed and glued together. The middle layer may have a knot or something that is lost when the board is cut, which creates a hole in the middle of your pretty separation line on the wall. Paint shows any imperfections, so your pretty little separation lines won't be straight and they'll have gaps. See the problem?
Even though the guy at Lowe's never moved the saw, some of the boards were slightly wider than others. When you got one board up, and then tried to add one to that length run, it was difficult to find two in the pile that were the exact same width. You need them the exact same width to keep your pretty little separation lines even and pretty. See the problem?
We ended up with several pretty little lines that look like this:
Not so pretty.
"Use Nickels for the Perfect Spacing"
This is bullshit.
If you're using 1/4″ plywood ripped down to planks, there's not much surface area for the nickel to sit on between your boards. I lost count how many times two of us were holding the boards to the wall, we'd put 4 nickels between the boards, and the damn things would fall out. It really sucks when you're both on ladders and the nickels fall out.
I couldn't even get a picture of the nickels because they would fall out even when we had 4 hands on the board. No way could I go get my phone to snap a shot. You're just going to have to use your imagination.
Yes, nickels provide the perfect spacing, if you can find boards that are cut straight. However, because they are circles, there's not much for 1/4″ plywood to support. I would get tile spacers or make something out of cardboard to get that perfect spacing instead.
My son was helping me hang the shiplap, and he drew this & taped it to the wall during a break:
Yeah buddy.  I'm with you.
Final Thoughts
So as you can see, going the cheap route might not have been the best route. In this case, you get what you pay for. Had I gone with the $400 boards, I could have click and snapped my way up that wall in probably half a day. It took about 10 hours to get these boards up, and that was with 3 false starts.
Knowing what I know now, would I have used the click and snap boards? No. Because with this large of a wall, I really wanted the boards to be at least 7″. That was thicker than any of the click & snap MDF shiplap boards. Because the ceilings are so tall in here, it would have looked too busy with only 5″ thick boards and lots of horizontal lines. But at least they would have been properly spaced.
I do love the look, especially from a distance. I love the color & contrast. We're still not used to it yet, so it kind of feels like going to sleep in a hotel. The mirrors are my favorite part, especially at night. They bounce the light around, create depth, and make it feel like there's a window next to my bed.
Have You Installed Shiplap?
I hope this post helps you make the right decision on DIY Shiplap for your home & budget. I really wish I had read a post just like this one before I started so that I knew exactly what I was getting into going the cheap route.
So what do you think? I'd love your feedback on this project! Tell me your favorite or not so favorite parts in the comments. Also, let me know if you've done this project and what you'd add to this post so that we can help others!  Sorry about the cussing, but believe me, you will be cussing if you go the plywood route to save money.  Most likely, the words will be of the F variety.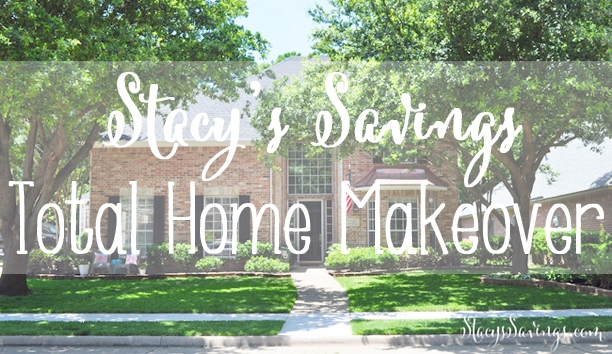 Check out all of the Stacy's Savings Total Home Makeover posts!