Sometime last Fall, before things got crazy around here with Football Games, Soccer & the Holidays, I told you how we were converting some built in media cabinets into a bar.  Since it has been so long, here's the planning & construction posts.
Those posts have all of the details & nitty gritty, but here are some before pictures:
We demo'd the media cabinets immediately upon getting the keys to this place.  There was no way I could look at all of that oak.  The same week, we had our painters come in and paint the walls Benjamin Moore Bunny Gray & the trim Benjamin Moore Decorators White.
A year later, when we got a TV hung for this room, we picked up a cheap bookcase from IKEA and this is how that space looked for 2 years.  The floor of the nook was slab, so it was super dusty over there.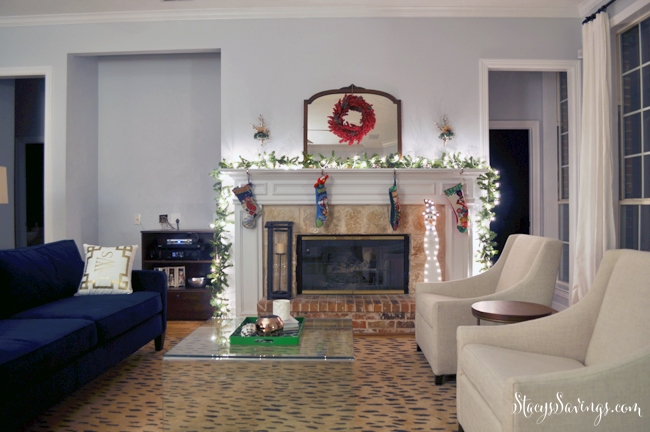 This is how it looked when we left you in the last post:
Now, it looks like this:
We love this bar so much!  It is so nice to have all of the single-serve beverages out of our main refrigerator.  Because it's built in, we needed a front-vent fridge, which can be very expensive.  We're not big wine drinkers, and we needed more space for beer bottles & soda cans, so this Edgestar Fridge is perfect!  It was also a really good deal from Build.com for just $634!  Of course, it's about $50 cheaper now.
This is actually the second fridge.  The first one had a door that was not balanced and hung crooked.  I called my rep at build.com, and they sent another out the next day.  It was a very easy exchange.  I love Build.com!  They have the best prices on everything.  I always shop around for the best prices on my remodeling fixtures & appliances, and I keep coming back to build.com every time.  The personal service is the cherry on top of the sundae.
We used IKEA Sektion Kitchen Cabinets to make this bar, and we ordered Custom Shaker Doors from Scherr's just like we did in the Kid's Bathroom, the New Office & the Craft Room/Guest Room Bookshelves.  They are beautiful, easy to paint, and I always get them before the promised ship date.  I painted these with Benjamin Moore Advanced Satin in Decorator's White using my Critter Paint Sprayer.  Make sure you read my review of this affordable little paint sprayer from when I painted the bathroom cabinets.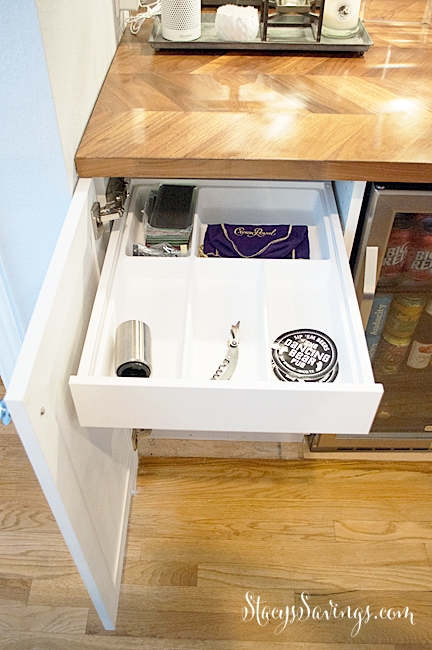 I keep coming back to IKEA Kitchen Cabinets & Scherr's Custom Doors for these projects, because you just can't beat the interior options.  Being able to put drawers where I want or get extra shelves is so nice.  Plus, its easy & cheap to pick up extra shelves or get perfect-fitting interior organizers.
We haven't really organized these cabinets the way that we want them, but for now, they work.  The left side drawer has bottle openers & extra pieces to the cabinets/backsplash (I need to put those in the garage).  The cabinet below stores some decor items that don't have a place right now, plus a box of cocktail napkins.
On the right side, the drawer (not shown) holds a stick lighter for the fire place & lots of remote controls, while the cabinet is the kid stuff: board games, a basket with coloring pages & crayons, and a box of random legos.
The countertop is gorgeous!  This is the Barkaboda Chevron Butcher Block from IKEA, and it really was what got the ball rolling on this project.  When I saw it in the 2016 Summer Catalog, I had to find a place for it.  I like that the wood element brings the formal look of this bar down a notch, but its still special.
We were originally going to do this bar when we did the kitchen, and we were going to use whatever stone counters we used there over here.  Now, I think that would have been too much stone.  This is much better!
I used Minwax Polycrylic in Semi-Gloss, but I feel like it isn't protecting it from scratches as well as I'd like.  This was my first attempt at Poly, and I don't think I did it right.  I may go back and use something else at some point in the future.
The upper cabinets hold all of our cocktail glass & barware.  The glass shelving has the more formal crystal, and the basic stuff is hidden behind the doors.
My homemade wine rack/space filler turned out great!  We don't have anything up there right now but 2 bottles of $2 Buck Chuck.  I need to find some money in the budget to go fill it up.  For design purposes, of course.  😉
We went with seeded glass, which is hard to tell in this picture, but it looks really impressive from the couch!  It was the perfect choice!
I've known since we moved in that I wanted this bar space to look like the future kitchen, with white shaker doors & these Ella Large Knobs from Pottery Barn.  I love hammered polished chrome, and these fit the bill perfectly.  The only thing that I didn't like about them was that they were backordered for 2 months.  They bring the bling of the backsplash up to the white canvas of the cabinet doors.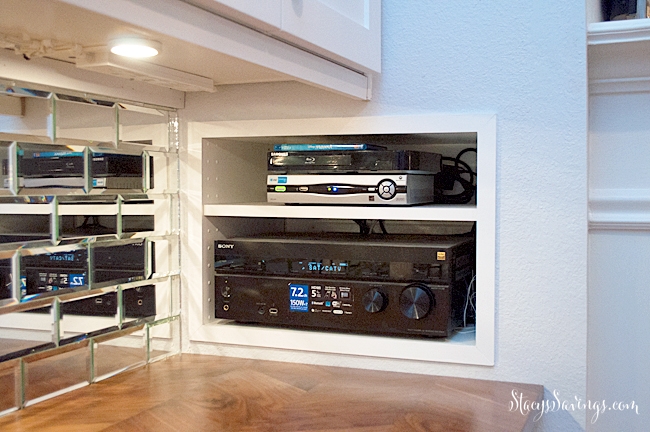 This little nook that we built is my very favorite part of the whole project!  I love having this stuff out of the way, but still accessible, while not taking up precious cabinet space.  This little hack makes me feel like a genius!
Here's how the bar fits in with the rest of the room:
Before we moved in (after paint):
Now:
I love that this project is finished!  That blank hole was really bothering me & caused me not to want to invite anyone over to my house.  Now, we love to show it off!  It's not embarrassing anymore, that award goes to the kitchen.  We just tell people not to look over there, look at the bar!
We hosted a party just after we finished it, and everyone loved the backsplash.  That, by far, is the most complimented.
I haven't found the perfect decor for this space.  That was the one thing I was the most excited about, but now everything I see isn't perfect.  We keep our Amazon Echo over here for now.  I moved most of this decor from other parts of the house just for these pictures.  The tray, flower, metal & glass vase and candle are from Magnolia Market, and the little white tealight/bowl is from a boutique in Waco.
Overall, we spent about $2,900.  That breaks down as follows:
$1045.80 IKEA Cabinet Frames & Hardware, Interior Organizers, Countertop
$410.58 Cabinet Doors
$100 Seeded Glass Inserts
$24.36 Knobs
$142.08 Backsplash
$436.67 Various Lowe's Materials (Subfloor, Joint Compound, Drywall, etc)
$109.25 Paint & Misc (Brush, Polycrylic)
$633.63 Bar Fridge
That's a little bit more than I was wanting to spend, but we got what we wanted and we had the cash, so its ok.  Maybe one of these future projects will come in under budget to balance it out.  Yeah right!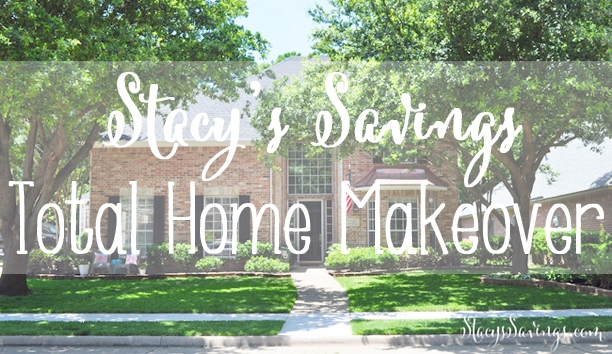 Check out all of the Stacy's Savings Total Home Makeover posts here!
Have you ever repurposed a built in unit in your home?  What did you do & how do you like it?  We are so happy with this project!  It turned out great & really pulls this space together.

I'm linking this post to Thrifty Decor Chick's Before & After post!  Go check out all of the awesome projects people have submitted!