2017 was going to be short on house projects, but I did have a few small ones planned. I just wasn't sure when I was going to do them.  Building wall-to-wall floating shelves in our Home Office was one of those projects.  I finished these last summer for about $200!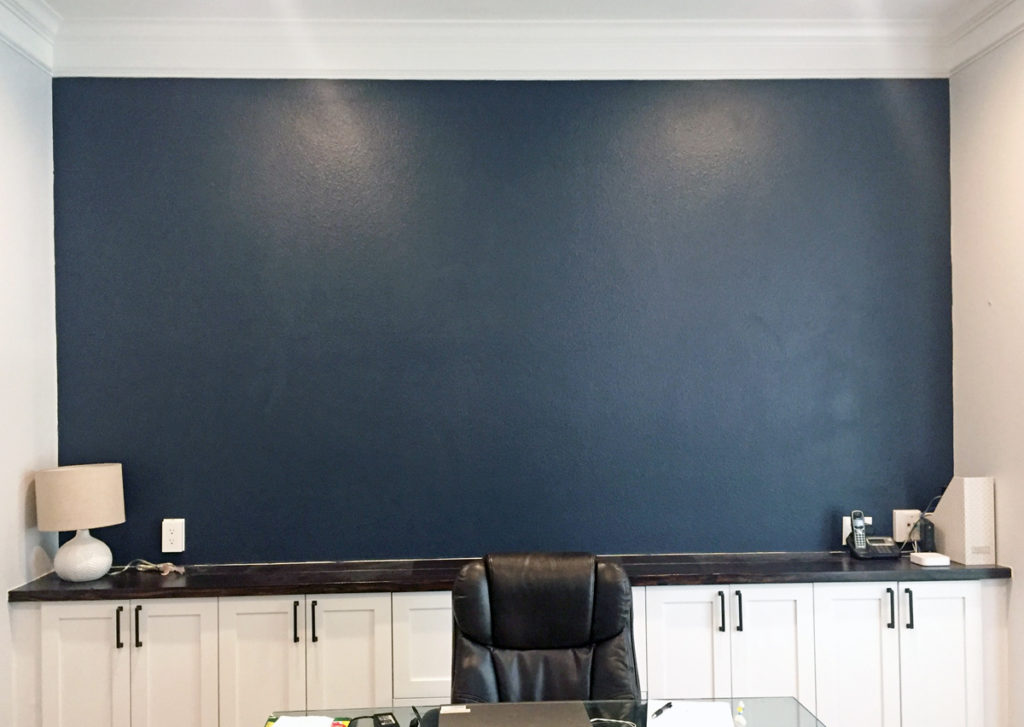 When we converted the formal living room into a home office for Doug, I always had the intention of building wall-to-wall floating shelves above the cabinets.  I envisioned a place to display books, keep important documents, and showcase family photos & treasures that tell our story.  To me, any real home office has display shelving.
If you'd like to see more of our Formal Living Room to Home Office Conversion, check out why we decided to do that and how we got the wall built.  This was probably the best remodel decision we have done in this house to date.  We use the rooms so much better now, and it makes the whole house more useful.
Timeline Issues
Originally, I wanted to get this project done in April, but I kept putting it off because we were coming off the master closet project, and I thought we needed a break.  We had a really busy June & July planned, so in May, I decided that these wall-to-wall floating shelves needed to get done before the crazy busy schedule started.
The real reason this project had to be done in May is so that the paint could actually cure 30 days without me trying to style the shelves.  That's the real reason.  I have no patience.
The reason this was delayed from 2016, when the office was built, was I couldn't decide exactly how to build them.
If you follow me on Instagram, you've seen a sneak peek or two of the final reveal.
Construction
The wall-to-wall span is almost 12′, which is difficult for any floating shelf.  The problem is sag.  You don't want your wall-to-wall floating shelves to sag in the middle.  There was definitely math involved.  I'm not exactly sure I built these wall-to-wall floating shelves right, but I'll go ahead and tell you how I did it.  I'll also tell you what I might do different if I had to do it again.
I knew I wanted the floating shelves to be no thicker than the shelves in the craft room/guest room that I built last summer.  So with that in mind, we headed up to the Big Blue Store.   We purchased about $180 worth of wood & other various supplies.  I think we used plywood for the tops, 1/4″ plywood for the bottoms, 1x2s for the supports, and a 12′ Poplar 1×3 for the fronts.  I built the wall-to-wall floating shelves in about 3 hours, pretty much by myself.  It was nail gun fun!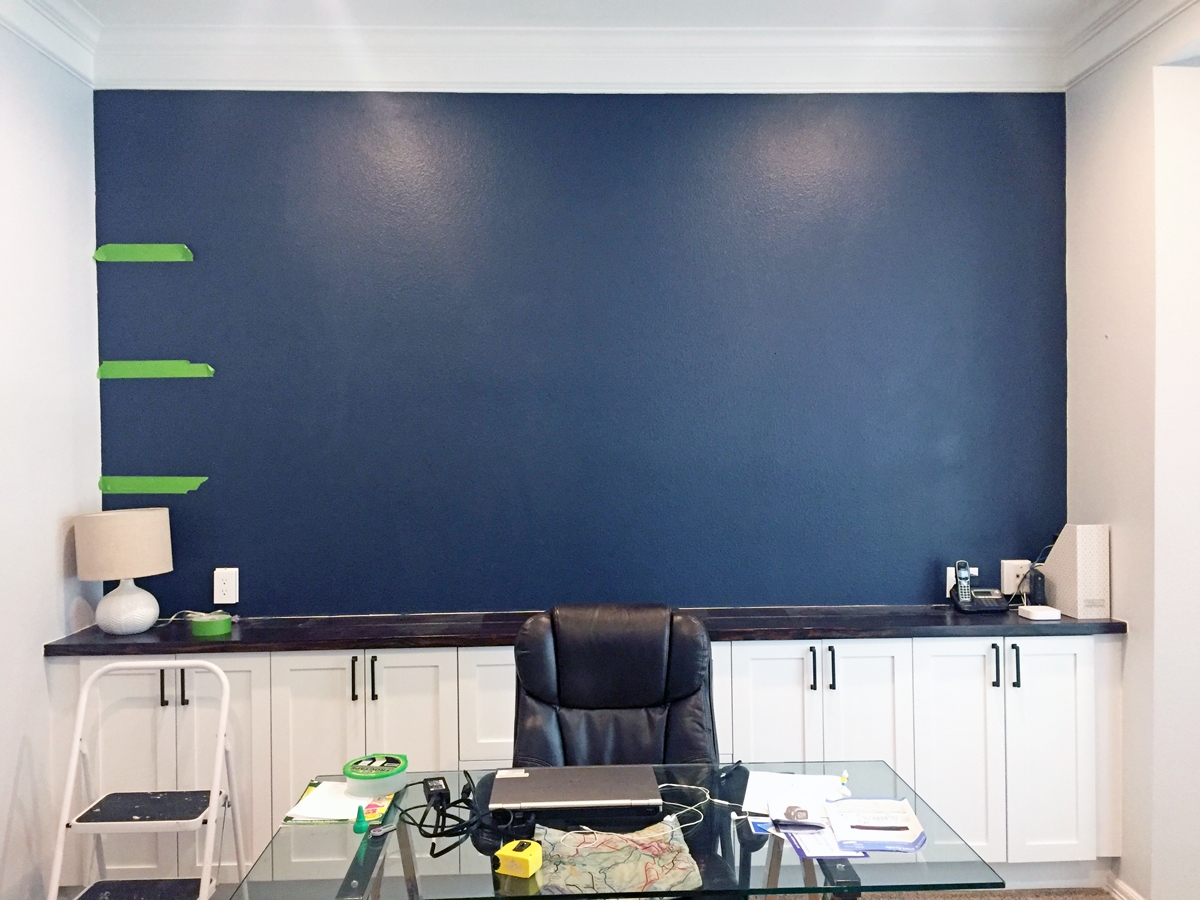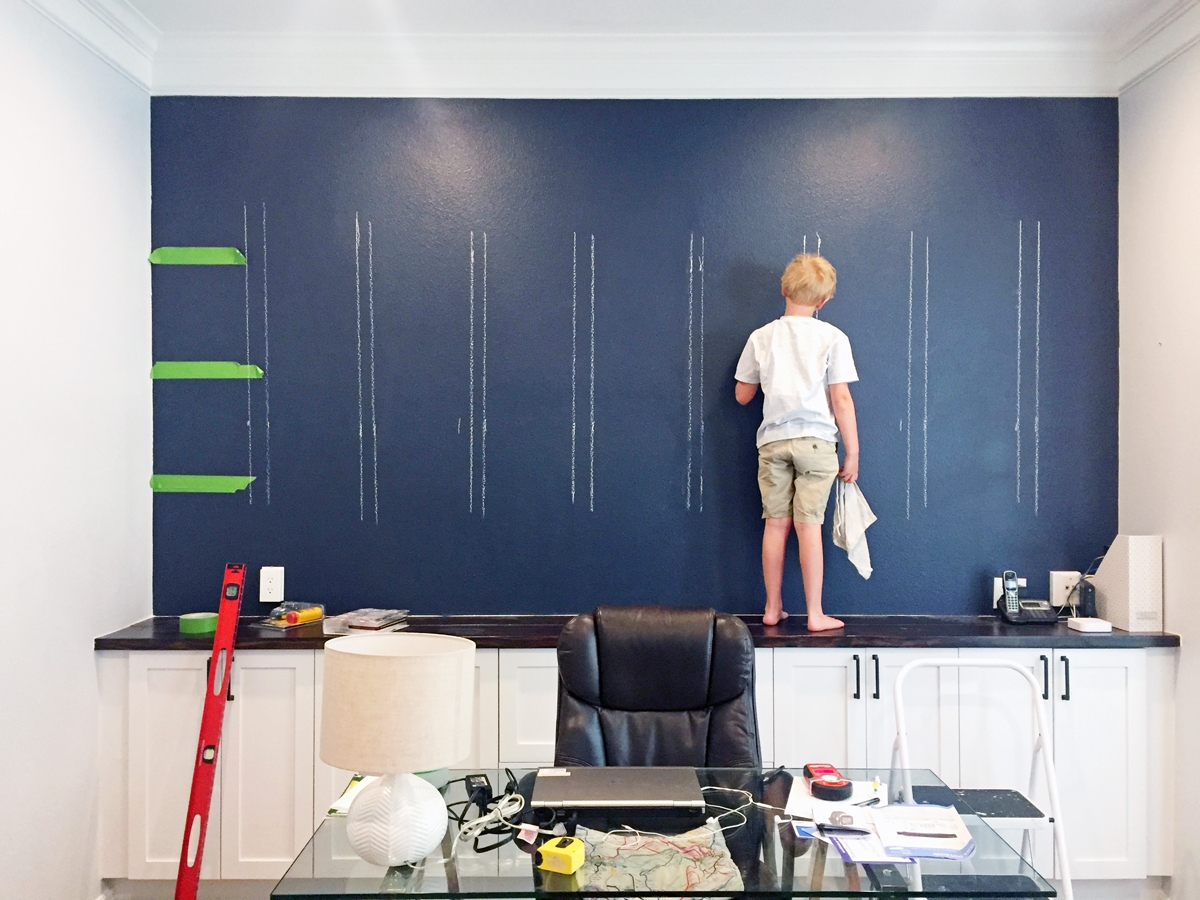 First, I marked where I wanted my shelves with painters tape.  Then, my 7-year old helped me mark the studs with chalk & use a chalk string with a laser level to get a level line all the way across.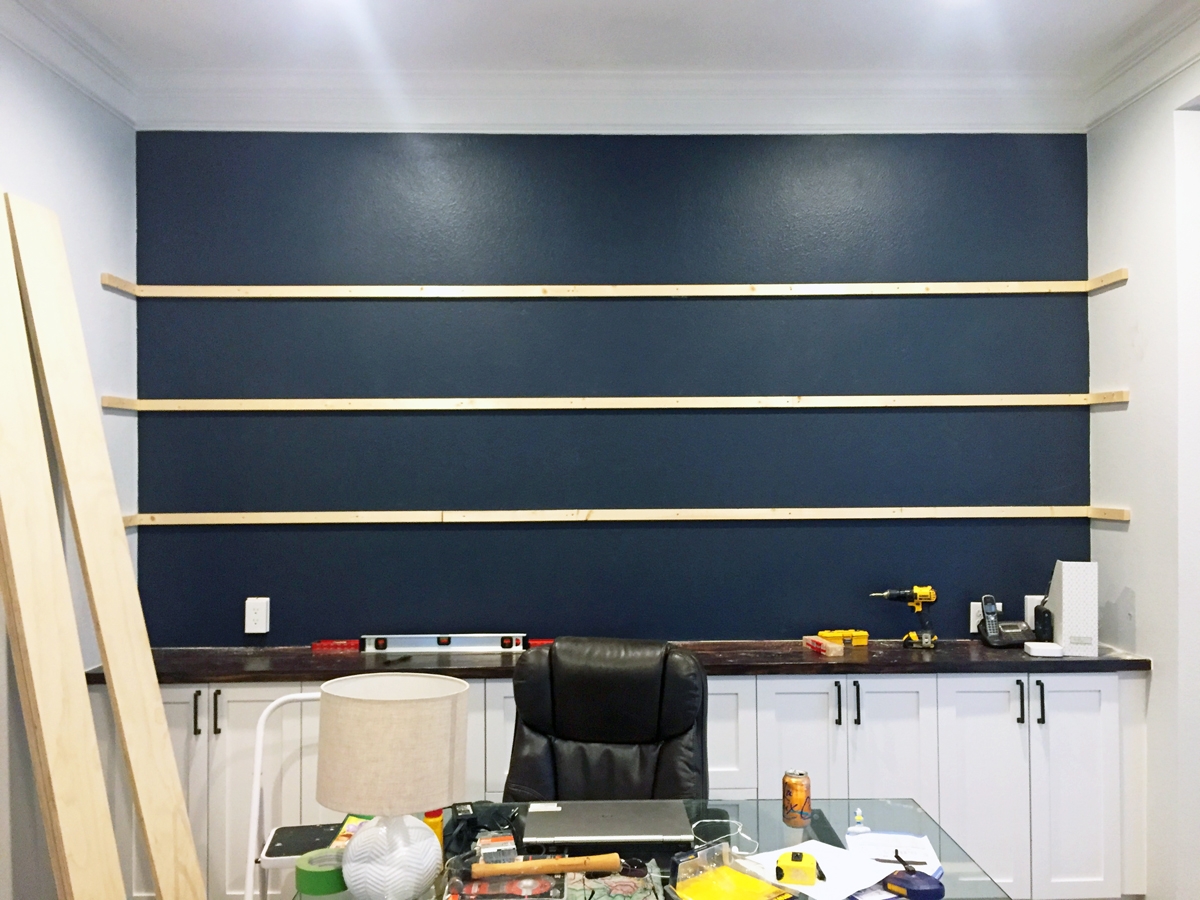 After that, I installed a back cleat with a 1×2 using 3″ wood screws into every stud & 2 on the side walls.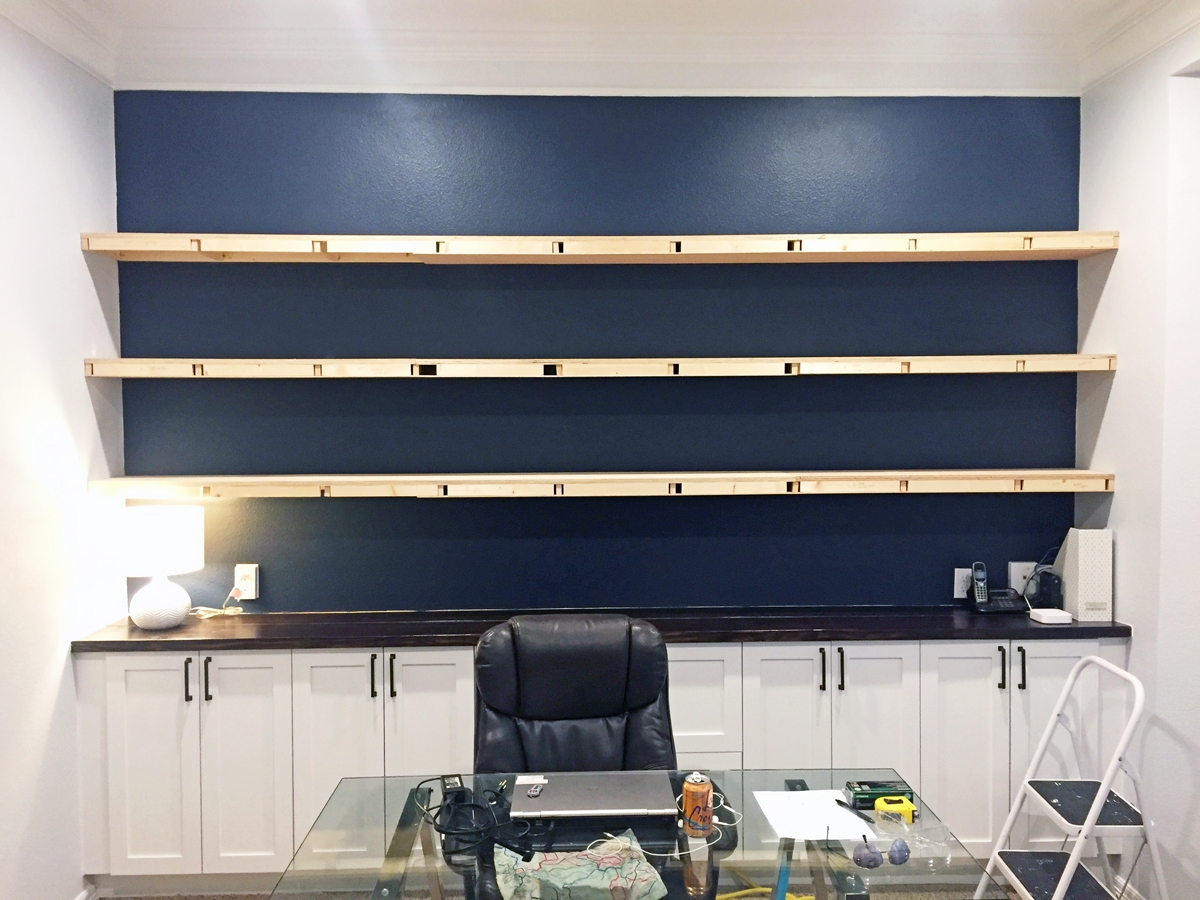 Then, I installed the shelf tops (11.25″ strips of 3/4″ plywood) using my brad nailer.  After the tops were in place, I added support posts from the cleat to the front of the shelf using clamps & my brad nailer, as well as front supports the same way.  I also used a framing nailer to fire some thick framing nails diagonally through the perpendicular supports into the back cleat & studs.  Who knows if that is supportive, I just thought it couldn't hurt.
I would definitely recommend a 1′ level and at least a 4′ level for this project.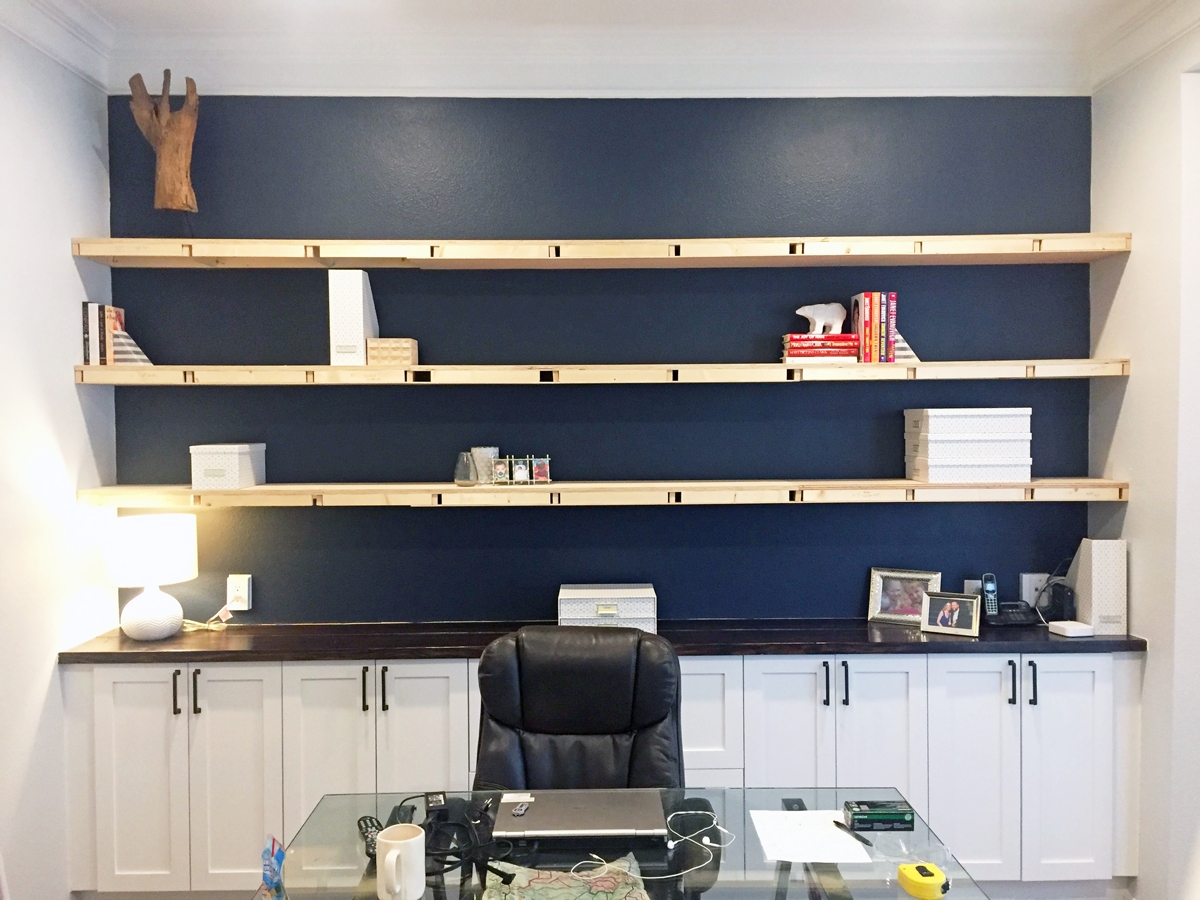 At this point, we had to take a little break and clean up.  We had a 5-year old birthday party to throw, so we couldn't leave it all messy.  I had fun and styled the shelves.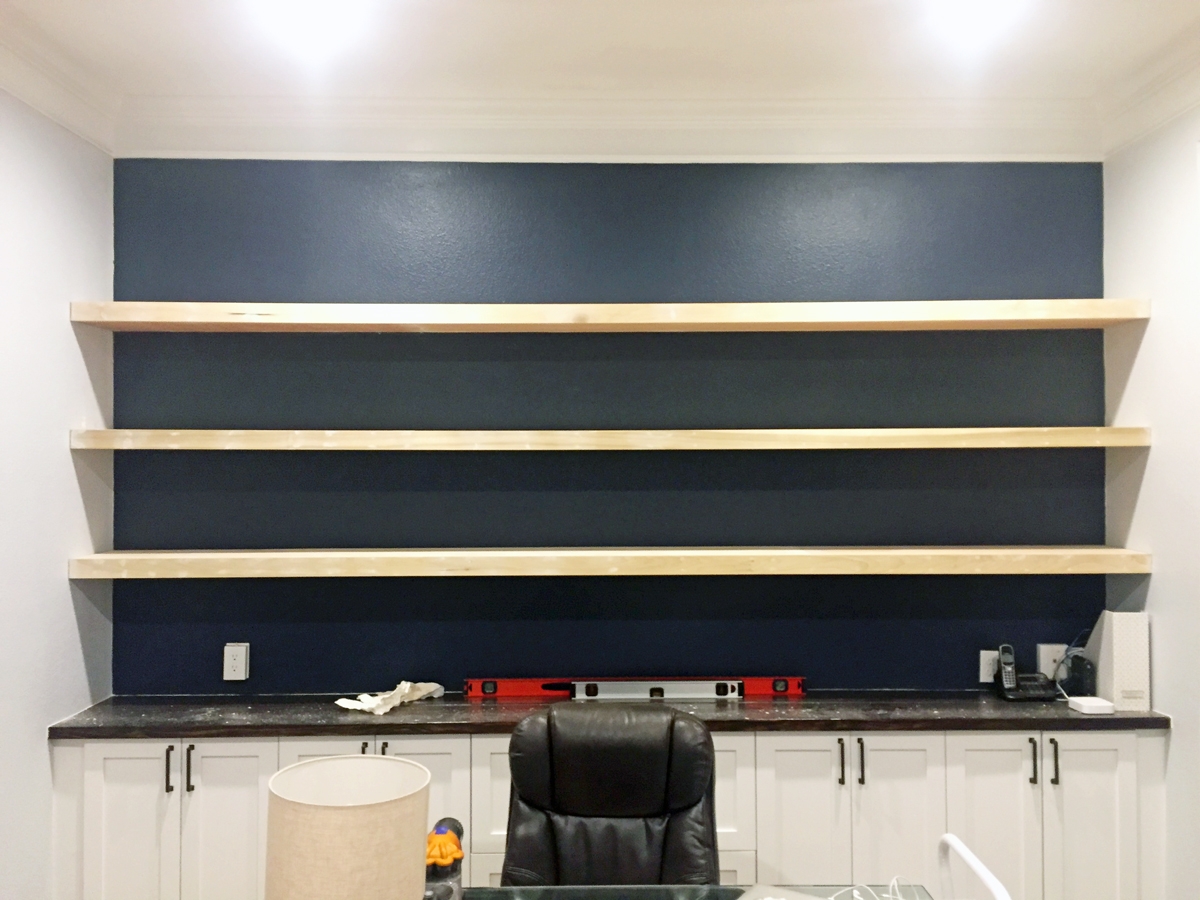 Finally, I installed the bottoms (11.25″ strips of 1/4″ plywood) and the fronts (poplar 1×3).
***If I had to do this again, I'd probably try to do two 3″ wood screws on each stud, one on top of the other, if I had the space.  I just think that would give it more support.***
The reason why I built the shelves this way instead of building E Frames first and then installing those, is because I was afraid I wouldn't build the E frames level.  Its really difficult to find straight wood at the Big Box Stores.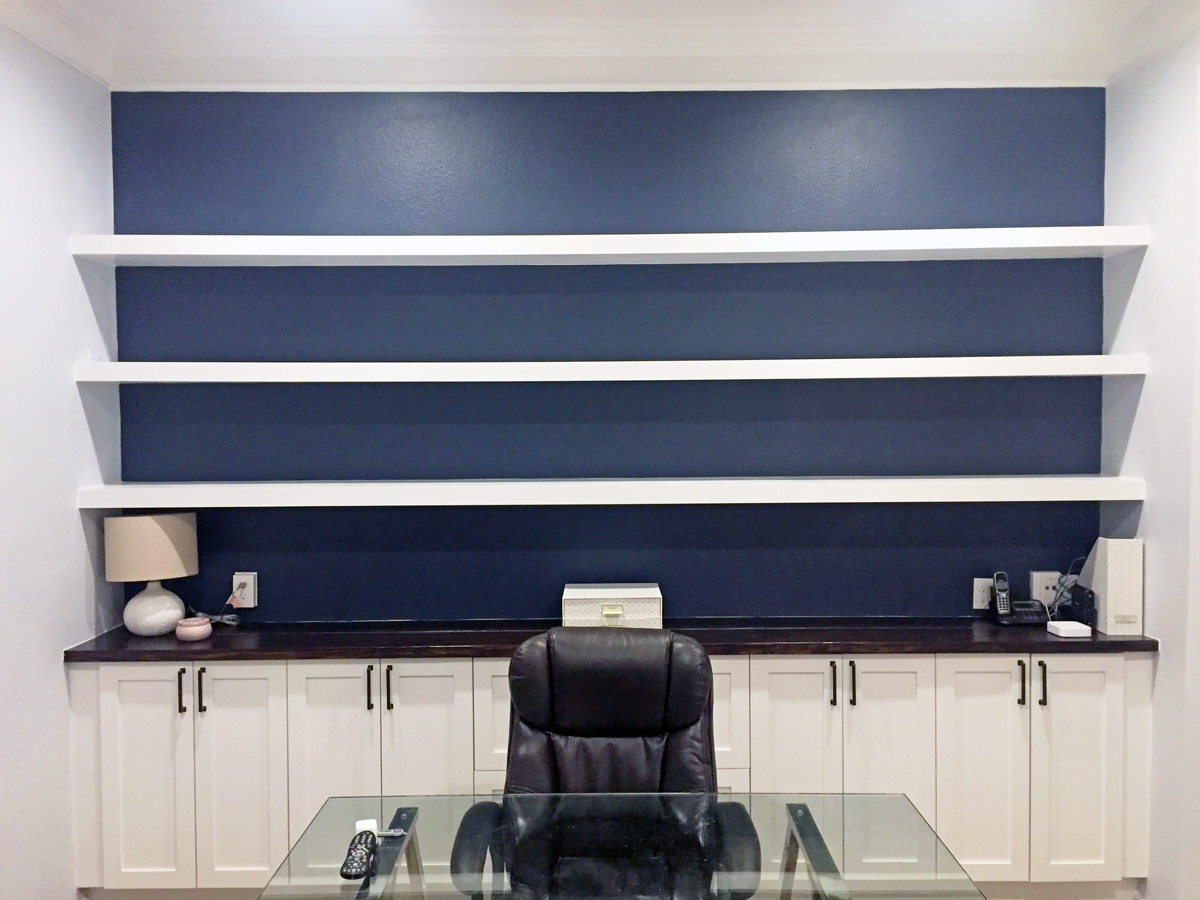 With the construction of the wall-to-wall floating shelves out of the way, it was on to the boring stuff: puttying, sanding, priming, caulking & painting.  I used an oil-based primer, Zinzer Cover Stain.  It smells awful and is super messy, but it covers dark spots & knots in the wood in one coat.  I used my favorite trim paint, Benjamin Moore's Advance Satin in Decorator's White, for the paint.  This is my go to paint for any trim work, shelves, doors or cabinets.  It self-levels, so you don't really have to worry about bubbles.  It's also water-based.  It's really wonderful stuff.
Here's the finished product!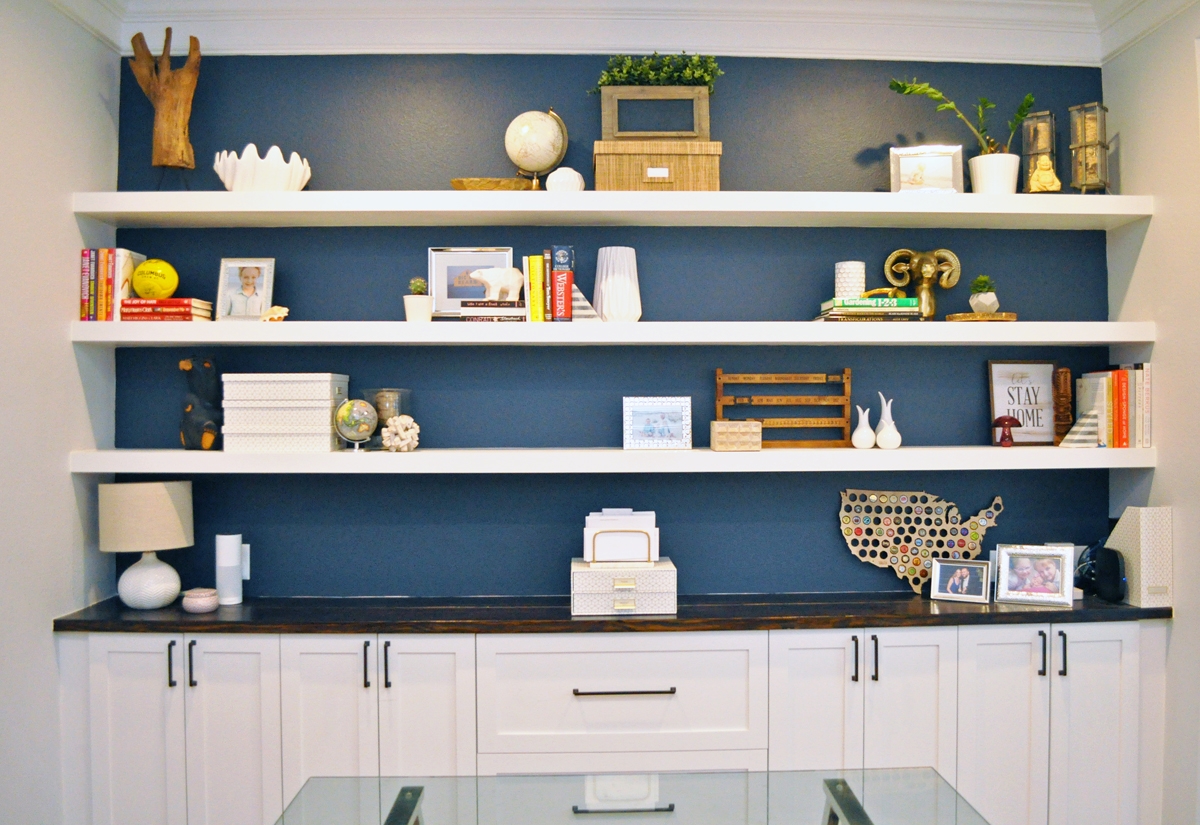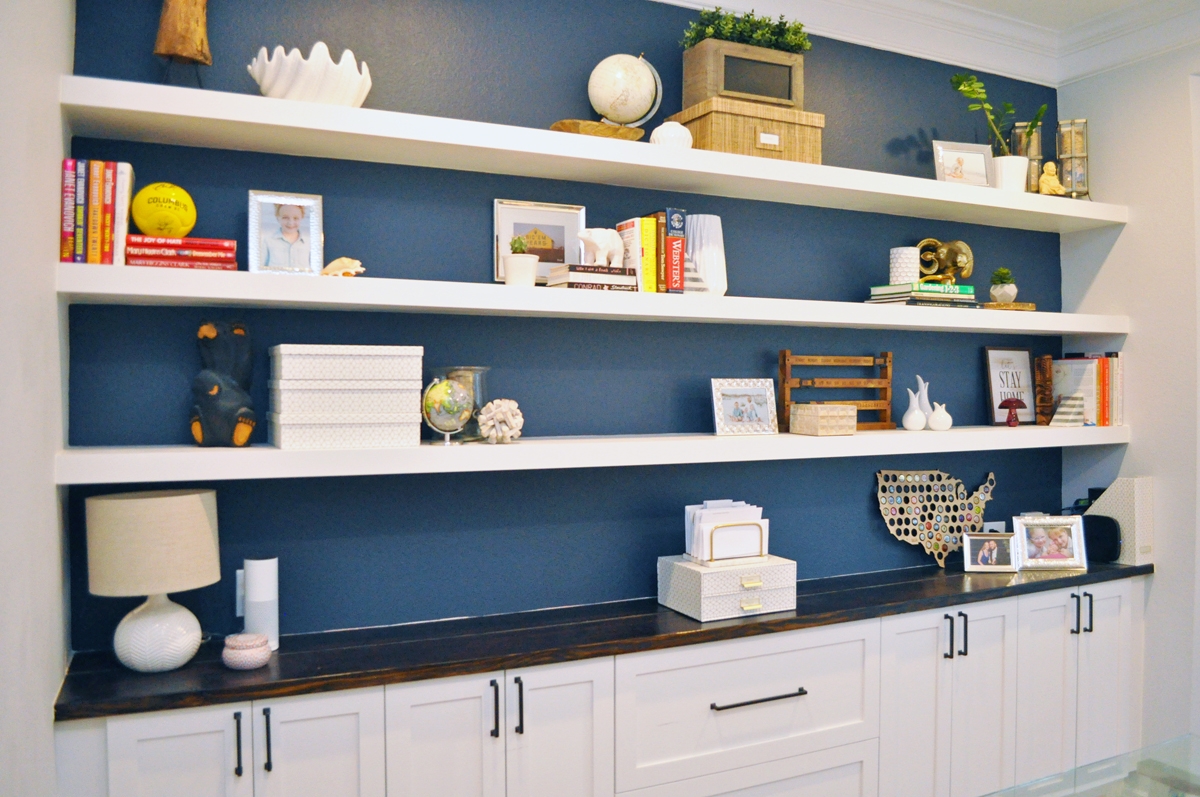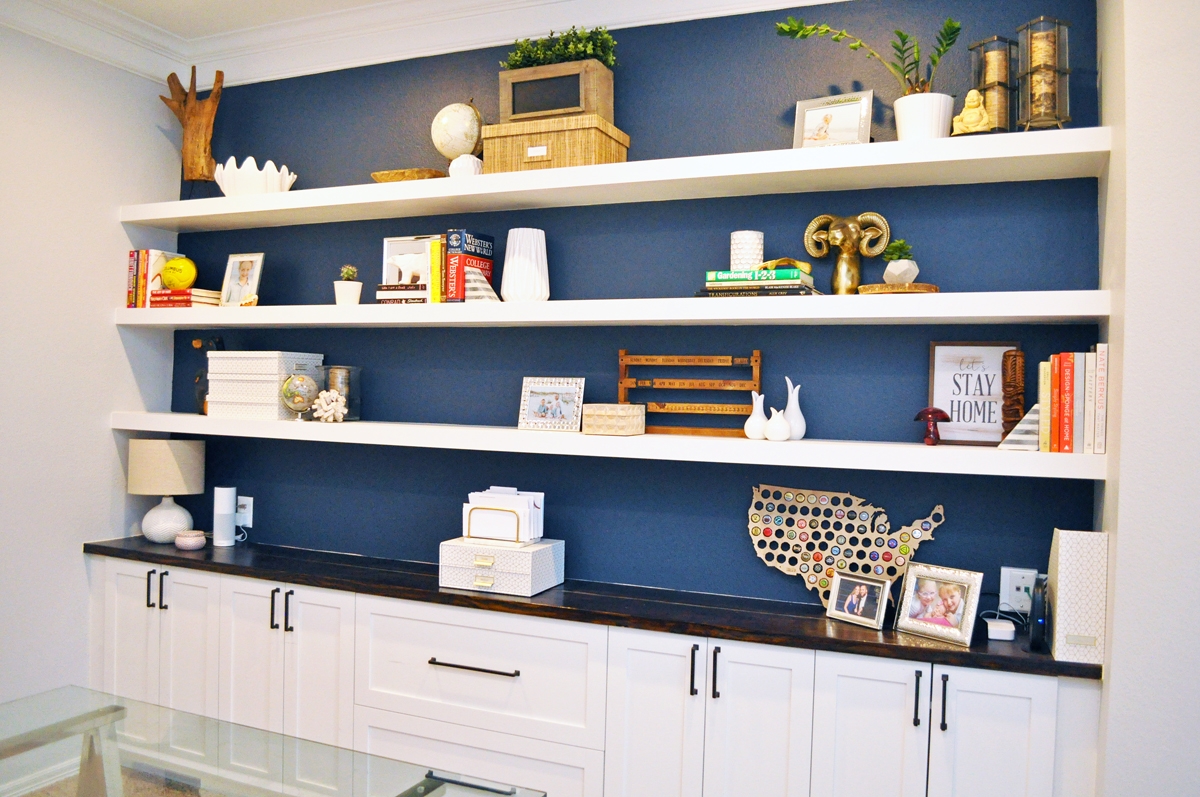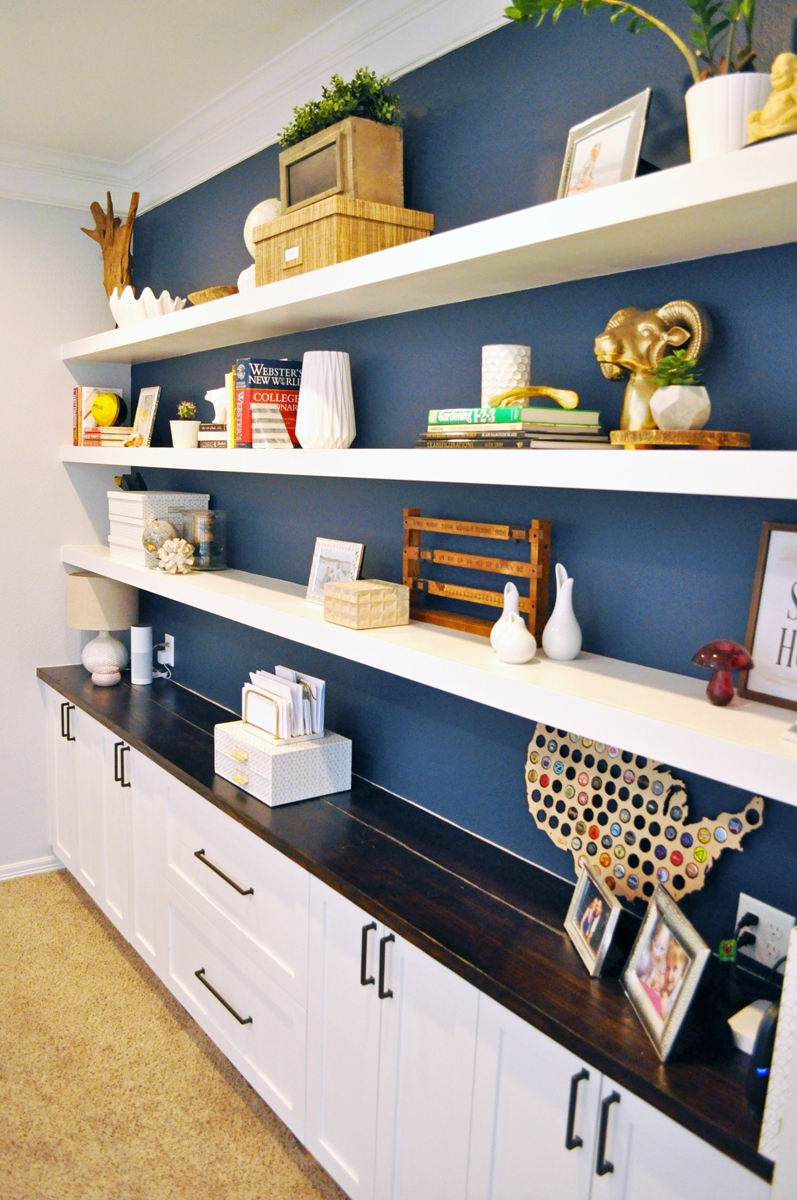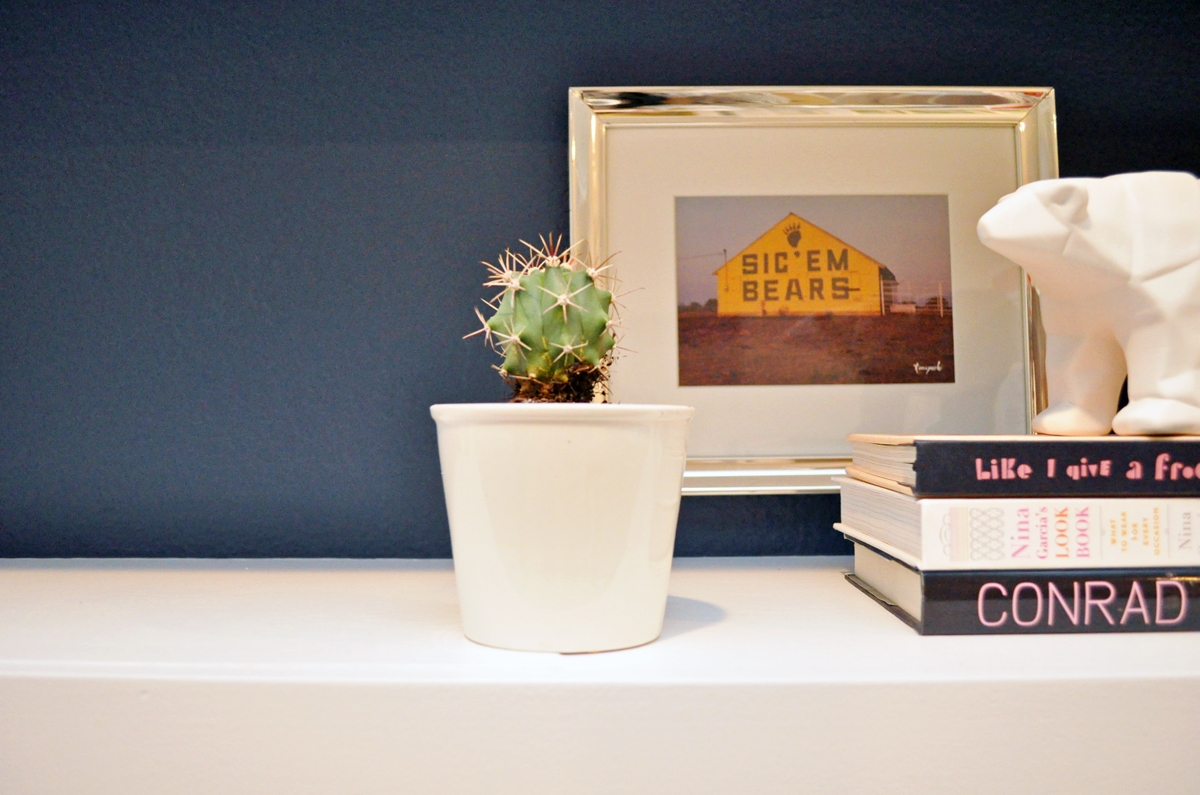 I love these wall-to-wall floating shelves!  Its always so much fun to actually get to see what you've been seeing in your head for years!!  I've been collecting items to style these shelves and make them functional, and I finally get to display them!  So exciting!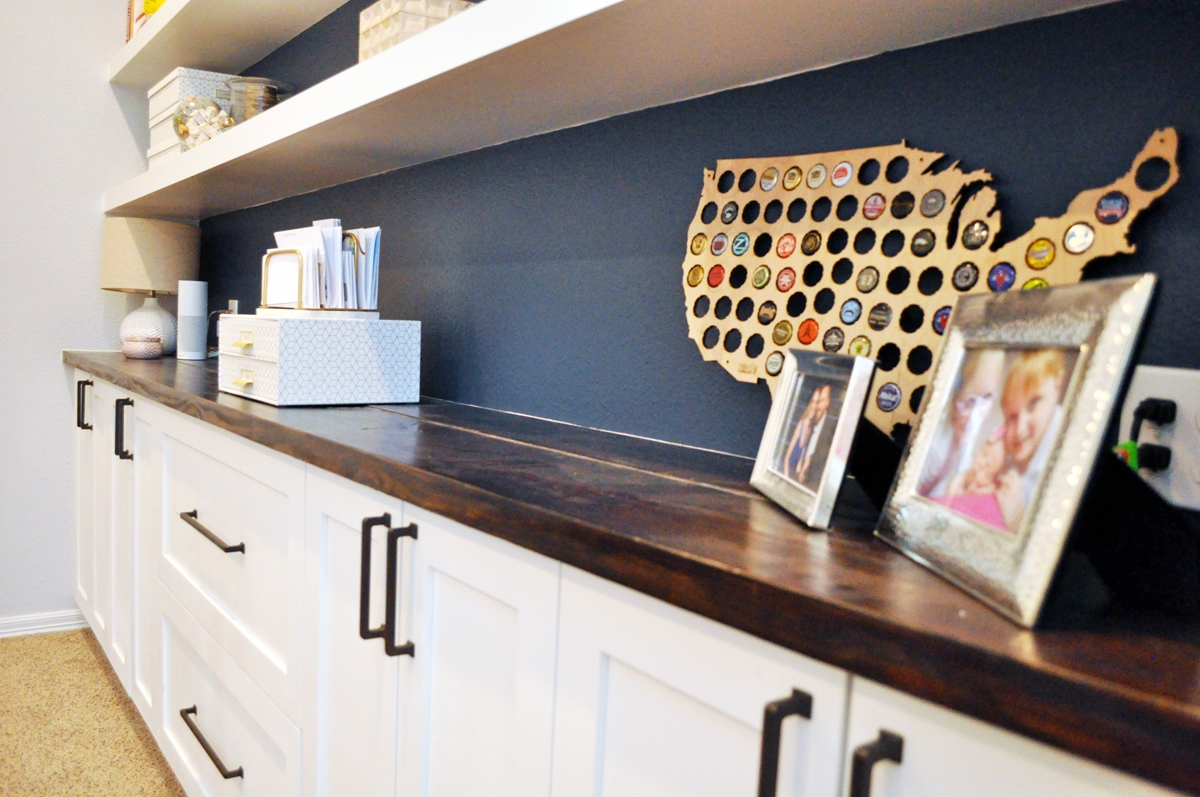 These shelves give us an opportunity to clear out some of the stuff that's been sitting in those cabinets, and we can get more organized.  I'm very excited about that part!
All in all, we spent right at $200 on this project.  That includes wood, paint, primer, screws & caulk.  I already had the nails and nail guns.  A lot of impact for $200!
Here's what the room looked like before:
And after:
This room is pretty much done for now.  There are a few projects to do, but I don't think those are on the horizon anytime soon.  Here's what we have left:
Build Walls & Install Door
Paint New Walls to Match House
Remove Carpet & Prepare Subfloor for Built Ins
Install IKEA Cabinet Rail & Hang Cabinets
Replace Light Bulbs with LED retrofit lights
Install Baseboards & Door Casings
Prime & Paint Door/Jamb
Install Door Hardware & New Chrome Hinges
Build, Install, Stain & Poly Countertop
Order, Prime & Paint Cabinet Doors
Install Cabinet Doors
Order & Install Cabinet Hardware
New Desk & Chair
Fix Windowsill
Case Windows
Build & Paint Shelving
New Curtains/Decor
DIY Pull Out Cabinets for Office Electronics
Office Supply Storage & Organization
New Windows
Hardwoods
Plantation Shutters
Late last year, I picked up a bunch of cute things during a World Market Home Office sale.  It happens in July/August.  I was able to snag this gorgeous marble & gold letter holder, a white globe to pop against the navy wall, and this farmhouse sliding calendar that I saw an exact replica of at Magnolia for WAY more money.  The matching boxes, drawers, and magazine files I found at HomeGoods last year (they have hexagons on them!!!!), and I also snagged that striped marble bookend there for WAY less (it was $15!!!) than the identical one at West Elm.
I've been looking at Home Goods for some curtain options.  I think next time I may purchase some to bring home and see what I like.  I'm not really sure what I want in here.  Do I want a print or a solid?  Navy or grey?  I'm just not sure.  The rest of the items are expensive, except casing the windows.  I'm not sure I want to do that until I know when we're going to do the Plantation Shutters, and that is definitely not in the cards for this year.
So what do you think?  Do you think you could tackle this project?  It was so easy and it didn't take much time at all.  I think you could do it!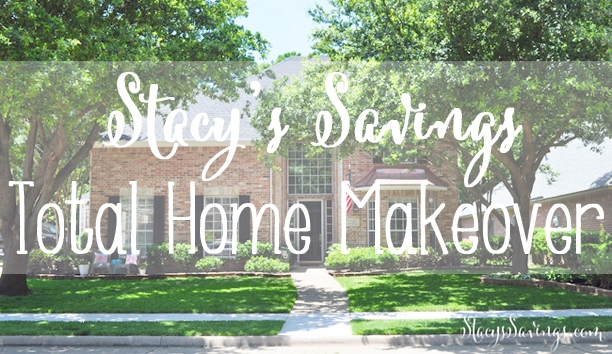 Check out all of the Stacy's Savings Total Home Makeover posts!
I'm linking this project to the Thrifty Decor Chick's Before & After Link Up!