Its hard to believe that we've been in this house 2.5 years already.  We've done so much, but at the same time, it seems like we haven't done very much to update it.  The To Do List is JUST. SO. LONG.
In order to save money painting the Oak Abode when we got the keys all those days ago, we took on our very first project: demolishing the Built In Cabinets in the Den.
Y'all, I'm twitching just looking back at all of that Oak.  Gross!
I would expect most people would frown at demolishing built ins, but these were obsolete.  They were built in 1995 to house a 1995 television, a 1995 stereo & 1995 media – aka VHS tapes.  All of those share the same characteristic: BIG.  You could have also gone with clunky.
We always knew we would use this space differently, and we didn't want to pay to paint all of that in-your-face oak, do we spent our first evening in the the house getting acquainted with our new friends Mr Crow Bar and Ms Sledgehammer.
Once demolition was done, we found exposed slab, textured walls, and brown receptacles.
We painted the walls to match the rest of the room, switched out the brown receptacles for white, and that's all we did for about a year.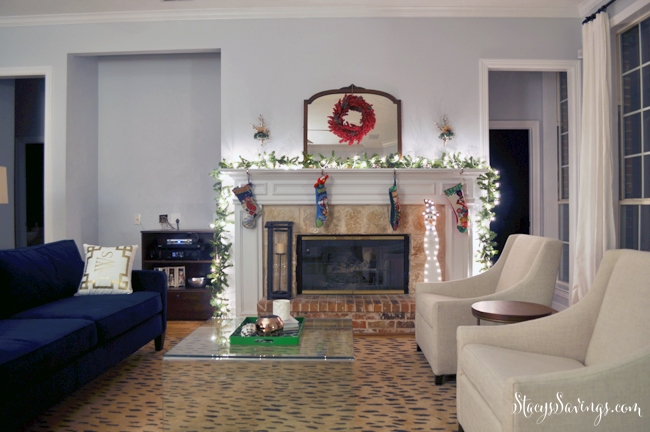 In December 2014, Santa brought us a TV for over the fireplace, so we added a cheap IKEA bookcase & some media components to the nook.
We always planned to build a bar in this space, but had no intentions on doing anything until we did the kitchen remodel because I thought the counters needed to match.  Then, after seeing the new butcher block countertop in the new IKEA Catalog, I decided they didn't have to match and this would work better!
A few hours later, with the help of the IKEA Home Planner, I had a complete design plan and was ready to get started!
Right now, we're still doing some prep work, so I thought I'd go through the plan for this space.
First, we're using IKEA Sektion Kitchen Cabinets with custom doors from Scherr's just like we used in the Kid's Bathroom, Office Conversion, as well as the Guest Room/Craft Room.  I love this combo.  The doors look spectacular from the room, and the IKEA cabinets really can't be beat for price or function.  I love all of the internal organizers that fit the IKEA cabinets perfectly.  This choice was a no-brainer.
This time, we're going to test out a few new-to-us IKEA products: cabinet lights and countertops.  I'm pretty excited about having some glass doors to display our wedding crystal, not to mention I'll reclaim about 6 cabinets in the kitchen when that stuff gets moved to the bar.
The cabinets will be white and the wood of the counter will really warm up the space and make it seem like furniture.  I love the Chevron-lay of the butcher block countertop.  What a conversation piece!  Can you see why this got the ball rolling!  It's pretty popular.  There were only 2 left when we bought our stuff at IKEA last weekend.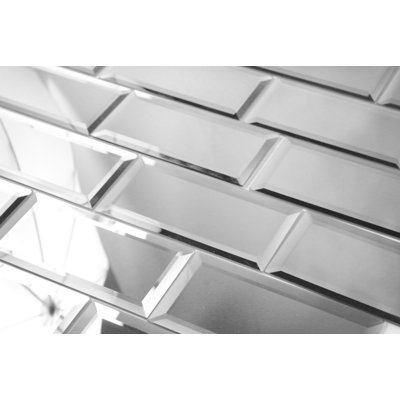 I always think mirror and built in bars go together.  I don't know why that is, but I had to have reflection over here.  Plus, this is kind of a dark area (but won't be with the new cabinet & under-cabinet lights), so I really wanted mirror, but I didn't want 80's mirror.  You know – full wall no seams.  I found these cool peel & stick beveled mirror subway tiles on sale at Wayfair.com, so I ordered those.  I have to skimcoat the wall before we install them, but I can't wait to get them up!
We also will have space for an under-counter beverage center, which will really give us space back in our main kitchen fridge.
So that's the design of the bar.  This space will give us so much storage, not only for barware and accessories, but for random living room things like remote controls, blankets, decks of cards and other kid-related items.  Plus, I'll get some more surface space to display my favorite items and holiday decor!  I smell a trip to HomeGoods soon!
It sure beats the dust of an exposed slab.
I can't wait to show you the evolution of this space.  This is a room you haven't seen much of, because we really haven't done much but furnish in here.  That will change over the next week or so!  Don't forget to follow me on Instagram to see the latest pics!
Have you ever taken on a project like this?  Have any tips for me?  What do you store in your Living Room Built Ins?  Tell me in the comments!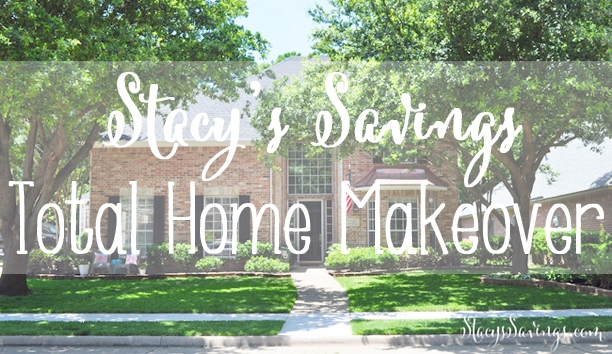 Check out all of the Stacy's Savings Total Home Makeover posts here!