How about a little Christmas in July?
I did this little laundry room shelf project last year just before Christmas, and I decorated it with some Christmas Decor from World Market.  I just wanted to let you know that there is no Santa Claus in my laundry room now!
I have a whole post about the small updates we've done to the laundry room since we've moved in, but I haven't gotten around to posting it yet.  I will soon!
In the mean time, to catch you up, in the two years we've lived here, I've done small, Phase 1 updates to make this space more functional for our family.  Of course, I've totally planned out what I want when we have enough money to completely gut this room and start over (cabinets to the ceiling!  Everything has a home!  Add a window!), but that project is several down the line.  I'm hoping its a 2017 project.  I. CANNOT. WAIT.
The space behind the machines drives me bonkers.  I'm short, and I live in fear of stuff falling back there, because I won't be able to get it without moving large laundry machines that weigh more than I do.  In other words, that's not going to happen.
I wanted to put something over the machines to  make it harder for stuff to slide back there, but also create some additional functional storage space, so I decided to build a little shelf out of a 2×10 and some pocket holes, then stain it.  Perfect.
I picked up my board at Lowe's.  It was about $8.  I had Minwax Conditioner/Dark Walnut Stain/Semi-Gloss Poly already, but if you don't, that will run you an extra $10-15.
I measured my space, which was 5′.  I also needed to prop it up so that we could hide/access the shut off valves (those are totally getting moved down when we do the real remodel), so I added a little 5.5″ piece on the end.  I just used my Kreg Jig to add two pocket holes, then used 2 2″ pocket hole screws to attach my two pieces.  It took me about 45 minutes to do all of the cutting/sanding & putting together of my shelf.
Doug Conditioned & Stained the shelf over the next two days.
We used a small 6″ piece of scrap wood to act as a cleat on the right side of the wall, and then used 2 8.5″ x 11″ heavy duty brackets (similar to these) for the middle support.  The brackets were about $8 each.  We did not attach the shelf to these supports, its just sitting on top, but its not going anywhere.  Plus, it only has to last a year or so, so we're not really worried about it.  If you want more support, attach the shelf to the brackets.
Doug put the poly on over the next day, then it was ready to use!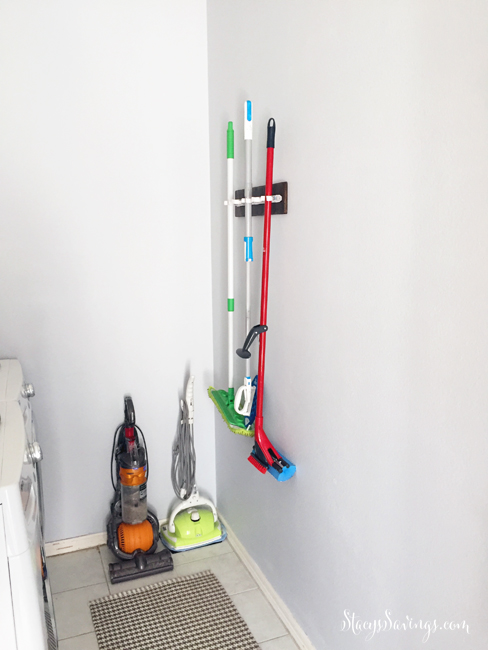 While we were at all of this, I cut and stained a piece of wood from my scrap pile, and attached a $10 mop/broom holder (similar to this one) to it.  Having these things out on the floor really ticks me off.  That's one of the big reasons that I want to remodel this space.  I really want a pantry cabinet or something tall to house the vacuum & mops.
I picked up some Christmas decor at World Market, along with a jar to hold my dryer balls (those things were pesky in my too-small upper cabinets), and grabbed a basket from the closet to house lost socks.  I also have a Mason Jar in the basket for loose change to put in the Disney Bank!
One of the fun things I did which is completely optional is to add some battery-powered, remote control LED puck lights under the cabinets to give us some more light.  They were about $30 on Amazon (including the batteries) and are powered by AAA batteries  When we do the full remodel, I'm going to have some hardwired, but this is a good solution for those of you who aren't interested in getting hardwired lights.  The remote is handy!
All in all, this shelf cost me less than $25 to make.  The biggest expense was the 2 brackets.  It helps if you have things like wood screws, anchors (if you need them), wood conditioner/stain/poly/sponge brushes, and sand paper on hand.  It was definitely an easy job that I constructed in less than an hour.  The staining takes the longest, but that's all dry time.
I love my shelf!  I'm ready to do the remodel!  Haha, no I'm not.  That sounds exhausting.  I think those IKEA floating shelves need to go and I need to build some stained floating shelves that won't sag off the wall.  Doug says that's unnecessary if we're going to do the full remodel in the next year, but I think it may be just the thing I need to hold off a bit on the remodel and save up more money.
Do you have any little projects that you've done to hold off on a full, expensive remodel?  Tell us in the comments!