March 1st marks 3 years in the house!  Its gone by so fast!  It's time to check in on the Total Home Makeover Progress!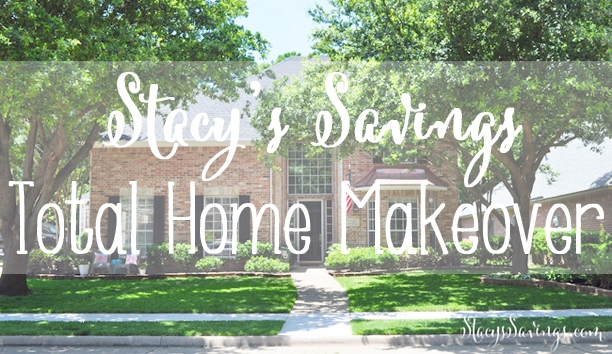 We still have some "More To Comes" after the items that we've done this year.   I'm still editing photos/taking photos/finishing final touches on projects.  Yes, some projects have been sitting unfinished. #badstacy
The plan for this past year was to get organized, and we made significant progress toward that goal.  With every remodel in this house, I want to create custom storage for our things and how we use them, and we marked off 2 big projects regarding that goal.
In case you missed seeing the Oak Abode before, here is what it looked like before we started anything.  And here is a recap of what all we got finished in Year One & Year Two.
So let's check out everything that got updated/repaired in Year Three!
First, we finished the New Office by adding cabinets & a counter top across the back wall.  We hope to add to this room in 2017.
We also finished the wall of Built In Bookcases in the Guest Room/Craft Room, as well as updated that room. Full Room Update post coming soon.
I cased half of the windows across the back of the house & installed new Bamboo Shades with Blackout Liner. Post Coming Soon.
We finally built The Bar in the living room.
Then, we finished the Powder Room Phase 1 Remodel with a new matching pedestal sink & toilet. Post coming soon.
We switched out the last two ugly light fixtures in our house (dining room & kitchen) for something more modern.  I haven't even taken pictures of these.  I'm still having withdrawals from the old fugly fixtures not being there. Post coming soon.
Finally, we installed remodeled our Master Closet using IKEA's Pax Wardrobe System.  We're still doing some last minute chores on this project, so the full reveal will be in Year 4's summary.
Oh, yeah, and I had a baby.
That's more than I was planning on doing toward the Total Home Makeover this year, actually.  For this next year 2017, we're going to do even less.  We have to save for a big repair job in the back yard, and our HVAC system is on borrowed time, so there's not going to be too much going on this next year.  We've pretty much picked off all of the small jobs around here.  Now all that's left are big expensive ones that take a couple of years to save up for.
With that being said, of course, I still have a few little things here and there planned for this year!
Here's what's left of the Total Home Makeover:
Front Yard Landscaping/Hardscaping
New Fence/Patio Remodel/Back Yard Landscaping
Dining Room Remodel
Finish Decorating Entryway
Total Kitchen Remodel
Complete Laundry Room Remodel
Total Remodel of Guest Bathroom
Final Touches to Master Bathroom
Add Wood Floors to the Rest of the House & Refinish With Dark Stain
Replace Windows
Add Plantation Shutters/Shades
Case All Windows
Finish Attic to Media Room Conversion
While we save for these projects, I'll finally get a chance to edit photos and update you all on the posts that I haven't had a chance to get to.  I'm sure I'll find some little crafty type projects or organization items to tide me over while we wait for the big stuff.  Maybe some stuff that isn't on this list.  Stay tuned!
If you follow along with the Stacy's Savings Weekly Savings Challenge, that money that I save goes towards furnishings & house stuff too, which is in addition to our house projects savings account.
So that's the State of the House for the third year.  Its coming along, but the ugly kitchen is really weighing us down.  The next 3 years are going to really suck looking at & using that nasty kitchen.  Maybe we'll win the lottery?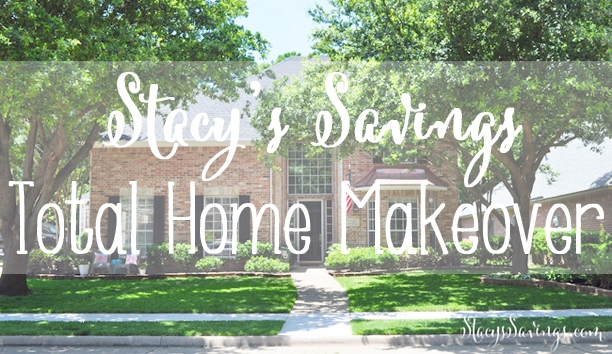 Check out all of the Stacy's Savings Total Home Makeover posts here!